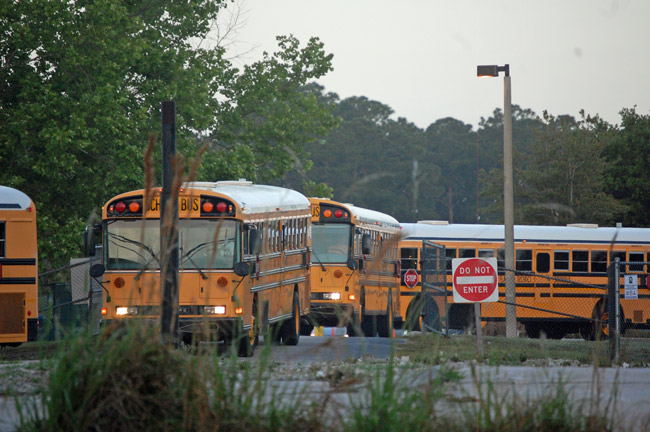 The new school year begins in a matter of hours: first bell is on Thursday morning at 7:40 in middle schools, 8 a.m. in high schools and between 8:50 and 9:05 in elementary schools. (See the full bell schedule here.) With that in mind, the Flagler County Sheriff''s Office and the school district's transportation director are cautioning students, parents and drivers to heighten their prudence in a variety of ways as children will be teeming around bus stops mornings and afternoons.
Bruce Preece, the district's transportation director, summed it up this way: "Be safe, be respectful, and be responsible." He was also addressing students' conduct on buses, where students tend to get in trouble;e far more often than on the streets.
"We will be stepping up patrols in the school zones throughout the county," Flagler Sheriff Don Fleming said in a release from his office. "I urge every motorist to be cautious as they travel around the schools each morning and afternoon. Let's keep our children safe." Traffic units have scheduled extra patrols at the school zones to enforce crosswalk regulations and speed limits. Motorists are reminded to stop for buses loading or unloading children in their neighborhoods.
Parents are encouraged to talk with their child about traffic safety whether they are walking or riding their bikes. Youngsters younger than 16 are required to wear a helmet when riding their bicycles. Students and adults older than 16 who ride without a helmet, while not illegal, are being stupidly reckless.
As always the first few days or first couple of weeks of school, students and bus drivers will be getting used to new routes or schedules. The district has 85 routes this year, down from last year's 86, traveling 8,000 miles a day and transporting 9,500 students twice a day, Preece saus. The numbers are worth remembering when parents may feel compelled to complain about one glitch or another, before the bus fleet has had time to work out its own kinks.
Preece asks parents and students to "be patient because in the first couple of weeks our bus drivers are getting acclimated to their bus routes."  Buses can be late as drivers get their times defined in the first few days.
Parents are welcome to call the transportation department at 386/586-2145 if there are serious problems, or if they need to figure out times and routes. The phones will be very busy the first few days. Parents are just as likely to get their questions answered if they go to the transportation department's website where they can check on their own bus routes and times as easily as if they were checking the weather (or, if they just voted, their precinct location). You can also email the transportation department here.
Or see the list of your school's bus routes and times below.
Students and parents have responsibilities at bus stops, too. "We just ask parents to be careful if they're bringing their students or their children to a bus stop," Preece said. "Make sure their children stay clear of the street. We ask students and parents to respect private residential property at those individual bus stops." That means no turning other residents' yards into playgrounds or gridirons.
And don't use your morning bus ride to change into your newly required school uniform.
For everybody else, Fleming has this advice: "Please plan on taking a few extra minutes of a morning or in the afternoon for getting to and from work while our children are traveling in the community."

Bus Routes and Times By School:
Elementary schools:
Bunnell Elementary School
Belle Terre Elementary School
Old Kings Elementary School
Rymfire Elementary School
Wadsworth Elementary School
Middle and K-8 Schools:
Buddy Taylor Middle School
Indian Trails Middle School
Imagine School at Town Center
Palm Harbor Academy
Other Schools:
Phoenix Academy
Flagler-Palm Coast High School
Matanzas High School
Everest (fomrly Pathways Academy)
Gifted Students' Routes