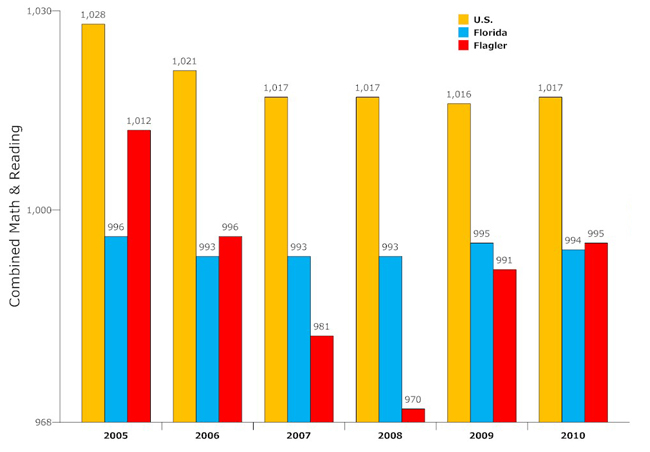 The latest SAT scores are out, and Flagler County students can feel satisfied that while they're still well below the national average, their combined math and reading scores have exceeded the state average for the first time since 2006.
The combined score for the Flagler Class of 2010 was 995 (which is to say, the class that graduated last spring), according to preliminary results released by the Flagler County school district, compared with 994 in Florida, and 1,017 in the nation. In 2006, Flagler seniors scored a combined 996, exceeding the state average by three points, though falling 25 points short of the national average. In 2005, Flagler seniors came within 16 points of the national average, when they scored a combined 1,012. The national average was 1,028.
Scores this year improved almost across the board in the district, at Flagler Palm Coast High School and at Matanzas High School.
At Flagler Palm Coast High School, 240 seniors were tested, compared with 256 last year. They imp[roved their average reading score from 500 last year to 503 this year. They fell back in math, from 506 last year to 503 this year. In the writing portion of the SAT, added three years ago, scores were flat, at 479 both years.
At Matanzas High School, 196 students were tested this year. Last year, 149 were tested. The scores improved in every category. In critical reading, scores went up from 483 last year to 495 this year. In math, up from 484 to 488. In writing, up from 462 to 478.
The district numbers are not based on College Board results, but on compilations by the district itself, based on scores at the two high schools. They may be revised.
The SAT results cap a series of standardized test results that included the Florida-based FCAT (Florida Comprehensive Assessment Test) and the ACT.
More college-bound students in the class of 2010 took the SAT than in any other high school graduating class in history, according to the College Board. Nearly 1.6 million students from this year's graduating class participated in the college-going process by taking the SAT, and their overall performance underscored the critical role that course-taking patterns and academic rigor play in college readiness. "Engaging students with more rigorous course work and demanding higher standards are critical in providing America's students with an education that will prepare them to compete in the 21st-century economy," said College Board President Gaston Caperton, a former governor of West Virginia. "This report confirms that there are no tricks and there are no shortcuts to college readiness. Students who take more rigorous courses in high school are more prepared to succeed in college and beyond."