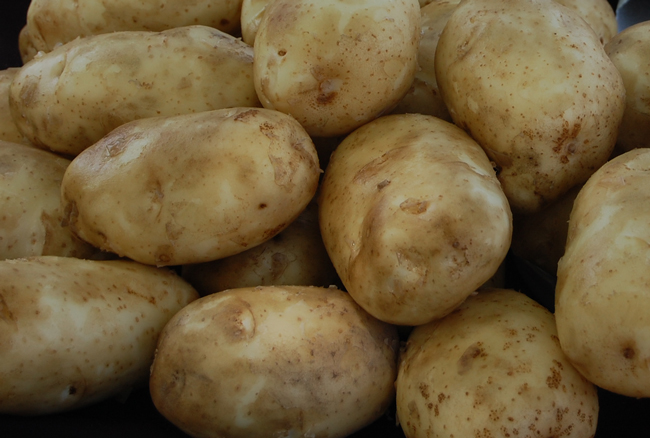 By Sisco Deen
This coming Saturday, the vegetable which occupies 75 percent of our county seal (the seal, not the logo), Flagler County's humble potato, will have its day in the sun at the third annual Potato Festival in downtown Bunnell.
Don't really know at this point in my research as to who to credit with bringing the potato here, but my money is on this guy until proven otherwise: Utley James White, son of Daniel A White and Betsy Phelps, born Sept. 3, 1845, Brockport, in Monroe County, N.Y., died Feb. 20, 1917, in St. Johns County, married about 1872 to Sarah Bryce, who was born in 1855 in Ireland. She died in Jacksonville sometime between 1930 and 1935.
White's parents were farmers by occupation, thrifty, energetic, patient and hardy. The maternal grandfather was Walter Phelps, a man of means in his day, who in the early history of New York State owned a packet line on the celebrated Erie Canal and successfully operated it.
Utley's father in his youth learned the trade of machinist and mechanic, but perceiving larger opportunities in the then-distant Middle West, he decided to give those a try. In 1857 he went to Macoupin County, Ill., with his family, where he remained for many years. He subsequently followed his son Utley to Florida.
Utley James White made his first advent to Florida in 1872, coming directly to St. Johns County. He first found employment with the Tocoi Railroad Company, which was a horse railroad of the good old days. Mr. White acted as master of transportation and as such had charge of the 24 head of horses and mules which were the means of locomotion. He hauled all of the people and most of the freight to St. Augustine from the steamship landing at Tocoi on the banks of the St Johns River in this primitive method.
In 1873, the road was torn up and it was made the first standard gauge road in this part of the south. For three or four years, Mr. White remained in connection with this transportation line. At the end of that time, however, he gave up his position and entered the logging and lumber business, engaging therein independently.
He hauled his logs over tram roads, the rails of which were made of wood, but subsequently started a steel railroad with the idea of making it a permanent institution. Near Palatka, he built four miles of roadbed himself.
In partnership with W. B. Barnett and S. I. Wales, Utley incorporated the road, the two gentlemen, beside himself, being the original incorporators. Subsequently they began to build toward the Halifax River in Volusia County as fast as their means permitted, and soon laid down 12 miles of track. Utley then interested S. V. White (no relation) in the scheme and with his financial investment, completed the road from Palatka through what is now Flagler County, down to Daytona Beach. He later on sold the property to good advantage to Henry Morrison Flagler, who incorporated the railroad into his Florida East Coast Railway system, which is still around.
White then invested the money he had received from Henry Flagler into a 26,000 acre tract at Hastings, east of St Augustine. He owned this immense tract alone (which he named Merrifield). Soon after acquiring it, he began to dig ditches and develop other lines and by practical experience garnered information as to the suitability of the land for various grains and vegetables.
For two years White had 350 acres of the tract in rice, harvesting large crops which resulted in good profits. His rice plantation was destroyed by heavy hail. Thomas H. White, a friend in Cleveland, Ohio, was a partner with him in the rice venture. The latter's son, Winston, came down to Florida as his personal representative but subsequently White sold his interests to Utley.
Utley and his daughter, Lilla Maude, had developed the land largely as potato fields. They became pioneer agriculturists along this line.
After the tract had been developed to a large extent, White sold his interests and again engaged in the lumber trade, buying 32,000 acres in the Haw Creek area of present-day Flagler, which mostly stood in pine and cypress.
He built mills at Dupont (south of Bunnell on the FEC Railroad) to manufacture his lumber and built 18 miles of timber railroad, 12 miles of which was narrow gauge first-class road. Cutting down the timber, he developed the Haw Creek lands, 20,000 acres of which were rich black soil-as good as the best black soil of Illinois or any other state of the Middle West. It is fertile and suitable for practically all purposes, and everything can be grown upon it.
Miss White took charge of 400 acres of the tract, which she developed and improved, bringing the same to a high state of cultivation.
To insure better drainage of the country, Utley first had dug two large canals, greatly improving the value of the land.
Utley built a commissary at Dupont. It was operated by Walter Cody, assisted by Dale Brown. He also built two boarding houses, one of which was operated by Esther Chaffee Wickline, wife of Austin Vanburen Wickline, who had a farm in the area. Utley also constructed his own dwelling which was known as "The Mansion."
He subsequently sold his interests to a Scranton, Penn., syndicate, which operated the tract under the name of the Dupont Land Development Company. The Tippecanoe Inn was built and "known as a lodging for the elite," and for many years was operated by a Mr. Gomez and Mrs. Flora Pacetti.
Time has erased all traces of this busy section of Flagler County. All that remains are a couple of junk yards, a truss plant and only a few dwelling houses, including the house of the compiler's grandfather, James Emmett Deen.
The aforementioned transactions resulted in a gratifying degree of prosperity to Utley. After disposing of his Haw Creek property he settled on the beautiful island of Anastasia to the east of St Augustine and constructed a house at 60 Lighthouse Ave, St Augustine, Carvers Subdivision,, Block 6, Lot 1.
According to David Nolan who did a Historic Properties Inventory for the St Augustine Preservation Board, "This is a two and one-half story Masonry Vernacular building and was constructed in 1912 by Utley White, one of the major 20th century developers of the Lighthouse Park Area. He was a speculator, with both good and bad times. In the bad times he told his wife: "Stick with me and I'll have you walking on marble." So when he built his mansion here, he put in marble front steps."
Utley's widow Sarah continued to occupy the mansion for some time after his death, but began to sell off some of the other property. Finally in 1923, she sold the mansion and its grounds, the Octagon House, and the entire block on the other side of Lighthouse Ave.–which was kept vacant to protect their waterfront view–to H. W. Davis, a prominent St Augustine merchant who had a men's clothing store in the Cordova Hotel building and a number of other business.
In 1953, after Davis's death, Dr. Wilma Davis, his daughter, sold the property to the Trustees of the Preacher' Relief Fund of the Florida Conference of the Methodist Church. Debra (Debbie) and John Wicker bought it after that – Debbie Wicker is the current owner.

Sisco Deen is the archive curator for the Flagler County Historical Society and FlaglerLive's historical adviser. Reach him by email here.