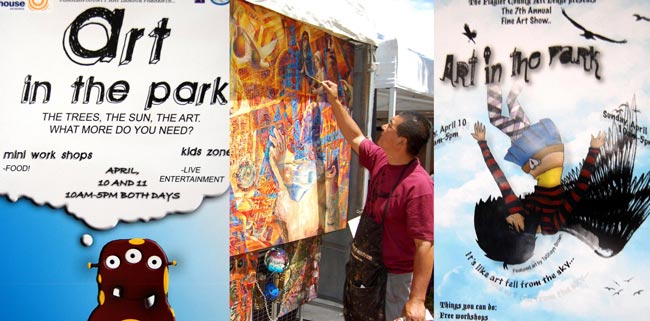 Jinzhou and Palm Coast couldn't possibly be more different. Jinzhou is a city in China with a metro population of 3 million. Palm Coast is still a village in comparison. Jinzhou is a thousand years old. The paint on Palm Coast signage is still drying. Travel not too long a distance in a certain direction from Jinzhou and you might cross into North Korea. Heaven help you then. Travel in any direction from Palm Coast and you'll hit a Ginn development. Heaven help you then, too. That's about as much as the two cities have in common. Or had.
Saturday, the two cities had this man in common: Jinsheng Song, whose variously colossal and miniature watercolors bleed light, reds and the occasional Virgin Mary, won Best in Show at the Flagler County Art League's 7th Annual Art in the Park exhibit. The league held the showcase event this year on the front lawns and asphalts of Flagler Palm Coast High School, within drumming distance of a simultaneous event in Town Center's Central Park–WNZF Radio's Rockin' Rib Fest, featuring Creedence Clearwater Revisited.
Jinsheng, 45, is a native of Jinzhou and a graduate of Tsinghua University's Central Academy of Arts and Design in Beijing. He had his sights set on the United States early in his career, exhibiting at the annual American Independence Day Art Exhibition at Beijing's American Club in 1996 and at the American Embassy in the Chinese capital the following year before moving to the United States a few years ago. He had his first artistic breakthrough in 2000 when UNICEF published one of his paintings ("A Finer Snowing day") as a holiday card. Saturday's Best-in-Show award was more routine than celebration for Jinsheng: He's won 11 of those–12, counting Saturday's–in the past five years, most of them in art shows in Florida. His P.O. Box lists has him based in Fort McCoy, on the western edge of the Ocala National Forest.
And he's always busy, even when he's winning prizes: on Saturday, the "Wet Paint" sign hung next to his two-paneled autumnal painting–trees shedding color and leaves in a sort of swordfight of sunset-reds and light shafts. "Email me!," he said between a chat and a stroke of the brush. (Might as well: [email protected])
Jinsheng was one of 25 artists exhibiting at Art in the Park, the first such event to be juried and judged, with $2,250 in total awards. Artists had to submit digital images of their work. Those deemed worthy were invited to the exhibit, provided the artists themselves showed up (as opposed to sending in a representative, as some do.) Most were from Florida, including a few from Palm Coast.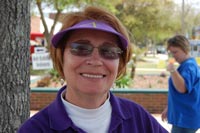 "This," outgoing Art League President Liz Monaco said, "is the art league's largest fund-raiser of the year, which helps with our programs throughout the year." Those programs have grown to some 10 or 12 juried show ("a huge leap for us in going into a scheduled show just about every month," Monaco says), including the latest one: Friday evening, art league members Jackie Ware and Weldon Ryan (the incoming president of the league) spent five hours, until 10 p.m., judging the works of 169 students from Palm Coast and Matanzas High School, in seven categories. Those works were displayed in the school's cafeteria during the Art in the Park hours. (Learn more about the Flagler County Art League.)
The student exhibit included more than a dozen works by Kathryn Pogue, an art student of Amy Taylor's at Matanzas High School who won two regional Gold Keys for work submitted to the prestigious Scholastic Art & Writing Awards of 2010. Pogue's were among 693 works picked from 165,000 submissions. Should she be among the national winners, her works will be exhibited at New York's Carnegie Hall.
Attendance seemed sparse between noon and two o'clock on Saturday, possibly due to the other festival nearby. League organizers were not concerned, figuring that over the course of the day Rockin' Rib Fest would draw a crowd that inevitably would, thanks to the proximity, add to those who might not have otherwise dropped in at the art show.
Below is a list of the winners of the art league's show. The best-in-show award was worth $1,000. First place winners received $250.
Art in the Park Winners: April 10, 2010
| | Name | Medium | City |
| --- | --- | --- | --- |
| Best in Show | Jinsheng Song | Oil | Fort McCoy, FL |
| | | | |
| Painting | | | |
| First Place | Win Jones | Watercolor | St. Augustine, FL |
| Honorable Mention | Judy Barnewolt-Jones | Watercolor | St. Augustine, FL |
| Honorable Mention | Barbara Hagan | Watercolor | Interloachen, FL |
| Honorable Mention | Michael Webber | Watercolor | Port St. Lucy, FL |
| | | | |
| Two Dimensional Art | | | |
| First Place | April Mace | Colored Pencil | Palm Coast, FL |
| Honorable Mention | Barry Kite | Digital Imaging | Daytona Beach, FL |
| | | | |
| Three-Dimensional Art | | | |
| First Place | Harry G. Phillips | Sculpture | Cocoa, FL |
| | | | |
| Jewelry | | | |
| First Place | Jim & Barbara Runkle | | DeLeon Springs, FL |
| Honorable Mention | Connie Bennett | | Tallahassee, FL |
Sponsored by the Flagler County Art League. Judge: Edson Beckett.