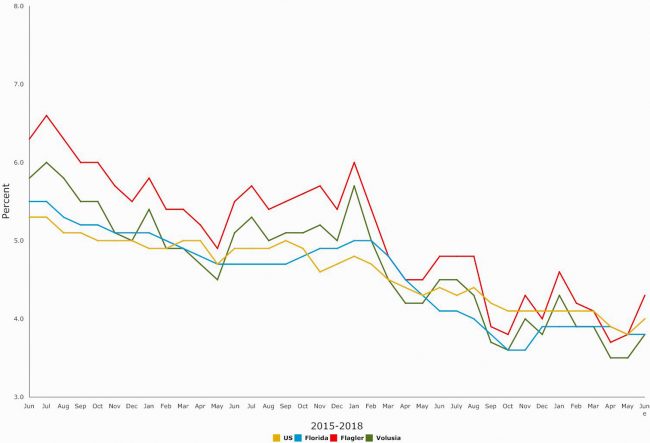 On June 25 Illinois-based Brunswick Corporation announced it was closing its Sea Ray Boats plant in Flagler County, laying off 440 employees. But the plant isn't due to shut down until August, with most employees laid off between then and the closing date. June's unemployment figures for Flagler nevertheless showed a spike of nearly 300 more unemployed people in the county, sending the county's unemployment rate back up to 4.3 percent, the highest rate since January.
But even that small month-over-month 0.5 percent spike is within the range of the county's unemployment rate over the past nine months, when it has fluctuated up and down within a a few decimal points. There were still some 200 fewer people unemployed in June than at this point last year according to the June unemployment report the state released this morning.
In a sign of relative health for the local economy–or at least confidence in it–the labor force has risen by almost 200, to 47,401, about 1,000 higher than at this point last year. The labor force is an indicator of the number of people either moving to Flagler because they see it as a good place to live and work, or people re-joining the labor force after sitting it out for a while. The labor force is also an indication of younger demographics in a county where well over half the population does not work.
At times the labor force grows faster than the job market is able to absorb the new entrants, especially in June, when colleges unload new graduates. That appears to be the lag in play in this case, though the unemployment rolls are certain to show an uptick from Sea Ray layoffs in July and August.
Employment levels were off in Flagler, dropping by almost 100, to 45,362. That number represents those who live in Flagler and are holding jobs. The jobs may be in Flagler or in any of the surrounding counties. Volusia and St. Johns' economies draw thousands of Flagler workers (St. John's unemployment rate, at 3.1 percent in June, has been the lowest in the state for months).
Florida's unemployment rate was 3.8 in June, same as in May. The economy added a net 14,200 jobs, with 387,000 Floridians out of work. The latter figure represents only those Floridians who are unemployed and abiding by the state's definitions and requirements for being unemployed, which entail actively looking for work and showing proof of that job search to workforce offices. It does not represent the actual number of able-bodied Floridians who may have dropped out of the labor force or whose unemployment benefits have run out. (Florida provides at most $275 a week in unemployment benefits, with checks closer to $230 on average. Florida's unemployment benefit is the fifth-lowest in the nation.
As is customary for Gov. Rick Scott when he announces job gains and unemployment numbers, he cited today only private-sector job growth, purposefully ignoring public sector employees, who include teachers, cops, firefighters, and all state and local government workers. State and local government payrolls fell by 2,700 last month, while federal payrolls added just 100 jobs. But by excluding those figures and focusing only on the private sector, Scott is able to inflate job growth by noting that Florida businesses have created 16,900 private-sector jobs. But the overall job growth figure of 14,200 is more accurate as a reflection of jobs' actual effect on the economy, and the state of families' pocketbooks, which don't distinguish between public or private sector jobs.
"Our playbook of cutting taxes and eliminating thousands of burdensome regulations has created real momentum in Florida," Scott said in a statement today, "allowing us to make historic Investments in things families care about – like education, safe neighborhoods and our environment." Ironically, education, safety and environmental stewardship are overwhelmingly the work of Florida's public-sector employees.
The full report is below.

Florida June 2018 Unemployment Report