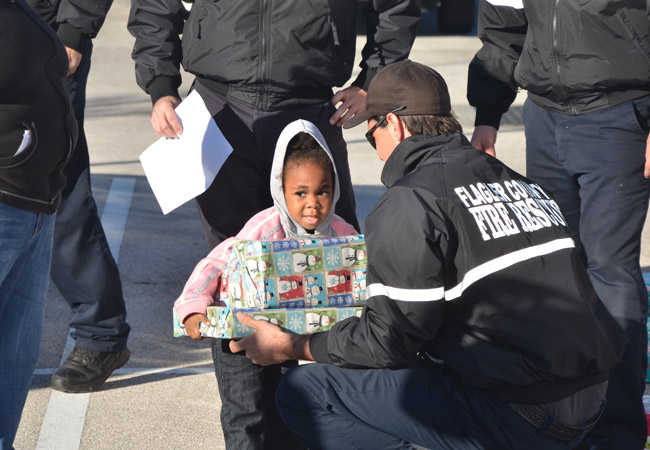 The sight of a fire truck strobing its red lights usually means trouble: a fire, a medical emergency, an "assist" for law enforcement. That wasn't the case Friday morning in the parking lot of the Flagler county Courthouse even as four firefighter-paramedics in black jackets, a couple of them wearing dark shades, looked all business in the cold air, briskly arranging something by the side of the truck—something drive-bys on State Road 100 could not see, because it was all on the hidden side of the truck.
Presents. A stack of presents that ran two-thirds the length of the truck, ready for the plucking.
And starting at 9 a.m., they started arriving: young families with very young children who came to claim the presents Flagler County Fire Rescue's Professional Firefighters union (local 4337) had gathered and bought for them over the past few weeks, with the help of colleagues and staffers at the county's Emergency Operations Center.
It was an emergency of sorts. Kyle Lockwood, a firefighter-paramedic in just his third year with Fire Rescue, is used to seeing a part of Flagler County most people don't see. With his colleagues, who answer innumerable emergency calls that have nothing to do with fires—they're the first responders in any medical emergency, they're the ambulance medics—he goes into home after home to care for people, and he sees what Flagler is made of: the rich living not too far away from the poor, and everything in between.
"You might see somebody that comes out of a house and present themselves in a great manner and they might actually be physically disabled, mentally disabled or can't afford stuff," Lockwood said. "They don't have any food in the house, they don't have any money to buy anything with. A lot of things you see you try to take care of on a daily basis. Something like this, obviously we can't go to people's houses and say, here you go. So it's kind of organized in a roundabout way to try to get these presents to people who deserve it."
Lockwood and colleagues hung angel ornaments on Christmas trees at fire stations and at the EOC. Each angel had the name of a child on it, and that child's wish list of three or four presents. Fire fighters and others picked off angels and fulfilled the wishes—42 children in all. "It's all anonymous: pick the name you wish to buy for, and buy for it," Lockwood said.
"I really like to give back to our community," he said. "They deserve it. Running calls typically in a day, seeing stuff, seeing children that need stuff or don't have a good home or don't have enough money to spend for Christmas, I just like to hope to give back to the community to see some kind of improvement, some kind of Christmas joy on Christmas day like I've had so many times in my life."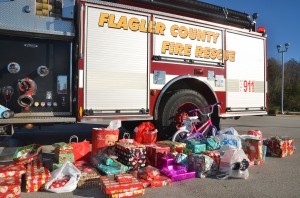 All the children are in the Healthy Start community. Healthy Start of Flagler and Volusia County is part of the state initiative that helps young mothers through pregnancy, focusing on families that may be more at risk of health and development issues, possibly even abuse. Healthy Start professionals visit Healthy Start mothers at home, shepherding them through the months of pregnancy, the birth and children's youngest years to improve healthier outcomes. The families tend to be poor.
Tamara Armstrong works at Healthy Start and is the mother-in-law of John Krall, one of the firefighters involved in the effort. She helped coordinate the children's names, and was in the courthouse parking lot Friday morning with Wandrea Grier, a program, supervisor. "It seems like Flagler always gets left out of things, and I said that's great because we have kids that really need gifts in our program" she told had told Krall when he called her for help. "It's been just unbelievable. This is the first time for Flagler, so the support is great."
"Our main purpose of our program is to prevent child abuse, to help parents bond with their children, help them with the development of their children and link them with resources in the community and to create a better life for the families," Armstrong said. "It seems like Flagler County doesn't have as many resources as maybe Volusia does. The resources are growing, but at Christmas there's definitely a need to help families."
Anything that wasn't passed out Friday was to be delivered by Healthy Start at the children's homes. As Armstrong spoke, families began arriving, their tiny children with them, the children's eyes locked on the pile of gifts alongside the fire truck, and the four unlikely Santas, in their black jackets and black pants—they'd gotten off their overnight shift only at 8—ready to answer one of their happiest calls of the year.
To contact Healthy Start, call 850-245-4465.