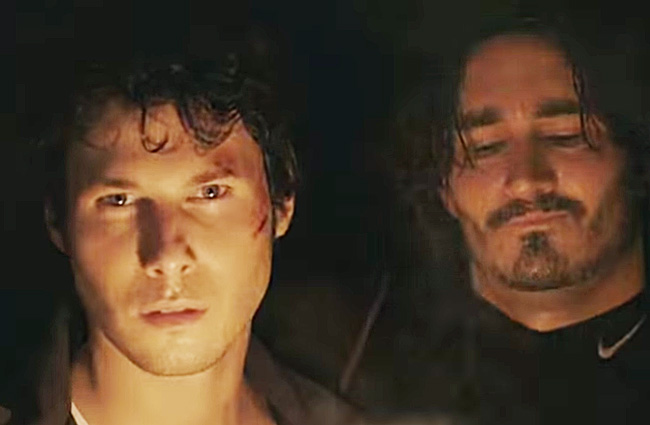 As Ridley Scott's Hollywood biblical epic on "Exodus" performs an anticipated tidal sweep of the box office, Flagler County is preparing to show the power of the little guy, the indie film (independently produced with a minimal shooting budget), at the second annual Flagler Film Festival at the Hilton Garden Inn, Jan. 9-11.
Indie films might as well be emerging from the Sinai themselves, says Kathryn Barry, one of three founders of the festival, as they are changing the way people watch movies.
"At one time, movies were just seen in movie theaters," Barry says. There was a shift onto cable television and eventually movie networks. Rather than relying on Hollywood, these networks started producing their own series and films, with award-winning original series like HBO's "The Sopranos."
"Now that's evolved into people watching movies on their iPhones, on their tablet computers, on their laptops, Xbox, Playstation—there's all kind of ways for people to watch movies now. So the demand for content has increased substantially," she says. "And it can't just be studio productions anymore, because their overhead and their cost are so huge, they're limited in how many movies they can make every year."
"Indie filmmakers" have a lot more opportunity now, Barry says, with all the streaming video and Internet platforms and other options that don't require the massive return on investment demanded by costly Hollywood movies. The result is greater freedom and creativity for artists.
One example in this year's Flagler Film Festival is a movie called "Kick," filmed entirely in London, that will fall into the festival's Friday horror block. "It's the first soccer-themed horror movie with a credible mix of sport and horror," says Kjell Larsson, the film's Palm Coast-based executive producer. A 30-year film industry veteran, Larsson got his start as a video store owner in Sweden in the 1980s.
"Kick" follows the story of two office workers, Dan and Steve, who are also avid soccer fans. "They have bribed their way into a London Premier League soccer stadium one evening after work for a once-in-a-lifetime chance to play on their team's hallowed turf," Larsson says. "Only when the match finishes and the lights go out do they realize they are trapped in a game for their own survival." (It should go without saying that football players in England feel the same way every time they play a match, as do their fans.)
The movie has been enthusiastically received in preview screenings for general audiences as well as football fans, Larsson says. Larsson and his production company have also stepped up as a sponsor for the festival, which, despite its youth, has already made an impact in some filmmakers' careers.
At last year's festival, Florida native Matt Florio managed to come away with the best comedy award for "Mama Needs a Ride," a short about a mobster sent by his boss to pick up said boss's mother. She has some errands to run. "Anytime you are lucky enough to win an award, it helps the momentum of your project," Florio says. "Since that time, 'Mama Needs a Ride' has won multiple awards, creating such a buzz that I'm now in talks about doing a feature version of the film."
At this year's festival, Florio submitted "Sexcut," another comedy. "Like Mama Needs a Ride," it has won awards before. "Sexcut" is the story of a husband who is given an ultimatum by his controlling wife: get a haircut or no more sex, ever. The cast includes comedians Ardie Fuqua (who was with Tracy Morgan and was also severely injured in the June 7 wreck in New Jersey that left Morgan in critical condition), Sherrod Small and Marina Franklin. "Knowing that the audience loved 'Mama Needs a Ride,' I'm confident they will love 'Sexcut,'" Florio says.
However, the most star-studded film at this year's festival is "One Armed Man," directed by actor Tim Guinee. Guinee adapted a screenplay by Horton Foot (best known for his adaptation of Harper Lee's "To Kill a Mocking Bird"). The late Phillip Seymour Hoffman served as the executive producer and the lead character is Charles Haid, best known for his work in the 1980s police drama "Hill Street Blues" (he was the turbulent Officer Andy Renko).
As they could last year, this year's festival goers will be able to delve into films in blocks, with each block devoted to a genre. A notable film in the documentary block is "You Belong to Me," submitted by Florida filmmaker Judith Hagan. A few light years from Taylor Swift's "You Belong With Me," it's a documentary about a Florida murder case from the 1950s, in which a black woman killed a white doctor. The film also examines the race relations of the time.
There was a time in the festival's process when Barry fretted about the lack of local entries, as compared with all the international ones that, like last year, quickly came pouring in. So far, Barry has received submissions from countries including Canada, Australia, Spain, Russia, Luxemburg, Turkey, Belgium, South Africa, the Dominican Republic, and the United Arab Emirates.
But working tirelessly to contact Florida universities and art schools finally paid off, and entries closer to home are coming in. "The word is getting out," she says. "When you start anything, you're not really sure how far and wide the word is going to spread."
"It was intermittently sporadic," she says of the influx of local versus foreign entries. "I think a lot of it depends on when they finish their film more than what dates we have."
As an added bonus at this year's festival, the Palm Coast-based movie company, 10th Voyage Studios, another festival sponsor, in conjunction with the festival, itself, is bringing a special guest to this year's festivities: Laura Tyler, the winner of Syfy Network's Season 5 "Face Off" and makeup artist for "Hunger Games: Mockingjay Part 1."
According to 10th Voyage Studio's Patrick Appolonia, the studio first began working with Laura Tyler and the company she works for, Blue Whale Studios, for their signature studio project, "Zombie Clean-Up," which the studio has described as "'The Walking Dead' meets 'The Office.'" The show is nearing completion and the studio expects to present it at the festival, when Tyler will answer questions while she demonstrates the professional process by which she turns an actor into a zombie.
"We're anticipating it to be a fun and interactive way for attendees to witness the character transformations our zombie actors undergo, prior to getting on set," Appolonia says.
Speaking of what he expects for the second festival, he adds: "I believe that the second installment of the film festival will certainly show some signs of evolving from last year. I think you can learn a lot from the first time you hold an event, see what people enjoyed, see ways to make it better and go from there, in addition to adding different kinds of events going on, like featuring Laura's work. It sort of rounds out the experience for the attendees," he says. "And I'm excited to see what other additions Kathy has developed for this year's festival."

Advance tickets are now available through the Flagler Film Festival website, for purchase by either credit card or Paypal. People can also mail a check to Flagler Film Festival c/o Wolfe Productions LLC PO Box 354944 Palm Coast, FL 32135. Tickets will be $25 in advance for the All Festival Pass which includes the demo by Laura Tyler, $10 per day or $5 per block. (At the door, tickets will be $30, $12 and $6, respectively). All Festival Pass holders will have priority seating for Laura's demo, and seating is limited.