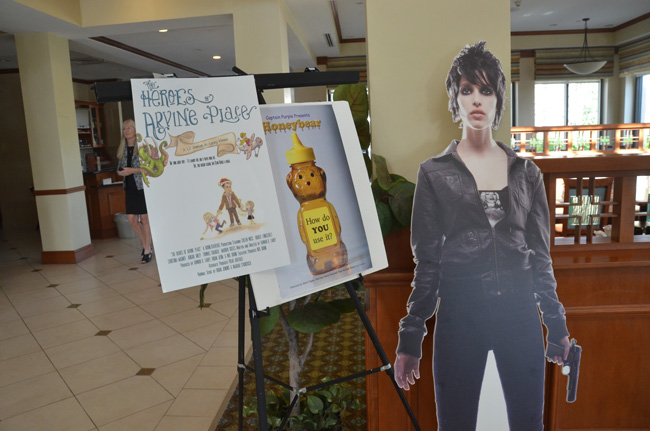 Staging a successful film festival is much harder than just gathering people in a room and loading a film into a projector, as it was done in pre-history, or a whirring a hard drive's ones and zeros onto a screen, as it's done today. And far more festivals fade into oblivion than become the next Sundance.
That's part of the challenge ahead for the Flagler Film Festival, which had its debut last January.
One thing Kathryn Barry, one of the three founders of the festival,  can count on: word of mouth. "Filmmakers are kind of a small group and they know other filmmakers," Barry says. They'll spread the word as Barry takes stock of the festival midway between the first and second edition.
"We're following pretty much the same pattern as last year," Barry says, though this year, they registered with two new festival registries, not just Withoutabox, to reach out to filmmakers across the world. Last year, Barry ended with a total of 105 submissions. This year, with the submission period going through the middle of October, they're already past 65 submissions.
Barry expected their first festival to be small. She was happy to get a bigger turnout than expected, with steady crowds ranging from 30 to 60 at different points over three days (Jan. 10-12). According to Tom Grimes, manager at the Hilton Garden Inn, where the festival was hosted and will be held again this year, "It was a little bit of dancing in the dark for both of us."
The increased foot traffic in the hotel resulted in additional profit for the bar and restaurant and of course added exposure for the hotel. "It wasn't a typical kind of banquet or corporate meeting that we have at the hotel, so this was a little bit different. It was fun to see it used that way," he says.
"I won't tell you it was a real big room generator. There are groups that stay with us that generate 3-4-and-500 rooms while they stay with us, and there are some that are smaller that generate 20-30-or 50 rooms and Kathie's in that category," he says. "We have great hopes that she has great hopes. For all the people she has coming, it's really good for the hotel."
This year, Barry applied for a $1,500 Quality of Life Grant through the county's Tourist Development Council, to put toward advertising. Grimes is a member of the council, which awards Quality of Life grants, which amount to $1,500 each. They are pretty routine for groups who put on events that add to the flavor of Flagler County, he says–as long as the event also generates the sort of out-of-town visitors who spend nights in local hotels and therefore pay the 4 percent bed tax, which, in turn, funds the TDC grants. Past recipients include the annual Caribbean Festival and the Florida Agricultural Museum's Pellicer Creek Battle Reenactment. The council's overall budget for these grants is about $25,000.
"I believe we should definitely get a grant because we're one of the events that has potential attention worldwide through the festival registries and film makers from around the whole world," Barry says. And Information about Flagler County is on the Flagler Film Festival website so it's good promotion," she says. She'll get her hearing in October.
Last year, Barry's main challenge was attracting local filmmakers. This seems to be the case again. "It's interesting to me that this year, I've already gotten submissions from Israel, Turkey, United Arab Emerites, Ecuador, Russian Federation, some really far away locations, but the Florida film community—I'm trying to get the word out locally."
So far, 20 percent of submissions have come from Florida, she says. David Ayers, the general manager at WNZF, has volunteered his services to help promote the festival and Barry has reached out to the Florida Governor's Office of Film and Entertainment to help advertise it.
---
Organizers are disappointed by a lack of enthusiasm from Flagler Palm Coast High School, which boasts a highly touted video development department, and Matanzas High School.
---
At this point, Barry and her fellow festival judges have received some "really awesome" student submissions, mostly from colleges—especially those with film departments—including the American Film Institute. She's still disappointed with the seeming lack of enthusiasm from Flagler Palm Coast High School, which boasts a highly touted video development department, and Matanzas High School, as she'd love to have a block dedicated to work from local high school students.
"I was thinking that maybe the first year they didn't take it seriously or that it's a real thing they're doing," Barry says. "The other thing is, the schools I think are concerned about the end-product that they don't want maybe challenging material or things that aren't politically correct or acceptable for a high school level student." However, last year, Flagler Palm Coast High School did enter one film which documented Flagler County's desegregation process.
Patrick Appolonia, a writer and director for a local first year film studio, Palm Coast's 10th Voyage Studios, wasn't surprised that Barry has received more foreign submissions than local ones, so far.  "I think a lot of international filmmakers are usually first to submit to festivals for early bird deadlines because they feel they may have less of a chance of being accepted," Appolonia says, "because they are submitting from overseas and often times won't be able to attend the festival itself."
Last year, 10th Voyage Studios not only helped sponsor the event, they also provided iconic film car replicas for color. This year, they'll be involved again, though it's too early to say how, Appolonia says.
"Many film festivals start with a lot of clout because of the involvement of highly notable individuals in the industry," Appolonia says. Sundance for instance, was chaired by Robert Redford. "But even that festival wasn't what it is today in its first year, and, like any new event, it had to grow and find new ways to attract filmmakers who were making great films, a lot of them without the aid of any studio involvement or financial backing." Sundance went on to launch film luminaries such as Quentin Tarantino, Robert Rodriguez, David O'Russell, and Kevin Smith.
But Utah taxpayers also subsidize Sundace to the tune of $300,000 a year (though Redford claims the festival infuses $80 million into the local economy in 10 days).
10th Voyage Studios has a stake in the festival's success. "While we shoot at many locations across the state, we do a lot of our studio shoots here in Palm Coast at the main studio facility, so to be a part of something that is growing our local film and TV community, I think that's a very powerful thing, and it comes natural for us to want to support something like that whenever we can."
Oscar Perez, a recent film maker in residence at Florida State University, knows what it's like to nurture a festival from humble beginnings. Perez, 43, originally from Miami, now a the professor of Digital Media Communication for Lycoming College in Williamsport, Pennsylvania, started his own festival, Pink Bubble Bath—the Sexy Film Festival in 2000. He did so with a friend to get exposure for his own film—"a film with sex as a central theme": a short based on a letter he wrote to Penthouse Forum when he was 13—which had been rejected by the New York Underground Festival.
"We thought we should focus on a theme so as not to compete with larger, wider festivals that have larger audiences and a wider appeal and a bigger reputation," he says, adding that he recognized that "there was a need or a vehicle needed for this type of expression."
What started in L.A. turned into a traveling festival. The plan was to find a small market and develop that market. However, after the September 11, 2001, attacks, "the mood of the country shifted a bit," and the economy took a dive. Sponsors weren't so willing to give as they had been the first year and Perez decided to end what had been his labor of love. "It became way too much work than it was worth, so we decided just to let it go." He still wanted to be a filmmaker first and foremost, and the responsibility of the festival had somewhat removed him from that. Other festivals have popped up since to help carry the torch for sexy films, he says. While Perez's decision to start "Pink Bubble Bath" came from that initial rejection, afterwards, his film started getting accepted and winning awards at other festivals, including, ironically, the Chicago Underground Festival. It's one aspect of the process that often surprises people, he says.
Matthew Curtis is the programming director for the now 23-year-old Florida Film Festival, one of the oldest in the state. Film festivals such as this are far more common than they used to be, he says.
Film festivals such Flagler's are far more common than they used to be, says Matthew Curtis, programming director for the now 23-year-old Florida Film Festival. Practically every city plays host to its own, some with two or three, he says. In Florida alone, he wouldn't be surprised if there was between 100 and 150 festivals. In addition to the Florida Film Festival, the historic Enzian Theater in Orlando that hosts it also is home to five other festivals. The move to digital film-making has made it much easier than when the industry was held hostage by celluloid. (The Florida Office of Film and Entertainment maintains a list of current festivals here. But it's incomplete: The Flagler Film Festival is not listed.)
"It's certainly easier to block out a bunch of days and get people to submit a film to you and get people to show that film on DVD or Blu-ray," though that doesn't mean it's any easier to "do it well," says Curtis. Doing it well accounts for everything from programming, presentation, hospitality—for audience, filmmakers, and sponsors. "If you go to other festivals and see how they're run, it becomes clear that some people really know what they're doing and some don't," Curtis says. "And you'll hear that from the filmmakers and the public, both."
After starting small, over the years, the Florida Film Festival has continued to find ways to grow and improve. It's now the third oldest festival in Florida, after the Miami and Fort Lauderdale International film festivals. Each year, it gets between 1,500 and 2,000 submissions, with about 6,000 to 7,000 attendees over 10 days. One mistake Curtis says he made in his 18 years involved with the festival was not to set forth a diversified enough jury during the submission process.
But for every festival that folds, another crops up. Even the Florida Film Festival, when it started in 1992, emerged from another defunct festival, the Orlando International Film Fest, which Curtis says was not well-run. "The people at Enzian said, 'you know, we could do this a lot better."
Flagler County film connoisseurs with a taste for cinema that you can't find at your local multiplex can only hope that the Flagler Film Festival follows a similarly long trajectory.