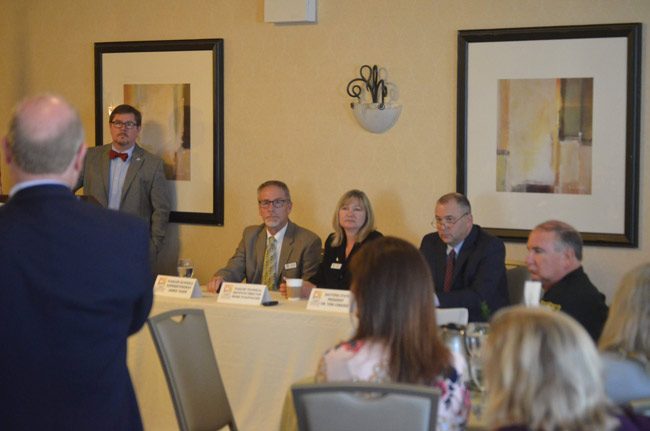 For a panel discussion on public, college and vocational education in Flagler County, there was a surprisingly frothy amount of beer talk this morning at a chamber of commerce-hosted Common Ground breakfast. The discussion featured Flagler's superintendent, Daytona State College's president and the director of the Flagler Technical Institute. But at one point–it wasn't yet 9 a.m.–microbreweries took center stage.
Tom LoBasso, President of Daytona State College, was summarizing the varieties of degrees the college offers its 26,000 students across five campuses, one of them serving 2,000 students just this year in Palm Coast, 60 of whom graduated high school with a degree from DSC as well, and at no cost to them.
The college offers 11 baccalaureate (or four-year) degrees and a total of some 100 degrees and certificates, with LoBasso keeping an ear open on several advisory boards to hear what the job market is ripe for, what sort of workers local industry needs. "They're constantly letting us know, is the curriculum relevant or is there something we need to spin off to create a different degree," he said.
And so: beer.
"We started this year an A.S. degree in beverage science," LoBasso said. "So when that came to me as a proposal to go to the Legislature, it came to me as beer-making or something. So I said yeah, we need something a little bit more academic." The hospitality college obliged, got funded, and now offers such classes as Introduction to Craft Beer and Wine, Introduction to Craft Beer Production, and Brewery Operations.
"Hospitality will always be a big part of what we do," LoBasso said, "and we saw that there was kind of an increase in these microbrews that were coming into town, and we thought we need to obviously serve that, and maybe we can be an impetus to make Volusia and Flagler counties be the destinations for the best microbrews for tourists."
LoBasso and Tager then made valiant efforts to steer the conversation back to more sober subjects, like the Flagler district's International Baccalaureate program, which graduated 40 students and sent them to some of the nation's most prestigious colleges and universities, the mood in the audience was clearly still elsewhere.
"In the spirit of the support from our community and your efforts, I personally would like to volunteer as quality control in your beverage science," John Walsh, the Palm Coast Observer publisher, told LoBasso.
"We do have a waiting list," the college president replied.
"John, I'm the board of trustees chairman for it," Garry Lubi, the banker and member of the DSC board, said.
"It's people like Garry that help us get, um, beer programs," LoBasso acknowledged. "Thank you Garry."
"It's interesting that I get questions about Duke and Columbia and he gets questions about making beer," Tager said.
After a suggestion to perhaps look at Bunnell's Railroad Street as a place for microbreweries as part of a revival (the suggestion was by Joe Mullins, the county commission candidate who's occasionally talked of his commitment to sobriety in his campaign, and who sat next to Walsh), it was the sheriff's turn: "I just want to tag on to John and put this all together," Rick Staly said. "So you can let them help drink, and then the criminal justice and law enforcement flagship students at Matanzas can learn how to make DUI arrests."
That finally ended it, bringing the discussion back to what had been a running thread earlier through the three education agency heads' talking points: the link between the degrees and programs the schools are providing and the demands of the job market. For several years, the county has been focusing on making those links more distinct. The district's flagship programs, with each of the nine public schools developing industry-specific programs for students to explore, the district's and the college's very popular dual-enrollment program, and the technical institute's equivalent of classroom-to-careers programs (in commercial truck driving, cosmetology, water-treatment, heating and air conditioning, patient care and many others), all fit into what Renee Stauffacher, the director of Flagler Technical Institute, described as the "pipeline" from school to work.
"Career and technical education is not a Plan B," Stauffacher said. "It is for everybody and provides a smart start to anything that you want to do in life. There are many places to jump on and jump off of the ladder. For some people it's just a beginning point, and for others it provides a way for them to sustain their life in a meaningful career." To that end, FTI, one of 49 technical institutes and colleges across Florida—all but one run by local school districts–has three branches: career and technical education, adult education and community education. Each fills a need, from workforce development to the more "fun" classes for those who like continuing education.
Common Ground breakfasts are periodic panel discussions organized by the chamber to brink issues of public and business interest to the fore in an informal setting. This morning's breakfast was held at the Hilton Garden Inn in Palm Coast and sponsored by Palm Coast's Chiumento law firm and Florida Hospital Flagler.
Tager was first to speak this morning, and he seemed still euphoric from Tuesday's graduation ceremonies: Matanzas graduated 368 students, Flagler Palm Coast High graduated 536 at the Ocean Center in Daytona Beach. "I live for graduation because that's the highlight for many of our students," Tager said.
But graduation rates are keeping him up at night: Flagler's graduation rate is 81 percent—not bad when compared to the state average, but not acceptable to the superintendent, who seriously speaks of pushing the rate to 100 percent. He expects it to jump 4 to 5 percent next year. How?
The bunker.
He'd spoken of the bunker when he interviewed for the job with the school board, and the idea had intrigued board members (three of whom—Janet McDonald, Andy Dance and Maria Barbosa–were in the audience). This year, the bunker was operational.
"We believe all students can succeed," Tager said. "So if you can imagine talking to parents at the end of the nine weeks at spring break, we brought in students and said, we believe in you. We're going to get you through, and we have this bunker set up for you to help you. This is very exciting for an 18 year old, I'm sure, we say you're going to go into this bunker, you're going to leave all your other students, but we're going to put you in a room with some caring adults. And this is really bad for students: you're going to put your cell phone down and you're not going to touch it for the whole day because we want you to be successful. So the students were in there, and whatever subject area they needed to work on, we brought experts in that area. So these students were in there that nobody thought would make it. We talked to their parents and we would say, we have this bunker set up. Kids were like, 'I'm not going in your bunker.' So we called the parents, and the parents said, you really think my son or daughter can graduate? And we're like, yes we do. And they said, son, daughter, you're going to go in the bunker."
Teachers, IB students, mentors all contributed help to the students in the bunker. The difference it made was documented. "I'm sitting with the assistant principal from Matanzas High School, and she said 26 of those kids in the bunker would never have made it" to graduation Tuesday, Tager said. FPC? "Over 100 students from FPC probably didn't think they wouldn't graduate, and they made it." That's why the speculation that next year's graduation rate, when it is tabulated, will be up around 85 percent.
"It's not about the percentage, it's more students have a chance for a future story," Tager said.