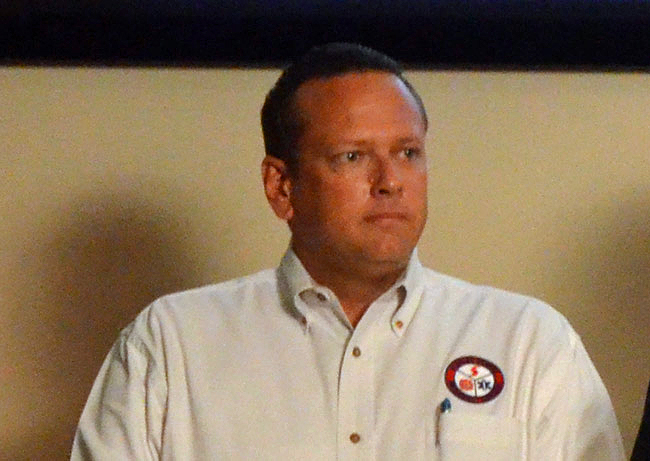 Oct. 22 update: As widely expected, Troy Harper, Flagler County's Emergency Management director for the past four years, has resigned and will be replaced by Ken Guthrie, who was hired in September as deputy director. The emergency division's budget did not accommodate for an additional position, and it was clear then, though county officials denied it, that the arrangement was transitional, leading to Harper's last day at the end of October. Harper has accepted a job in the private sector. A going-away lunch is scheduled in his honor at the Emergency Operations Center on Oct. 30 at noon. The September story about the changes at Emergency Management is below.

September 18–There's a change coming at Flagler County's Emergency Management department, the critical county agency responsible for ensuring that all local government agencies—including emergency responders, police, the health department, schools—work together during natural or environmental disasters or large-scale criminal events.
This week the county offered the deputy director's job to Ken Guthrie, a 23-year veteran cop and emergency management liaison in Jacksonville. Guthrie has to clear a drug test and other formalities, but is expected to take the $65,000-a-year job and begin later this month.
The position was not budgeted for when the Flagler County Commission approved the coming year's budget, raising speculation that the "deputy" part of the job was temporary, and that Troy Harper, the $70,000-a-year emergency management chief for the past several years, is on his way out.
That's not the case, Harper said. "I've evaluated my options, I've evaluated possible retirement, but as of today I plan to be here," Harper said in an interview Wednesday. But the question of Harper's future at the county agency is not new. There was speculation last year and the year before that he could be on his way out. This year, County Administrator Craig Coffey said today, it was a combination of Harper telling Coffey that he was thinking of moving on, and an accumulation of issues Coffey was hearing about regarding the management of the emergency department, that led the administrator to hire Guthrie.
"I've appreciated his honesty," Coffey said of his private conversations with Harper, "and that's what kind of prompted us to say, ok, well, what can we do to close this gap, we have no good successor to Troy if Troy were able to find another job." Harper, Coffey said, "hasn't found a job, Troy hasn't announced his resignation or anything like that." But the county was looking to make a move to reduce at times intense static with police and first responders around the county.
Outlining the Problems
Emergency Management is a county government department independent of the sheriff or the fire departments by design, at least locally, so that its operations don't favor one agency over another, but act instead as a hub of a wheel's many spokes. In Flagler's case, the connection between the hub and the spokes was fraying. To hear Flagler County's sheriff and fire chiefs describe it, there's been issues between first responders—police, fire, rescue—and the county's Emergency Management department under the leadership of Harper for years.
They speak of poor communications. They note a lack of coordinated training between all agencies to prepare for disasters, whether it's a shooter in a school or a hurricane. The sheriff says there's been too much control over such systems as the county's reverse 911 abilities, to which he's not been granted access. They speak of too little done, until recently anyway, to ensure the effective use of such critical links as Computer Aided Dispatching (CAD), the system cops, firefighters and paramedics rely on in emergencies, and which has been down often.
"It's not been an easy relationship with Troy for myself or any other users that use our emergency center," Sheriff Manfre said in an interview this week. "All of these issues have been very frustrating for all of our departments and all the other departments." Manfre cited "Troy's way of doing business, which is very close to the vest."
Flagler County Fire Chief Don Petito and Palm Coast Fire Chief Mike Beadle, in separate interviews, acknowledge similar issues. "There's been ongoing issues for a lot of years," Beadle said, but he stressed several times that issues are part of the job, and that without doubt, numerous people have issues with him as well. "Things can always get better. I've worked with Troy for a lot of years," Beadle said, describing Harper as "a good guy" and issues as problems with ready solutions.
Petito has worked more closely with Harper since the official Emergency Management Chief position was left vacant when Nate McCollum left it in 2009, a victim of budget cuts, and the responsibilities were split between Harper and Petito. But it has not been an easy relationship. "If you put the pieces in place you can figure it out," Petito said, when asked about the source of the problem. Asked specifically if Harper is that source, Petito said: "That's been the opinion of people." (Petito doesn't want to be emergency managemet chief, saying his plate is full as it is.)
Matters of Control
A recurring theme in the descriptions of Harper's critics: control. Manfre illustrates the issue with the matter of the Code Red system—popularly known as reverse 911, which allows authorities to automatically fan out phone messages to targeted neighborhoods warning them about particular emergencies. The county has a Code Red system. So does Palm Coast. Manfre sought to use the county's.
"That was not working, and Mr Harper refused to give us direct access, give us the password so we could access it ourselves," Manfre said. So the sheriff ended up using Palm Coast's, where he had no obstacles.
It wasn't that simple, Harper said, while having only compliments for the sheriff since he took office ("We've had more things done in the last eight months than the last eight years honestly," Harper said.)
"In any organization you're going to have opinions, you're going to have decision, you're going to have people not always agreeing on policies, procedures and legal ramifications, regardless of the issue," Harper said. Access to the 911 system required training and fewer people having passwords, Harper said. Once that's carried out, access would be granted. "I don't think it's a control issue," Harper said. "I think there's a perception there that maybe—well, let me make it simple: if there's a control issue I wouldn't have lasted here. This county, this team that we've assembled works very well together."
The absence of training involving all agencies has been a recurring point of friction. "We have good relationships with individual players but it's also necessary that all those players be together in the same room as part of their duties," Manfre said. "We are prepared, but it would certainly be smoother so when we're in a room together we are prepared to make those decisions quickly and smoothly."
Resources to the Rescue
Coffey, the county administrator, acknowledges the problem, but again notes that it's not been black and white. "We had training but probably not to the level I'm totally happy with or not to the level they're totally happy with," Coffey said, "but I'll tell you, it's not an issue of a person, it's an issue of resources. This deputy is going to cure that."
Harper notes that there's been training with several agencies, even if not with all agencies together, including the health department and the schools, and that when the county faces such high-level emergencies as it did during the fires of 2011 and Hurricane Faye, it is not required, in those years, to conduct systematic, comprehensive training on a large scale. Still, he concedes that such training has not taken place in a while, but that it's also expensive to carry out. And money has been an issue.
In Coffey's analysis, Emergency Management has been lacking resources to accomplish all it needs to do, with Harper drawing criticism for a problem that's been more systemic than personal. "We've had some issues it's normal, we always have issues, but we have a shortage of manpower and have to look at changing that," Coffey said. "Communication is a two-way street, I think there's enough blame to go around."
Manfre himself agrees that when he walked in the door as the new sheriff in January, he was preceded by a communications breakdown between his agency and emergency management that had pre-dated him for years, and that needed repairing. That's been taking place, he said, with plenty of cooperation from the county administrator. The sheriff controls the 911 system, but he does not control the county's 800 megahertz communications or the CAD system. Undersheriff Rick Staly now heads working group in charge of analyzing and resolving what problems exist with the CAD system. If it becomes apparent that the system is unworkable, and requires a change (which would be expensive), then the administrator would make that case to the commission.
For now, all eyes are on Guthrie.
"Kevin is going to be a great addition to the team. We couldn't ask for a more spectacular catch I guess," Coffey said. "He's going to plug a big training gap and the communications with the sheriff's office, and all the outreach" in the county.
Citing Guthrie, Manfre said "the county is now moving in the right direction."
Harper has known Guthrie for many years and notes that Guthrie was part of the incident management team that worked out of the Emergency Operation Center in Bunnell during the 2011 fires. He sees himself working with Guthrie well—and keeping his position, even if the new job was not in the budget: "Coffey is working on it, we're evaluating some grant funds, he's accounted for it already," Harper said. "I'm a 30-year resident of this county, these folks out there are my friends, my family, I've built relationships over the year, I've built a team, I'm not a one-man department."