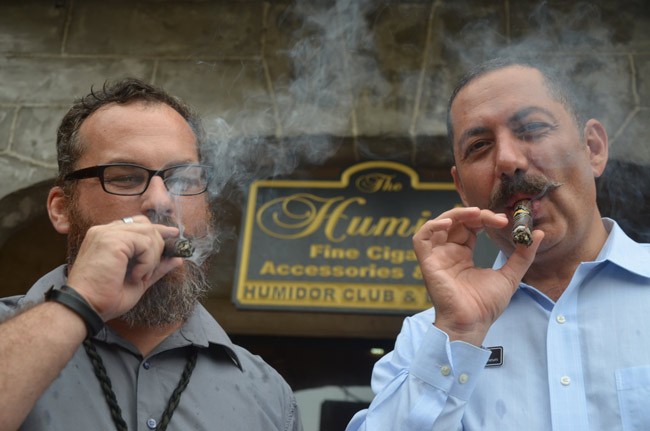 Considering that two-thirds of small businesses never make it to their 10th birthday, doing so is as good a present as any. For the Humidor in Palm Coast's European Village though, that 10th birthday celebration earlier this month was crowned—or rather rolled, smoked and savored—in extra layers of special: the Humidor's—and Flagler County's—very own line of cigars.
It's the Flagler Cigar Company.
Humidor owners Ky Ekinci, Mark Woods, Sim Taing and Neil Paisani opened their first boxes of new cigars quietly and without fanfare a few months ago in what may have been one of the softest openings in the history of cigar-making this side of Ybor City. It was the culmination of a much longer process of development that included many a trial and error.
But even then the quartet inaugurated the Flagler Cigar Company enterprise with a style all their own, at least in names. It wasn't intentional, but it was as if they unrolled one new cigar for each of the four owners, and they did so with characteristic audacity: there's the Ron Swanson, named after actor Nick Offerman's briefly iconic hyper-libertarian growl of a character on "Parks and Recreation." There's the Roosevelt (Teddy didn't smoke as an adult, FDR did) and the Wyatt Earp, and then there's the Mario (named after the 1980s video game and its mustachioed mascot). More recently, the quartet added a fifth, the Magnum, and even more recently, Rollie Fingers, one of baseball's greatest relief pitchers who happens to have a penchant for Flagler and stogies, agreed to lend his name to a sixth cigar.
It's a remarkable transformation for Woods and Ekinci, neither of whose history had hinted at an eventual shift to cigar-making. Or for Taing, the original owner of the Humidor, for that matter. "We believed in this location here. It was always a good concept," Taing said of European Village. "We had to pick a business here as unique, and all the ideas were taken. Cigars were something we liked." He'd never sold cigars before. He traveled a lot. He liked cigars. So he opened the business.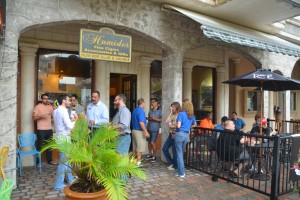 Ekinci  was born and raised in Turkey. Until his early 20s he lived in Istanbul, one of the greatest cities in the world: people tend not to want to leave Istanbul, or stay away for long. ("We may still go back at one point," Ekinci says. He goes back regularly.) But it was in Istanbul when he was 16, at a New Year's Eve party, that he had his first cigar. He doesn't remember the make. "It was something cheap like maybe a step up from Phillies or something like that." He now has three to five cigars a week.
When he moved to the United States he lived in Weehawken, New Jersey, across from the Hudson River—site of the duel that ended Alexander Hamilton's life when Aaron Burr didn't have the dignity to miss. That's where he met Lisa, his wife. He was working for a travel company in Hackensack. When the company moved to Palm Coast (with a call center in Costa Rica) he moved with it. He decided to stay. Then came Office Divvy, hub of his entrepreneurial streak, and the Humidor.
And then the cigars, somewhat by way of Woods.
Woods was in his early 40s when he had his first cigar. "I knew nothing about cigars, it was purely an entrepreneurial move for me," Woods says. In July 2013, after meeting Ekinci and the other partners through a Twitter meet-up, Woods joined the group as the managing partner. "He came to me and said hey, we want to turn this thing around a little bit," Woods said, referring to Ekinci and the Humidor.  And that was that. "But when I got my first bartending job I didn't know how to make a margarita, so."
Woods was brought on because of his hospitality savvy. He doesn't like the notion of going into a shop to buy a cigar and just leaving. "My idea is come in, sit down, enjoy yourself, and I think that's where, because of my lack of experience in the cigar world, I have a non-traditional outlook on it," he says. "I don't think the same way that a guy that's had a cigar lounge for 40 years has. I'm not in the cigar business. I'm in the hospitality business." Neither Woods nor Ekinci have much patience for the cliquey sense that if one doesn't know cigars, one isn't quite welcome to hang out. To the contrary: they both enjoy introducing newbies to cigars, just as Woods loves introducing new beers, something he does with the flair of an art critic explaining a modernist painting.
The story of the Humidor or the Flagler Cigar Company wouldn't be complete without Lou. That's Uncle Lou.
---
Like craft beers, the specialty cigar is coming into its own, wrapped in hospitality rather than pretension.
---
He's been working at the store since it opened. He's 75 ("and he's not afraid to say it," Ekinci says). He's originally from Philadelphia. He'd moved to Miami in 1979, loved the town and its cigars. "Can't retire in Miami, so I moved down here." That was 13 years ago. He was walking around, getting an ice cream at European Village, saw a help wanted sign at the Humidor, figured there couldn't be a better life than smoking cigars and holding a part-time job. He took it.
More recently he became one of the guinea pigs for the new cigars. He was honest. He'd taste one and let them know straight up what worked and what didn't. "Have you ever smoked a cigar from a gas station?" he says. There were a few of those during the trial and error phase. It was all about the blend and the wrapping—such things as Connecticut wrapper, Connecticut shade and other insider language that sounds like a mere second language for Woods and Ekinci.
But again, Woods can walk you through the intricacies of cigar-making as well as he can the froth on a beer. The longer you hear him speak, the less it is a coincidence that he is involved in both, or that he's developing that line of cigars.
"A lot of people are now appreciating on the heels of the craft beer movement, this kind of like small-batch movement, small-batch whiskeys, now small-batch cigars," Woods says, "whereas this mass production, which was so popular for many years, people are kind of like moving away from that, more toward something a little more unique. Even in the food industry, think about the organic foods and stuff like that. People are really trying to go for more of a whole kind of like small production being viewed as better."
Naturally, the beers at the Humidor go very well with the cigars. One of the first thing Woods did when he joined the partnership was take on the establishment's choices on offer. He wanted to give patrons a unique experience they couldn't get anywhere else. Just as it is with cigars.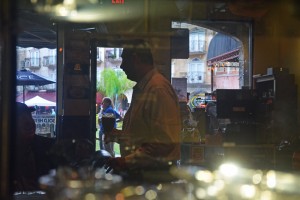 "That was really not even in the original plan at all," Woods says of developing the new line of cigars. "It was almost an accident. This desire to not have the sameness, for instance 30 different kinds of Monte Cristo cigars, we started embracing more of this small-batch, boutique blends, and along the way started appreciating what they were doing and thinking to ourselves, could we do this, could we make this into a transition to a cigar—not a manufacturer, but our own line where we could develop what we think is something people would enjoy, and obviously sell it in our establishment that we already have here, which is great, but beyond is where we really want to go."
His ideas blended right into Ekinci's.
"If you think about it," Ekinci says, "cigars are all about palate and taste, relaxation, that quality moment, whether you're having it with yourself or in conversation with somebody else, so that was a big differentiator. When Mark and I took this place over we literally had this conversation: we said we're taking this over to disrupt the cigar bar and lounge experience nationally, so we're going to deliver the type of experience here that no one else, nowhere delivers. And I will tell you this, like the cigar reps who come here kind of attest to that, saying to us: 'Nobody does events like you do, nobody puts on crowds like you do, nobody delivers the hospitality experience like you do.'"
It takes a certain lack of modesty to be a successful entrepreneur, a self-assurance in one's product that brooks no rivals, and that, too, Ekinci provides.
Woods and Ekinci have vastly different tastes in cigars, which was a strength and a challenge for their idea: it could broaden the appeal of their final product, but they had to find common ground for each of their cigar. They weren't going to produce something the didn't like. They'd order all sorts of samples, try this, try that, drew in a dozen other people beyond Uncle Lou to help them taste, test the cigar's burning resilience and other attributes, drafted cigar-rollers in Nicaragua, Honduras, the Dominican Republic. It was all done remotely.
Now they proudly talk of their cigars—of the Swanson, for example—in loving detail down to the origin of its leaves. "So you can appreciate the construction, the veins and all that, the burn is pretty even, white ash, which kind of tells quality, and the ash doesn't fall that often, it kind of holds on, that also means quality," Ekinci says as he smokes. He describes the Ron Swanson as "a strong, bold cigar, but not necessarily spicy." The lighter-colored cigar has all the same qualities, but has more of a "rich, creamy" smoke feel. "You want to recommend the darker one to someone who's experienced cigars before. The lighter one is more like a beginner,"  he says, betraying his characteristic impulse to teach (the seminar is one of Ekinci's many languages).
Ekinci has big ambitions: statewide and national sales marketed through ecommerce, a crowdfunded national campaign and his and Woods's marketing savvy. "It would be terrific if we ever get there, right?" he says. "Flagler Cigars are associated with Flagler County, so to speak, Flagler County becomes the new Ybor City, that would be huge. It's all speculation at this point."
From the look in Eckinci's eyes and the burn in his cigar, you'd think there was nothing speculative about it.