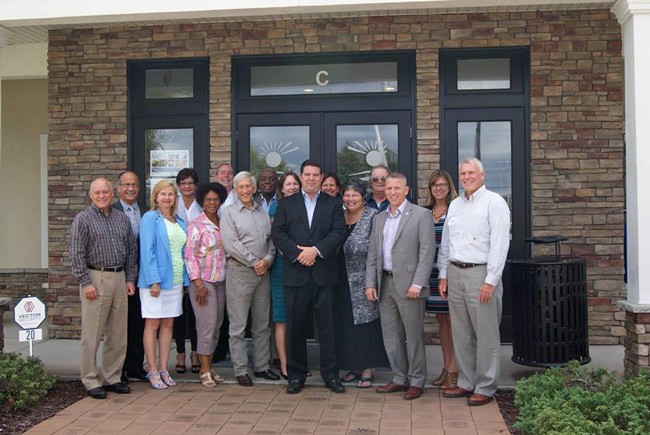 With one or two exceptions, the 10 potential political candidates who went through the Flagler Chamber of Commerce's inaugural Public Leadership Institute last week are familiar names to political news junkies: they've either all been candidates already, held office, or served on public advisory boards. You may see their names again soon as one of the most active local political season on record gets going.
The 10, in alphabetical order, were David Alfin, Rick Belhumeur, Marc Bellapianta, Carrie Chambers, Greg Feldman, Dave Ferguson, Kimble Medley, Myra Middleton-Valentine, Donald O'Brien and Pam Richardson. Feldman, Medley, O'Brien and Richardson have all run for office before (if briefly so for O'Brien), none successfully yet. Ferguson was appointed to the Palm Coast City Council and chose not to run when his seat was up, as he was moving to a different district. Alfin, Belhumeur and Middleton-Valentine and Stewart have all served (or still serve) on advisory boards. Chambers was part of Howard Holley's campaign for county commission last year.
Seven of the 10 candidates are registered Republican (Belhumeur was a registered Democrat last year, is a Republican now). Feldman and Chambers are independent, and Middleton-Valentine is a Democrat.
The 10 were culled from 16 applicants, chosen on criteria that, among others, weighed the individuals' interests in furthering the local business community. The sessions were closed to public and press.
"I believe we had a strong group and expect to see a lot of them filing for office in the next twelve months," Chamber President Rebecca DeLorenzo said. "2016 is a big year and we want to make sure that candidates are educated and also have a basic understanding of how campaigning and ultimately being elected can affect their lives."
The two-day training was held September 17 and 18 at the chamber and led by the program's creator and facilitator Mark Mills of Orlando, a former GOP operative. The program is usually an eight-week course. It was distilled to two days in what Mills described as "drinking from a fire hose." The cost of the program is between $7,500 and $10,000, including the fee for its main presenter and two days' worth of meals for participants.
The program did not cost the potential candidates anything. It was sponsored by several local and state businesses. The class heard presentations from Marian Johnson, senior vice president of political strategy at the Florida Chamber, and from Flagler County's Supervisor of Elections Kaiti Lenhart (a position Medley and Richardson ran for three years ago, hoping to take on then-supervisor Kimberle Weeks, though they fell in the Republican primary). Sen. Travis Hutson, Rep. Paul Renner and Flagler County School Board member Trevor Tucker also participated in the training, sharing personal campaign experiences and answering questions during working lunches.
---
A preview of who may be running in 2016, with business as a preferred platform.
---
"I had spoken with former graduates of this program and was already intrigued," Medley said. "But my take-away in one word is amazing. Mr. Mills, along with other presenters, offered a clear and concise understanding of the thought process that anyone seeking public office should follow. The course exceeded my expectations and strengthened my resolve to serve our community." She noted: "Business bias was absent from the class." Her most valuable insight? "Be prepared."
On leaving the council last year Ferguson left open the possibility that he'd be back in public service. "My past experience on City Council allowed me to learn the ropes of how the governing process works ( or does not) and a full appreciation of the finances and hot button issues," he said. "If I pursue elected office in 2016, it will be based on a vision of fixing the city-county divide, commercializing the tax base with quality jobs, including an emphasis on health care, IT, and high-tech research."
Ferguson acknowledged that the chamber institute "prefers those with business experience and focus."
Belhumeur, whose involvement at the Flagler Beach City Commission in the last several years make him almost an honorary commissioner–he also serves on the county's parks advisory board and chairs the affordable housing board–has made no secret of his intention to run for the city commission next year. He wants to unseat Commissioner Steve Settle.
"It did meet my expectations plus more," he said of the institute. "It was an excellent seminar for me having never ran for office or been involved in anyone's campaign." The program did not designed to encourage anyone to run so much as help potential candidates gauge the right timing for a run, he said, "depending on time, money and your message." Partisanship played no role in the presentations, except to explain how partrisan campaigns differ from non-partisan ones (the school board and Palm Coast council are non-partisan positions, for example). "The most valuable insight for me was how to market myself to a targeted voter. A lot of time was spent explaining how to run a successful campaign," Belhumeur said.
The chamber intends to make the institute a permanent fixture in preparation for even-year, general elections. "The participants walked away with a lot more insight on the process and considerations of running a campaign they would not have gained otherwise," DeLorenzo said. "I'm very proud of what the committee and our chamber has been able to accomplish with state sponsors and local partners to make this a reality. We're excited to start the process of identifying and encouraging future leaders in our community."