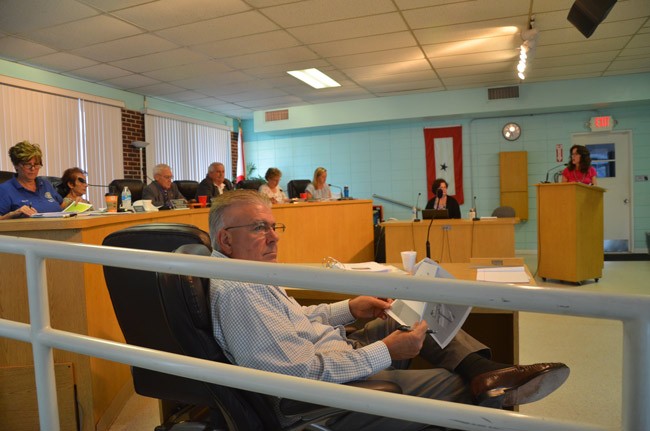 My wife and I live in Palm Coast's languid P Section. It's suburbia, without a town to be a suburb of. So for the past 15 years we've gone to Flagler Beach whenever we've needed to feel in a real town where shops, streets, atmosphere and at least a little bit of history older than yesterday's grass clippings combine to give cities their unique character. But in those 15 years, and aside from July 4, we've not once—and I mean not once—had trouble parking. That's been true when we've wanted to walk the beach, have brunch or dinner, stop for ice cream or, in my case, attend a number of city meetings. We may on occasion have had to walk two blocks. But that should be a rule, not a complaint.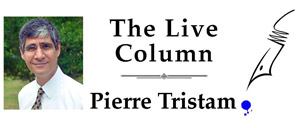 I don't think we're unusual. You never hear of people freaking out about parking in Flagler Beach the way they do in St. Augustine or Manhattan. Which makes the Flagler Beach City Commission's recent delirium for paid parking of one sort or another almost baffling. (Almost, because nothing is really baffling in our government version of Ripley's.) Never being one to take the bull by the horns on anything meaningful, the commission punted to a committee to study the matter for two years. Half the committee was stacked with government voices, counting the city manager and the mayor, who are brilliant at talking about getting government out of your business, except when it comes to their own government.
Naturally the half of the committee that spoke for the government recommended an elaborate scheme of paid parking blanketing the city's core and junking it with gaudy parking kiosks, gaudier parking attendants and what would have to be a new regime of parking enforcement that would likely borrow a few boots and pointers from Palm Coast's code enforcement brigades. There were more modest recommendations, too. But the only thing missing from those was a drawing of a parking spot in a slippery slope. If Flagler Beach is doing its best to unbecome Flagler Beach and take on the pretensions of every other crass, touristy Florida town, it's on its way.
The problem at the root of the city's creep toward paid parking is its motive. It has nothing to do with solving a parking problem, since there isn't one. The city wants more money. It wants a new revenue source. That's all. Cashing in on parking seems easy, even though the plan now appears to be so top heavy and so full of impossibly rosy assumptions about how often people will be willing to park and pay that it'll probably end up costing the city more than it'll profit it, and not just in dollars. The city will pay a price in reputation and business friendliness, too.
Put simply, Flagler Beach doesn't have a parking problem. It has a big government problem. The very same commissioners who have no trouble parroting the old anti-government lines to their Republican choirs seem to have no trouble embracing an obtrusive, unneeded bureaucracy and infrastructure for a few dollars more, assuming they'll make a few dollars, and assuming they even need them. Ironically, the only commissioner to be opposing the scheme outright is Jane Mealy, who happens to be the commission's closet thing to a pinko liberal. And the strongest voice for paid parking is none other than my excellent friend Kim Carney, whose paranoid anti-government credentials could melt the bark off a John Bircher. Not in this case, of course. The alleged voices of small government are concocting a government intrusion on their residents' and business owners' lives that only a big brother missing a few marbles could think up.
And this is as pro-government a voice speaking as you'll hear: we're under-taxed, under-regulated and under-served in most ways. But back-door swindles like Flagler Beach is contriving aren't the way to go. If Flagler Beach is hard up for money, it hasn't made a clear enough case to its taxpayers, nor presented clear enough options to meet that need. The reality is that the city isn't hard up for dollars, and appears to be manufacturing a solution for a non-existent problem. That may be an unfair sum-up of the city's finances. If so, the city has only itself to blame: it hasn't communicated its bottom line's troubles beyond vague sloganeering at commission meetings.
I can hear some of the commissioners now. You don't live here. It's not your town. They're right. But Flagler Beach wouldn't be much without us, its visitors. The beach doesn't keep you in business. We do. Sand, crabs and little fishies aren't the patrons in your shops. We are. And your most loyal visitors are your closest neighbors. If we want aggravation from our town, we can always seek out a red-light camera.
There's a cautionary tale there for Flagler Beach. Its paid parking will very quickly have the same effect as Palm Coast's cameras once had. It'll do more damage to the city's reputation than it's worth. And it'll lose a lot of loyal visitors like me. Palm Coast learned its lesson the hard way. Let's not let Flagler Beach be such a boneheaded copycat.

Pierre Tristam is FlaglerLive's editor. Reach him by email here or follow him on Twitter @PierreTristam. A version of this piece aired on WNZF.