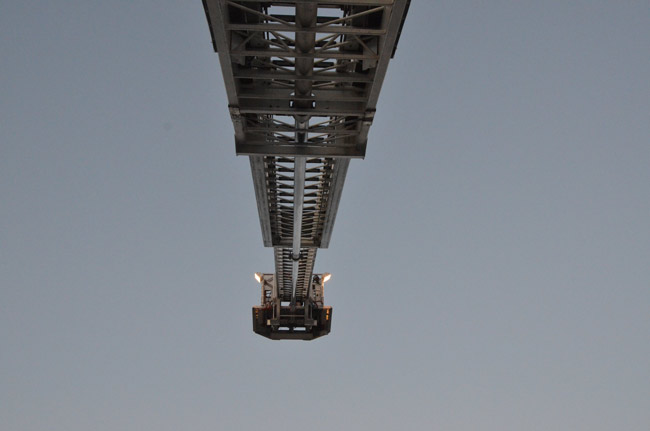 Twice last month, Flagler Beach Fire Department personnel acting as representatives of the city took unauthorized trips to two manufacturers of fire trucks–one in South Dakota, one in Wisconsin–to shop for a replacement fire engine.
Bruce Campbell, the city manager, knew nothing about it–an affront to his authority, particularly given the way he found out about it.
"I was made aware of it by a private citizen that this all took place," Campbell said, "and unbeknownst to me, when I asked the question, I found out that it had taken place. I fully expected when I asked the question that this was all a bad rumor."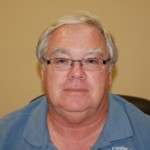 Flagler Beach martin Roberts and two other members of the fire department traveled in early June to Rosenbauer America's South Dakota plant in Lyons. They did not spend city money. Nor did they do it on city time. They took vacation for the three-day trip. But Rosenbauer picked up the cost of the entire trip, including air fares, hotel and meals. The company has a program that underwrites prospective buyers' trips. Still, ethical issues are in play when a company wines and dines public employees, especially when there is either a probability or an expectation of a transaction.
A second trip took place last week, to Wisconsin–to Pierce Manufacturing's Appleton plant. Fewer details are available about that trip, which may have involved only one member of the department.
Campbell is investigating the matter.
The controversy has been making the rounds of every rumor mill in town and leading to speculations about the fire chief's fate, including his firing. "That hasn't been determined yet," Campbell said when asked about the chief's job. The city manager hires and fires the fire chief, but the commission may, under the city's code of ordinances, investigate potentially unacceptable conduct by city employees.
At Commissioner Steve Settle's request, the commission had scheduled a special meeting for this afternoon to discuss the matter under that section of its code. The wording of the ordinance underscores the severity of the issue: "The Commission may, on its own initiative, seek information and gather facts for the purpose of investigating any circumstance or situation of which the Commission may become aware that appears to violate or may potentially violate an acceptable standard of conduct for city officers. If, as a result of such investigation, the Commission determines the need for remedial or preventative legislation, the commission may make such changes to its ordinances as it deems appropriate."
The meeting was cancelled earlier today, and rescheduled to July 10 at 5:30 p.m. The reason for the cancellation, according to the deputy city clerk, was that Friday's notice of the meeting had not been sufficient. The notice went out electronically from the city's office through an email blast. But according to city code, "The agenda for such meeting will be posted on the bulletin board next to the front door of city hall no less than seventy-two (72) hours prior to the time the meeting is scheduled to convene." That posting did not occur Friday, Jane Mealy, chairman of the commission said.
The cancellation led to further speculation about the controversy, especially as Campbell had been asked not to take any action until the commission's review was done. "I was in the process of doing an investigation about it," Campbell said without going into details. Nor would Roberts. "Right now I'm not at liberty to say anything until the meeting but that's where it stands," Roberts said. "Nothing was done illegal or improper."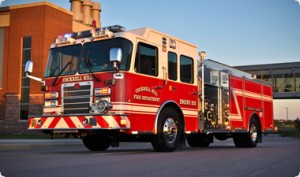 Mealy does not see a controversy. The city commission, she said, had granted Roberts permission to travel to New York State to take a look at a truck several weeks ago. "By rthe time he got around to going, the truck was sold," mealy said. Roberts then heard about the truck in South Dakota and about another one in Wisconsin, and took vacation time to investigate.
"I know that when this truck comes before the commission we'll have questions about why is this one better than the old truck," Mealy said. "By his going and looking at it he'll be able to answer us, so I actually have no problem with it."
Flagler County has attempted several times to absorb Flagler Beach's fire department but faced intense resistance every time. This issue may revive the push for consolidation, especially as it centers on a pumper truck that, while needing between $25,000 and $30,000 in repairs, has only 48,000 miles on it. County trucks have twice as many miles and still run.
The pumper truck is a spare that the fire department wants to replace. Mealy said that the truck is itself worth just $25,000. She doesn;t dispute that the repairs are doable. But even if the repairs were conducted for that same cost, it would still be a $25,000 truck in the end, she said.