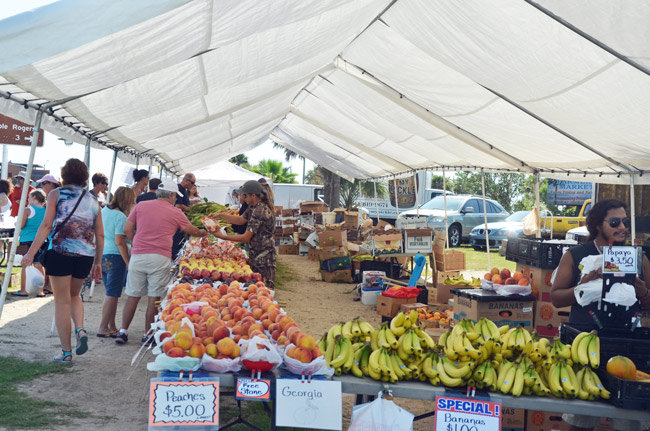 In a pair of decisions Thursday, the Flagler Beach City Commission voted to apply only a light regulatory hand on the city's famed farmer's market, and to start negotiations on buying the last remaining enclave in private hands at the former Ocean Palm Golf Club at the south end of town.
The farmer's market issue had caused tensions when it first arose last September. At the time, the city administration had proposed rules that would have more strictly regulated what type of vendors could operate at the market in the center of town. Many vendors could have been forbidden from selling there anymore. Zoee Forehand, who'd run the market with her husband for 35 years, had never been warned.
The problem with the proposed ordinance was bad wording.  The city commission didn't disagree. The issue was tabled. The ordinance was rewritten. On Thursday, Forehand's attorney, Dennis Bayer, said Forehand was fine with the ordinance, which focuses more on definitions than on regulations. Vendors will have to get a local business tax receipt to operate (iunless they already have one for a business in the city).
The city will restrict farmer's markets to lots of at least 10,000 square feet, but that in effect is a protectionist measure for the Foreehand market, since no lot of that size can readily be turned over to a farmer's market in town. There is a scope of products that may be offered, but it's broad and in line with products that have been offered customarily. And markets are limited to three days per calendar week.
Aside from Bayer, only one person spoke on the issue—Rick Belhumeur—and the ordinance passed on first reading, 4-0. (Commissioner Joy McGrew was absent.)
The golf course discussion, earlier in the meeting, stretched closer to an hour. Mostly over procedural issues. The commission was in agreement to buy the 2.9-acre enclave at the old—and overgrown—golf course. But price was a sticking point. A first vote approved buying the land for no more than $235,000. On the commission attorney's advice, the motion was later withdrawn because, from a reading of an Attorney General's opinion, the attorney feared that setting a cap on the purchase could run afoul of sunshine rules. So the cap was removed.
The appraisals for the land in question varied by a wide range: one came in at $73,500, another at $235,000.
The city is not interested in selling the full property, once it is entirely in its hands, but in leasing it to a private company that will run it as a golf course, including a driving range—a very risky proposition at a time when golf courses across the nation have been closing by the hundreds since the Great Recession, when new golf courses every year can be counted on two hands, and when the number of golfers has been falling precipitously. Palm Coast's experience with its Palm Harbor Golf Course illustrates the sort of challenges cities have been facing. But Flagler Beach officials believe they can make a go of it. They got several letters of intent by prospective leasers of the property.
The issue was discussed and studied at length by the city's own Alternative Use Committee, chaired  by Mike Flank, who also presented the issue Thursday evening. One prospective company is interested in running the property—Indigo Lakes Golf Club of Daytona Beach. "They're very interested in going forward with that parcel," Flank said. "But they bhad to have that driving range. They wanted the cash flow from the driving range to complement the rest of the golf course. So trying to press them a little bit further for information, for a more detailed response—because some of the committee members aid, well, gee, can't we get more information, as Commissioner [Jane] Mealy explained, can't we get something detailed explaining every dotted i that you're going to do. They said, listen, and I'm not trying to be condescending here but they said, dealing with government we know that sometimes best intentions fall astray. So as much as we would like to go forward with this, we know that the city of Flagler Beach is a  governmental body and they're going to act as they will act to obviously implement or make that happen. But we don't want to put a whole lot of energy and resources and money into a prospectus, which is what you're asking us for, explaining in great detail what we're going to hope to achieve and accomplish if we don't end up consummating a deal."
City Manager Bruce Campbell and City Attorney Drew Smith will negotiate with Indigo. The two sides have two weeks to reach a deal—that is, until the commission's next meeting.