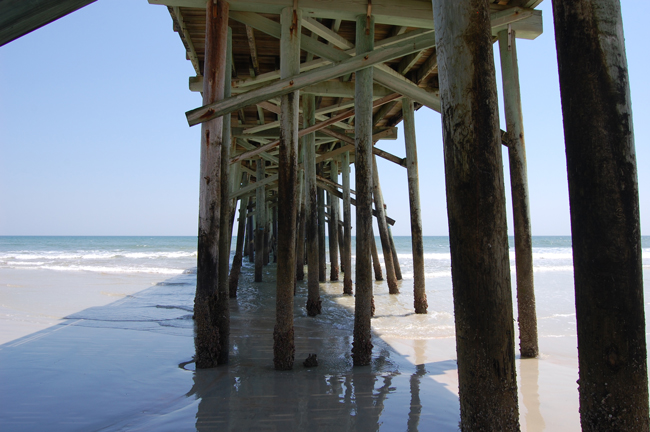 One of them is a flight attendant. Another is a pastor. One is a part-time truck delivery man, though he was formerly the public works director in Bunnell. Many have at least a master's degree in business or public administration, most have worked or are still working in city or county administrations, and 13 are currently unemployed, not counting one who's applying from retirement.
In all, 34 people — 27 men, seven women — have applied so far for the county manager's position in Flagler Beach. Bernie Murphy is leaving the post after serving almost four years as an "interim" manager–longer than most managers, interim or not, in the city's recent memory.
The thickening pile of resumes will thicken further: resumes are being taken until the end of July.
The list breaks down further this way: So far, exactly half of the applicants are from out of state. Of the 17 from Florida, five are from Flagler County, including Catherine Brewer of Palm Coast, Eric Crandall of Bunnell (he's the former Bunnell public works director), and Bruce Campbell, Tom Garris and Leah Sebag of Flagler Beach. Sheri Barrow lists a Valdosta, Ga., address on her resume, but says in her cover letter that she lives in Flagler Beach. John Tahlier lives in Daytona Beach, but he's a bookkeeper with the city of Flagler Beach.
Other than Tahlier, Volusia is offering up four other candidates. Two are from Jacksonville, one each from Orlando, Apopka, Tequesta, Sarasota and Winter Haven. The 17 other candidates are spread around 11 states, four of them from Georgia, three from Texas, two from Virginia, and the rest from elsewhere around the Union.
Remarkably, some applicants did not list their education. Just as remarkably, some applicants seemed to have an unusual idea of what it takes to run a city. "I suspect you'll find very few candidates with a background such as mine, and it's one I'd like to put to work for the City of Flagler Beach," Christopher Johnson of Portland, Ore., wrote in his cover letter. My experience with the executive-level administration of a large network of paid staff and volunteers is something the city would profit from greatly in your next city manager." But he's been a pastor at two churches, a delivery truck driver, a teller, and an after-school worker.
Michael Kane of Snellville, Ga., a flight attendant with Delta with an MBA from Columbia Southern University, wrote: "I'm currently in the airline business partly as a sabbatical, but also to experience the vagaries of a business that's in constant flux be it from fuel prices, schedule adjustments, or weather. The ability to direct decision making to alter track and respond to these forces is not unlike dealing with the economic and political forces at work on a municipality."
A minority of commissioners didn't want to take on the entire stack of resumes, preferring that the first cut be done either by a consultant or by an independent group. But other commissioners prevailed, saying they wanted to be involved at every step of the hiring process.
Whether it's as wide-open a process as it appears is open to question: The Flagler Beach candidates may have an inside track, based on the number of commissioners who said they want a candidate closer to home who won't use the city as a stepping stone to bigger markets. But their worry that the recession would generate a large number of stellar, overqualified candidates appears, so far, to be misplaced.
Flagler Beach City Manager Applicants
| Applicant | Location | Current Employment | Highest Degree |
| --- | --- | --- | --- |
| Thomas Avant | Sandersville, Ga. | Not currently employed. Last worked as a temporary environmental, health and safety manager at KaMinn LLC in Sandersville | MBA, Georgia State University |
| Scott Banninga | Muskegon, Mich. | Substitute teacher | MPA University of Nebraska |
| Robert C. Bannister | Cincinnati, Ohio | Village Manager, Village of Lincoln Heights, Ohio | MPA, Xavier University |
| Sheri Barrow | Valdosta, Ga. (cover letter says she's living in Flagler Beach) | Not currently employed | Associates degree in library sciences, Georgia Southern College |
| Everett Basford | Massena, NY | Village administrator of Massena, since 2002 | MBA, Clarkson University |
| Amanda Beauchamp | LaGrange, Ky. | Health plan advisor with Blue Cross & Blue Shield since 2010 | BS in management, Embry Riddle Aeronautical University |
| Bruce Behrens | Groveland, Fla. | Not currently employed. Was town manager in Summerton, SC, until 2009. | BA, Rollins College |
| Austin Bleess | Blaine, Minn. | Community development director, Wells, Minn. | MPA, Walden University |
| Richard Blumenfeld | Atlanta, Ga. | Founder of Family Circle Communities, non-profit for affordable housing. | BS in marketing and finance, University of Alabama |
| Terrell Brannon | Tallahassee, Fla. | Facilities instructor, Florida Department of Education | MPA, Florida Atlantic University |
| Catherine Brewer | Palm Coast | Tapestries of Life, co-founder and CFO, Sept. 1988-Nov. 2007 | No education listed |
| Matthew Brock | Patrick AFB, Fla. | Not currently employed. Was city manager, Live Oak, Fla, 2003-2005 | Master's in administration, Central Michigan University |
| Terra J. Brock | Daytona Beach | Research Analyst, Cunningham Research Group, Ormond Beach, since March 2010 | BS in Psychology, Embry Riddle Aeronautic University |
| Alton Brown | Edgefield, SC | County administrator, Edgefield County, since 2010 | BA, University of Tennessee |
| Steven Burch | Beverly Hills, Fla. | Mentor and tutor, Community Action Foundation of Citrus County | MBA, Florida Metropolitan University |
| James Bursick | Vero Beach, Fla. | Town Manager, Melbourne, Fla. (since June 2006) | MA in engineering, University of Colorado |
| Jack A. Butler Jr. | Orlando, FL | Central Improvement Program Manager, City of Ocoee, since 2006 | No education listed |
| Richard Cannone | Miami, Fla. | Development services director, Hallandale Beach, Fla. | MS in public management, St. Thomas University |
| Nancy Carolan | Sarasota, FL | General Manager, Sarasota Sailing Squadron, since Dec. 2008 | MBA from St. Johns University, NY |
| Bruce C. Campbell | Flagler Beach | Building maintenance worker, City of Flagler Beach | Executive MBA from Kent State. |
| Martin Cass | Palm Coast | Facilities accountant, Daytona State College | MA in accounting, University of North Florida |
| Lawrence Cavallaro | Lakeland, FL | Not currently employed. Was chief of police and interim city manager in Mulberry, 2005-09. | MBA Warner Southern College |
| Lee Chastain | Marietta, Ga. | City planner, Thomasville, Ga. | BA , Fort Hays State University |
| Kirk Chong | Flagler Beach | Counter man at Napa Auto Parts, Ormond Beach | BA from UCF |
| David Clabo | Jefferson, Ga. | Clerk at US Census Bureau since February 2010 | BA, Augusta College |
| James Coleman | Lady Lake, Fla. | Not currently employed; was city and airport manager in Williston, Fla, until 2008 | BA, UCF |
| Cole Copertino | Weston, Fla. | Assistant city auditor, Fort Lauderdale | Law degree from Nova Southeastern University |
| Eric Crandall | Bunnell | Part-time delivery man, Lowe's of Palm Coast, since Dec. 2009 (former public works director, Bunnell) | Plumbing apprenticeship from Daytona Beach Community College, 1990 |
| Angela Crawford | Cuba, Missouri | Not employed (last worked as community services and economic development intern at the City of Chesterfild, Mo, until April 2010. | MA in social work, Washington University, 2010 |
| Andrea Curtis | West Bountiful, Utah. | Not currently employed. Was in undefined community and economic development post in the Salt Lake City Corporation until 2009 | MPA, Brigham Young University |
| Davis Dautreuil | New Iberia, La. | Partner in Three D Information Technology LLC, public consulting firm | MA in management and administration, University of Louisiana |
| Edward Clark Davis | Woodstock, Ga. | Georgia Army National Guard, Counterdrug Task Force Member since 1990. | MPA Columbus State University |
| Andrew T. DeCandis | Jacksonville | Senior director of planning and government relations, Orange County Board of Education, since Set. 2006 | Master of Public Administration (MPA), Marywood College/University |
| James DeCuzzi | Ft. Meyers, Fla. | Founder, The Jamus Group, investment consulting firm | Juris Doctor, Rutgers University |
| David Denman | Boca Raton | Accounts payables, Palm Beach County Fire Rescue | MPA, Florida Atlantic University |
| Alice Derian | Hilton Head, SC | Contract and services administrator for Hilton Head since 2008 | BA from California University of Pennsylvania |
| George Calvin Dickens III | Savannah, Ga. | Fireman-Driver | MPA, Georgia Southern University |
| Francenina Diedrich | Mary Esther, Fla. | Not currently employed. Was administrative services director of city of Fort Walton Beach | MPA, University of Central Florida |
| Randall Dilling | Port Charlotte, Fla. | Not currently employed. Was Miami Springs police chief until 2008 | MPA, Columbia Pacific University |
| Jackie Disher | Deerfield Beach, Fla. | Deputy director of recreation, Deerfield Beach | MPA, University of North Florida |
| John J. Drago | Apopka, Fla. | Not employed. Was city administrator, Longwood, Fla., 1999-2009 | MBA in management, Georgia College |
| Sean Dunagan | Brownsville, Texas | Senior intelligence specialist, US Department of Justice | MPA, Valdosta State University |
| Jim Duryea | Kennesaw, Ga. | Owner, Jadco networking Partners, real estate financing and consulting company | BA in finance, Tennessee Technological University |
| James R. Elium III | Port Isabel, Texas | Not currently employed (was general manager for Olmito Water Supply Corp., 1994 to Sept. 2008) | Did not complete a degree at the University of Texas, Arlington |
| Ernest Elizardo | Allen, Texas | Account operations leader, Dell Trinity Industries | BS from the University of Texas |
| Tonya Elliott | Lakewood Ranch, Fla. | Program management specialist, Progress Energy, since September 2008 | BA in advertising and public relations, University of Central Florida |
| Michael Evans | Flagler Beach | Historical interpreter and operations director, Florida Agricultural Museum. | BA, University of North Florida |
| Michael Frederick | Beaver Falls, Pa. | Manager, Steak 'n Shake | BS, Slippery Rock University |
| David Fuqua | Cushing, Okla. | Self-employed marketing consultant since 2008 | MPA, University of Oklahoma |
| James P. Gallagher | Winter Haven, Fla. | No current employment listed. Was Dundee town manager, 2004-2006 | MPA, Nova Southeastern University |
| Tom Garris | Flagler Beach | No current employment listed; was business manager and regional controller, WCWJ and WRBL, Jacksonville broadcast stations | BS in business administration from the University of Florida |
| John Garvison | Washougal, Wash. | CFO, Clackamas County Soil and Water Conservation District, since 2009. | MBA, Upper Iowa University |
| Edward Geppner | Palm Coast | Not currently employed. Was director and chief operating officer at Mylliard Holding Corp., until 2009. | CPA, Chapman College |
| Wil Giron | Opelousas, La. | Executive director of New Horizons Youth Services Bureau since 2009. | BA in sociology, Gambling State University |
| James Gleason | Atlanta, Ga. | City manager, Chamblee, Ga. | MPA, Webster University |
| Jeffrey Gorley | Waynesboro, Va. | Housing Authority director of public safety, Waynesboro, Va. Since Nov. 2009 | Associate's degree in public administration, Miami Dade Community College (1991). |
| Virginia Haas | Titusville, Fla. | City clerk, Oak Hill, Fla. | BA, Mississippi State University |
| Cindy Hall | Eustis, Fla. | Not currently employed, was county manager, Lake County, until 2009. | Masters in applied economics, UCF |
| Brian Hammons | Lady Lake, Fla. | Planning and development services director, Putnam County | MA in geography and urban planning |
| Catherine Harding | Tequesta, Fla. | No current employment listed. Was community development director, Tequesta. | BA from Fairleigh Dickinson University |
| Charles Hardyman | Summerfield, Fla. | General manager, Patrick Industries, since 1983 | Attended Ivy Tech Vocational College |
| Tom Hartley | Griswold, Conn. | Director of parking, city of Middletown, Conn., since March 2010 | MBA from the University of Connecticut |
| Judith Ann Heenan | Montgomery, Ala. | Not currently employed. Was a business analyst with Electronic Data Systems, 1998-2001 | MPA, Auburn University |
| Peter Herbert | Vernon, Fla. | Not currently employed. Was county manager, Washington County, Fla, from 1998 to 2010 | MBA, State University of New York |
| Jacklin Henning | Ormond Beach, Fla. | Registrar, Halifax Medical Center | AA in business administration, Kaiser College |
| Michael James | DeLand | Founder and president, PGB International development | MBA in international business and finance, Western International University |
| William Scott Janke | Tarpon Springs, Fla. | self-employed as a financial services consultant. Was town manager in Fort Myers, 2008 to 2009 | BA in economics and geography, University of Florida |
| Michael Jara | Aiken, SC | Assistant chancellor of facilities, University of South Carolina-Aiken | MBA, University of Phoenix |
| Christopher B. Johnson | Portland, Ore. | Senior pastor, Bethany Baptist Church, Portland (since 2008). | BA in theology, Andersonville Theological Seminary |
| Patrick S. Jordan | Hurst, Texas | Records manager for the Tarrant County Clerk, since August 2008 | MPA from Western Michigan University, June 2000 |
| Mike Judd - WITHDRAWN | Bunnell, Fla. | Senior director of school operations, Flagler County Schools. | MA in education leadership, University of Central Florida |
| Michael P. Kane | Snellville, Ga. | Flight attendant, Delta (dates not provided) | MBA from Columbia Southern University, Alabama |
| Hugh J. King | Duluth, Ga. | No current employment listed. Was city manager, Monticello, Ga. | MA in city management, East Tennessee University |
| Matthew Kline | Sandusky, Ohio | Not currently employed. Was Sandusky's city manager, 2007-09 | MPA, University of Akron |
| Steven Kotsatos | Akron, Ohio | Substitute teacher | BA, University of Akron |
| Bernard C. LaPira | Old Fort, NC | No current employment listed. Was village manager, Islamorada, Fla., 2003-2006 | MPA from Florida International University |
| Therese Leary | Hilton Head, SC | General manager, Indigo Run Community Owners' Association, since 2002 | MA in management, Antioch University/New England Graduate School |
| Anthony Licciardi | Hammond, La. | Manufacturer's representative | BA from Southeastern Louisiana University |
| Craig Lonon | South Padre Island, Texas | Not currently employed. Was city manager of Harlingen, Texas, 2006-2009 | MPA, University of North texas |
| Jim Luebbering | McDonough, Ga. | Building and development services division director, Henry County, Ga. | BS in civil engineering from the University of Missouri-Kansas City, BS in finance and banking from U. of Mo.-Columbia. |
| Craig MacLeod | Palm Coast, Fla. | Not currently employed. Was hedge fund manager, RCM Marketwise, 1993-2010 | MA in business, Brigham Young University |
| Dale Martin | Linden, Mich. | City Manager, Davison, Mich., | MPA, Oakland University |
| James Manfre | Palm Coast | Attorney in private practice since 2006 | Doctorate of law, St. John's University |
| Wayne Martin | Cherryville, N.C. | President and CEO, Kingdom properties | Masters of Science in Executive fire service leadership, Grand Canyon University |
| David Marcus | Lake Almanor, Calif. | Lassen County, Calif., public defender, since 2005 | MPA from California State University |
| John A. McIntyre | Orland Hills, Ill. | Not currently employed. Was economic development coordinator, Beach Park, Ill. | MPA, Troy State University |
| Stewart Meek | Bloomington, Indiana | Not currently employed. Was program manager, civic engagement team, City Year Cleveland | MPA, Indiana University |
| Robert A. Morris | Covington, Va. | Community development director, Clifron Forge, Va., since October 2008 | BS in business leadership, Bluefield College, Va. |
| Tarek Moneir | Roanoke, Va. | Deputy director of community development, Roanoke | MA in community planning, Kansas State University |
| James A. McCroskey | Port Orange, Fla. | Assistant city manager, Daytona Beach Shores, since January 2006 | MA in urban and regional planning, University of Mississippi |
| Kenneth D. McKeown | Jacksonville, Fla. | Deputy Comptroller, City of Jacksonville | BS in business administration, University of Southern Mississippi |
| Ricardo Mendez | Miami, Fla. | Vice president, RA Consulting Engineers, since 2007 | MBA, University of Miami |
| Brent Morrow | Barstow, Calif. | Community development director, Barstow, Calif., 2007-2010 | MPA University of Montana |
| Greg Moyer | Broken Arrow, Okla. | Middle and high school teacher since 2007 | MPA, Jacksonville State University, Ala. |
| Luke B. Olson | Kearney, Neb. | No current employment listed. Was a management assistant, City of Kearney, Neb., Jan. 2008-Jan. 2010. | MPA from Florida State University |
| James Perkins | Selma, Ala. | Self-employed as consultant and public speaker since 2009 | BA in mathematics, Alabama A&M |
| Gary Rawlings | Charles Town, WV | City manager, Charles Town, W.Va. since 2008 | MPA from the University of Hartford |
| Keith Robbins | Fernandina Beach, Fla. | Not currently employed. Was town manager, Winchester, Conn., 2008-09 | BA in business administration, Eastern Connecticut State University |
| Arthur Roberts | Wantage, NJ | Not currently employed. Last employed as an internet researcher, Retail Placement Solutions, 2001-2008 | BA, Montclair State University |
| Mark Robledo | Ontario, Calif. | Police department management analyst, Pomona, Calif. | MBA, University of La Verne |
| Russell L. Roebuck | Deland, Fla. | Retired from the Greater Orlando Aviation Authority's construction services, where he was a construction services support manager, in 2009. | MA from Barry University |
| Denise Rose | Willingboro, NJ | Township manager, Deptford Township, NJ, since 2007 | BA from St. Michael's College in Vermont |
| Leah Sebag | Flagler Beach | No current employment listed. Last worked as president and mortgage broker at Lonesome Pine Mortgage in Flagler Beach, 2002-2008 | Expecting to graduate from Daytona State College in August with a BAS in supervision and management. |
| Gary Alan Shuler | Flagler Beach | President and general manager, Shuler Tidewater & Sandpiper Contracting, since 1994 | BS in business administration, the Citadel military college |
| Dennis Sparks | Hopewell, Va. | Self-employed management consultant since 2005 | MBA from Virginia Commonwealth University |
| Michael Stampfler | Portage, Mich. | City manager of Talladega, Ala. | MA in international studies and MPA from Western Michigan University |
| John P. Tahlier | Daytona Beach | Bookkeeper, City of Flagler Beach, since Sept. 2009 | BS/BA in accounting, University of Arkansas |
| Anthony Troiano | East Sandwich, Mass. | Not currently employed. Former town manager, Hopkinton, Mass., from 2006 to 2008 | MPA, Western New England College |
| Tom Vanderhorst | Dayton, Ohio | axation and billing administrator, Springfield, Ohio | MPA Wright State University |
| Cooper Whitman | The Dalles, Ore. | Not currently employed. Was a bank teller from 2008 to 2009. | MPA, Portland State University |
| Brian Wilson | Milan, Ohio | City administrator, Milan, Ohio | MA in administration |
| Jim Wilson | Austin, Texas | Administration supervisor, Travis County Juvenile Probation Department, Austin, texas, since 2004 | MPA, Texas State University |
| Craig Zins | Cincinnati, Ohio | Not currently employed. Working temp jobs since 2007; was public service director, Green, Ohio | MPA, University of Cincinnati |