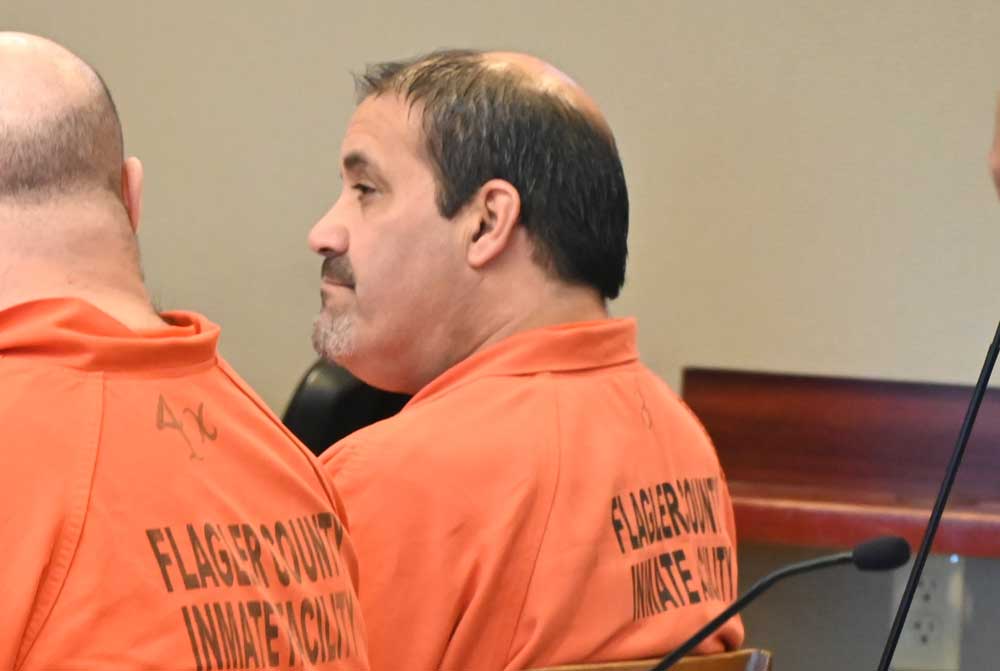 Frank Fiore is 53. He met Sylvia*, a 76-year-old resident of Columbia Lane in Palm Coast at Parkview Church last November. He told her he was down on his luck and had no place to live. She believed him and took him into her home.
A month later Sylvia became suspicious of Fiore's behavior and found out he had stolen tens of thousands of dollars' worth of her jewelry. She threw him out. She reported him to the Flagler County Sheriff's Office.
Detective Joseph Costello located some of the stolen items at pawn shops, but according to Assistant State Attorney Tara Libby, $19,000 worth of jewelry is still missing.
Fiore was arrested just before Christmas. He faces eight second-degree felony counts of dealing in stolen property and a count of grand theft, exposing him to up to 125 years in prison if convicted.
On Monday, he was back in court, imploring the judge to lower or remove his $67,500 bond so he could get out of jail and, as he portrayed it to the judge, get back to work so he can pay restitution to Sylvia. Circuit Judge Terence Perkins agreed to an extent: he lowered the bond to $42,500, though that may not be enough for Fiore, who had no job and no means of his own when he was arrested. He would need $4,200 to post bail.




The case is illustrative of how, in the words of Tara Libby, the Assistant State Attorney prosecuting the case–who describe it to a judge, Fiore standing a few feet from her–Fiore was the typical predator who preys on the elderly in a community not lacking for them, finding them in places of trust like a church, and defrauding them.
Libby argued his bond should not be lowered: she went through a criminal history that went back to his days in new York in 1988–criminal possession of a firearm, criminal sale of a firearm, aggravated harassment, drug charges, criminal mischief, larceny, contempt–some of which Fire did not dispute, saying he was very young, some of which he disputed. "I would have to see a computer printout of these charges," he told the judge.
Fiore claimed that he'd been making "great money" previously, owning his own business–Black Dog Contractors. The business provided interior home renovations. The business was established in Palm Coast in 2018, according to the state Division of Corporations. It was dissolved in March 2022.
HomeAdvisors, a website that provides customer reviews of local businesses, lists 12 reviews going back to 2019, all very positive but the last one, in April 202. That one read: "a few months after doing my bedrooms he stopped by my house and asked to borrow $100.00. I did not give it to him! a few weeks ago he pulled the same trick on a friend of mine who fired him because of his work .. BEWARE OF THIS GUY! HE IS ON A DOWNWARD SLIDE TO HELL! GIVE HIM MONEY, ONLY TO NEVER SEE IT AGAIN! YOU HAVE BEEN WARNED!"




Sylvia had not read the review. She attended the bond hearing with Costello. Tearfully, she addressed the court.
"I decided I could trust him after knowing him," she said, recalling when she met him. "He chose to reward my kindness by lying, manipulating and stealing from me." Among the items he stole, she said, were "my mother's ruing that she wrote all the time, the first ring that my husband gave me, those kids of things, and they can't be replaced, they're too old." She added: "He stole and invaded my memories, my trust and my friendship," going into every drawer and closet in her house.
"I just wanted you to know that it hurts. And while it may sound like I'm here for revenge, I'm not," she said. "What I'm here for is the other victims I'm afraid that he will lie and manipulate and steal from." She told the court that she did not think Fiore understands the seriousness of what he did: when she told him she would have him arrested, he told her that he'd give her restitution, and that "it wasn't personal. Well," Sylvia said.
Assistant Public Defender Bill Bookhammer, who is representing Fiore, said his client has been "very contrite" from the start and that he would work if released. He revealed the motives behind Fiore's thefts: "The addiction takes over their life, takes over their personality, takes over their better judgment." He said the bond his client faced was very high for a non-violent offense.




Libby, almost echoing periodic alerts and press releases issued by local police agencies and the sheriff's office, didn't buy Bookhammer's argument. "This is the danger to the community that we're seeing more often than not," the prosecutor said. "You have an elderly woman who wanted to help somebody, then you have somebody who comes with all these promises–and he rips her off." Libby said even in court, Fiore was lying about owning his vehicle, which is registered in his girlfriend's name, and about his business, which she said no longer exists.
He wants to bond out, Libby said, "so he can go back to the church and find another unsuspecting victim."
Perkins was concerned about the "cumulative effect" of each one of the counts against Fiore carrying a $7,500 bond, but he was also concerned about Fiore's profile, as outlined before him. So he lowered the bond the $42,500. As of today, Fiore was still at the Flagler County jail, awaiting the remaining disposition of his case.
That could take months, but is likely to end up in a plea deal: Fiore has essentially admitted his guilt by arguing before the judge that he was seeking release to secure restitution. He is not claiming he did not steal the jewelry. That leaves his attorney little room for maneuver at trial, necessitating a plea that now rests on the willingness of the state to offer a deal. It is not likely to be short on significant prison time. Fiore's pre-trial is scheduled for March 7.

(*) The alleged victim's name is a pseudonym.
Reader Interactions