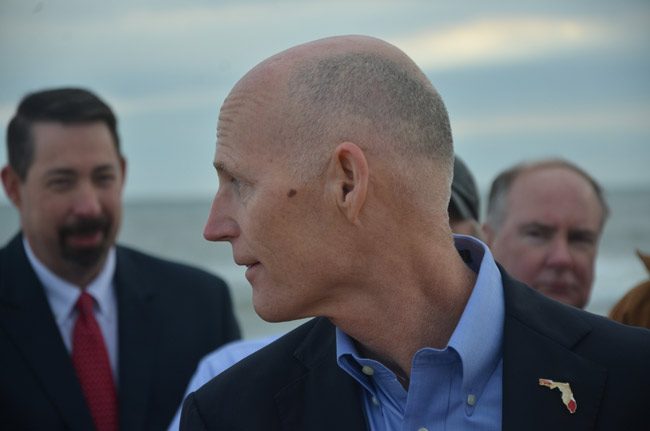 Flagler County Commissioners did not get the news they wanted to hear Monday. FEMA, the Federal Emergency Management Administration, will not pay at least $1.1 million in claims filed by the county for curbside pick-up of debris from private properties following Hurricane Matthew on October. FEMA is not explaining why it denied the claims. Also, the state emergency management's proportional match the county was expecting has been cut in half. And FEMA has yet to rule on close to $6 million more in Flagler claims.
"That's kind of the FEMA way, I hate to say it that way but that's the answer," Flagler Emergency Manager Steve Garten said, "and basically that's OK, you don't have to agree with them, you do the due process, which is what we're going to do." The county is appealing FEMA's decision.
Bottom line: the county's federal and state reimbursements could fall short by $2 million out of the $7 million the county spent or committed to spend to recover from the storm, County Administrator Craig Coffey said. The county was expecting that its share of emergency costs would be a few hundred thousand dollars, not in the millions. The county is confident its remaining costs will be reimbursed.
Even so, the potential, unexpected hit to the county's budget would be serious, as it would severely deplete reserves. Those reserves stood at $4 million before the storm. The county incurred $7 million in storm-related costs that had not been part of its budget. Sometime this spring, the county may have to borrow money to cover the deficit.
"We haven't written $7 million in checks, we have obligations," Coffey said. So far the county has moved $3.5 million from reserves into the general fund. "We've got money sitting there, but really it's not there, it's encumbered. Just like this million-dollar denial, technically from FEMA I could spend $4.5 million and get $4 million back, but I could also spend $4 million and get $2 million back, and that's the reality."
"We will have cash flow issues at some point," Coffey continued. "There's going to be a pinch that happens that we're either going to have to borrow money—if this FEMA money doesn't start flowing, we're going to have to borrow money, a bridge loan or something," sometime in April or May.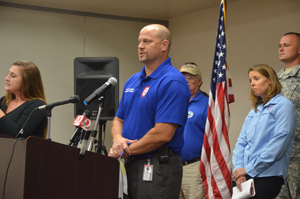 Commissioners learned the news in the context of a workshop presentation by Garten updating them on the finances of the October emergency. Other than debris removal, the county spent $700,000 on law enforcement and county employees' overtime, equipment and other protective measures (cops and firefighters' overtime accounted for $230,000 of that). County roads and bridges required $200,000 in repairs, county facilities another $150,000. Beach reparation is separate.
FEMA reimbursements require a local match, which Flagler was hoping to split with that state. But even that is in question now, given the federal denial. "They decided, and this is probably the director of emergency management and the governor, that we're going to have to go back and talk to these individuals because they denied their portion and said it's all on the county," Coffey said, referring to Gov. Rick Scott and state Emergency Management Director Bryan Koon, both of whom were in Flagler two weeks ago, getting applause for making a separate pot of emergency money available to the county. "Well, the approach we've taken on the 25 percent, we think that the state has picked up this match in previous storms, so why the change in policy is probably something we need to explore with them. But it's substantial for us, and we've taken the approach that those people pay for garbage out in front of their house, whether it's private or public street, they're homeowners just like everybody else, they pay taxes and stuff to the state, why they'd be treated differently is beyond me."
Flagler was given 180 days to provide tFEMA the necessary information for claims. "They're basically denying us well before that timeframe," Garten said. "I don't know why they're doing it but obviously we'll do that appeal process to fight that." Clay County, on the other hand, is receiving funding for all it asked for. "I cannot tell you the rhyme or reason of how FEMA picked who it picked for eligibility," Garten said. "Just because we don't have our invoices yet, I still think we have a good shot when we finally appeal that."
But the rationale behind the denial is still not clear. "Sometimes you've got to fight these things, and sometimes you don't get approved," Coffey said. "It doesn't necessarily mean that something bad happened, it means they changed the course."
Palm Coast so far is not facing the same issues with its reimbursements. "We have not had anything denied at this point," the city's finance director, Chris Quinn, wrote. "We do not have FEMA claims on our books from private property, only public rights of way."
Absent a reversal on appeal, the county's costs will likely affect next summer's budget season by scaling back projected spending.
"This board needs to understand then that we may come up against a financial wall here at some point if FEMA doesn't react to us," Commission Chairman Nate McLaughlin said, "because what we're doing is not only have we committed these funds, but we don't know where we are with state funds, what we're going to front there."