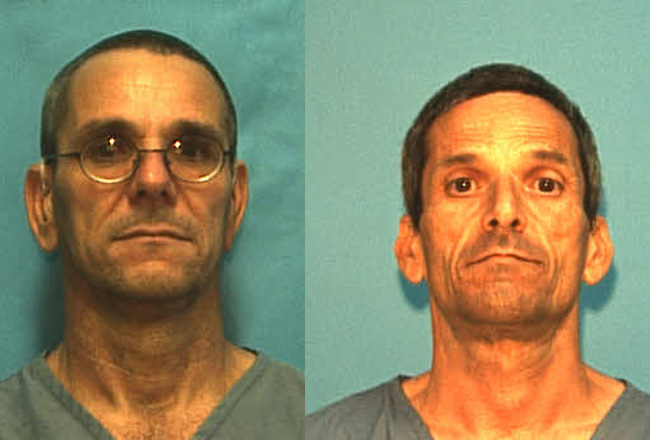 The stories of two brothers serving time for a 1981 murder clashed again Wednesday, as a state panel held parole hearings for Felix Garcia, a deaf man who supporters say was framed, and his brother Frank, who they say framed him.
Both brothers are serving long sentences for the murder of Joseph Tramontana Jr. in a north Tampa motel room.
The Florida Commission on Offender Review voted to reduce Felix Garcia's release date by 12 months and moved his next parole hearing up to 2017. Felix Garcia's release date now is in 2025, but commissioners kept Frank Garcia's release date in 2026. Felix Garcia's supporters had hoped he would be released with time served, arguing that he'd been unable to understand the evidence against him during the murder trial and wasn't given an interpreter.
"He had a 70 percent (hearing) loss," said Pat Bliss, who met Felix Garcia 18 years ago as a paralegal working on his case. "He kept saying, 'Yes, sir,' so they wouldn't think he was stupid. And that is another trait of the deaf."
But Hillsborough County State Attorney Mark Ober called that argument "disingenuous." He acknowledged that Felix Garcia had "a hearing problem," but said it didn't affect "his ability to hear and comprehend and comment on the issues during his trial."
Four of Tramontana's sisters also appeared, describing the devastating toll the murder took on their mother, father and another brother, Eugene.
"We've been doing this for over 30 years," said Emily Hobson of the hearing. "It takes a toll on you emotionally."
Felix Garcia's attorney Reginald Garcia — no relation to the brothers — said his client had been miles away at the time of the murder, with two witnesses substantiating his claim.
During the trial, Frank Garcia and a sister testified against Felix Garcia, but they have since recanted that testimony.
But when the commission turned from Felix Garcia's case to Frank Garcia's, a younger brother, Mike, said he'd been told Felix Garcia was present when the murder took place.
"From what I hear, that was not a robbery," Mike Garcia said. "It was a drug deal gone bad."
He also argued that Frank Garcia was remorseful for his role in Tramontana's murder and should be released. "I'm just saying, in the court system we have today, my brother has completed his 33 years," he said.
But the three-member commission — Tena Pate, Melinda Coonrod and Richard Davison — did not agree.
Although much of the testimony dealt with evidence for and against the Garcia brothers, commissioners made clear their function was not that of retrying the case but of determining whether the brothers had earned the right to release.
In Felix Garcia's case, they noted, he has earned a number of vocational certificates. Bliss, who is now retired, told commissioners that Felix Garcia would come to live with her in Virginia if he was released. She added that her church and many members of the deaf community were eager to help him re-enter society.
In fact, Felix Garcia's case has become something of a cause célèbre. In March, hundreds of Floridians rallied at the state Capitol for bills that would have required the licensure of sign-language interpreters and the restoration of funding for a council that coordinates the state's policies for deaf Floridians. But the measures failed.
According to the Centers for Disease Control, about 3.1 million Floridians are hearing-impaired.
Pate, the commission chair, called the brothers' case a prime example of the need for a prevention initiative the commission launched earlier this year, aimed at helping at-risk youths understand the impact of crime.
"Here we are 34 years later from when this crime was committed, and we're seeing the impact still today of how it has affected these families," she said. "And we're left trying to figure out exactly what it was that happened 34 years ago. So this is why I want us to continue our crime-prevention efforts."
–Margie Menzel, News Service of Florida