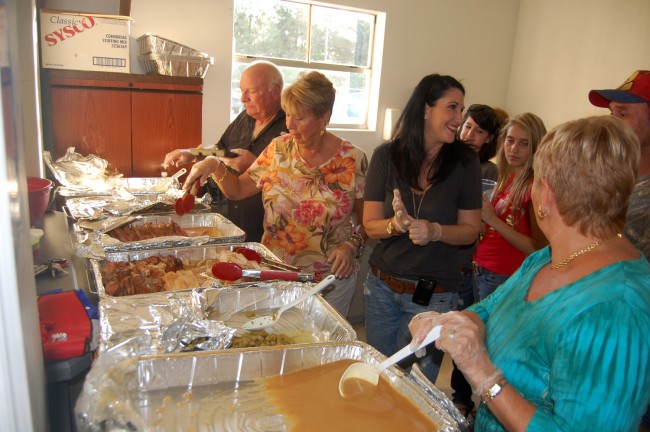 It's been a lot like election day. Instead of voting precincts scattered around Flagler County, there were 10 Thanksgiving feasting centers. People streamed in, people lined up in some places as many more turned up than expected, and they voted with hearts and appetites from 3 to 6 p.m today (Nov. 24).
Then the returns were counted: 450 meals served at Buddy Taylor Middle School in Palm Coast, 400 served at Mt. Calvary Baptist Church on Pine Lakes Parkway in Palm Coast, 210 meals served at First United Methodist Church in Bunnell, 250 meals served at the Hidden Trails Community Center in Daytona North in western Flagler County, 150 meals served at the Wickline Senior Center in Flagler Beach, some 60 meals served at the Pellicer Creek Community Center north of Hidden Trails, 108 at the Espanola Community Center, 165 at the First AME Church of Palm Coast, on Old Kings Road, 150 at St. James Missionary Baptist Church south of Bunnell.
Tally those numbers up and you get 1,943 meals served. The number for First Baptist Church in the Hammock was not available. That location was expecting between 50 and 75 people. So in the end, Feed Flagler had planned for 2,000 meals and served at least that many. In reality, the effort served many more meals than that since extra food was prepared on Wednesday to ensure against shortages, and most places did need second deliveries, and few places had any left overs at all.
"This is exactly what it was intended for–for the community to come out and enjoy a meal," said Milissa Holland, the Flagler County commissioner who originated the idea of Feed Flagler last year, and led it again this year. Last year she got inspired at a "Homeless to Homeward" meeting about the needs of homeless youths, when she heard the story of a local family whose children bathed in swales. She launched Feed Flagler then just two and half weeks away from Thanksgiving. Two thousand meals were prepared at Buddy Taylor and served at that school and one other location in Bunnell. The turnout was underwhelming, though every meal eventually made it to a family's table with the help of churches and other outreach organizations. This year the planning began eight weeks ahead of time, and Holland expanded the concept to take the meals to the communities, instead of asking communities to converge on one or two locations. The switch and the planning, with 400 volunteers chipping in, obviously paid off.
Holland herself served meals alongside Palm Coast Mayor John Netts at the Hidden Trails Community Center west of Bunnell, where they were joined by Nate McLaughlin, the newly minted commissioner, and many others: they ran out of food early and had to call on County Administrator Craig Coffey, who drove in a fresh batch. Coffeey did the same for other locations. Throughout at Hidden Trails, a Flagler Youth Orchestra quartet alternated musical sets with a duo–violinist Caren Umbarger, who is the orchestra's artistic director, and her husband Paul, a guitarist and composer. Every location had its own live music entertainment. Every location handed out boxes of food, each box containing a week's worth of non-perishable food for a family.
"It's very different," Holland said of this year's enterprise. "Last year's experience was a learning experience for us, although we met our goal of feeding 2,000 we intended to, what brought about the sense of community this year was holding it at the ten locations."
Listen to the testimonies.
"We ran out of turkey, ham, corn, dressing. We had mashed potatoes left and gravy. That was it," said Faye Dadzie, who oversaw the effort at First AME Church. "It was really great. People came in, the volunteers were really awesome, everyone–the people from the church and the community–worked really hard, they welcomed people, made sure they told people they could take food home, we had music playing. People that didn't know each other were sitting together and chatting, so it was great."
At the Pellicer Community Center north of Hidden Trails, "we never ran out," volunteer Marlyn Giles said, "but we came close." The center needed extra stuffing, mashed potatoes, gravy and cranberry sauce, all of which were delivered, and it ended up serving between 50 and 60 people.
Jean MacAllister, who coordinated the entire volunteer effort through Flagler Volunteer Services, had some of the most moving stories of the day at the Wickline Senior Center in Flagler Beach, where some 60 meals were served at 1 p.m., in line with the center's regular meals for the elderly at that time, and 95 meals were served after 3 p.m., including 25 carry-outs. Just 17 dinners were left behind, and packed up in the fridge for seniors later in the week.
"There was a really interesting thing that happened at our afternoon meal," MacAllister said. "There was a gentleman there, he was pretty much sitting by himself most of the time, he was there for quite a while. We had youth volunteers from Trinity Presbyterian. Two of the young men were playing the piano. When one of them got up to take a break, that man sat down at the piano."
And he played. "Just fantastic music," MacAllister said, Beethoven, Mozart, the greats. It was obvious that he had been a professional musician. MacAllister asked him if she could take his picture. He declined. But he played on. And he may be returning to the center to play. "He was just–you could see on his face that he was just so thrilled to be able to be sitting down at that piano."
Meanwhile, MacAllister said, the Wickline Center treated its guests as if they were coming to their favorite restaurant. They were greeted at the door, walked to their table, which had table cloths and centerpieces, they were served at their tables, and served coffee. "A lot of them, they stayed, for the full period of time. They just wanted to be with people, and the whole time they were being catered to," MacAllister said. "Several of them came and said they were really feeling special. That was not what they expected. They felt like your guest at dinner." One of MacAllister's volunteers was an 87-year-old who "really busted her buns out," and who is likely to return to volunteer.
That's the sort of day it's been. "Great, great," was how Pastor Wilkerson of St. James Missionary Baptist Church described it. "The people were really happy, they were glad to have the meals and were real appreciative. We gave out some clothing, the food boxes went well." And there was very little food left over. Maybe some gravy and mashed potatoes.
Gravy: of course. It was all gravy. Flagler County's largest community feasting operation ever was just that: gravy.
It doesn't end there. The actual feast was the celebration, a sort of culmination of one aspect of Feed Flagler. The other was the tons of food and close to $15,000 the effort raised, through the help and donations of individuals, schools, civic organizations, every government agency and numerous businesses, for individual families in need and for the county's two food pantries. The money and the food will make it possible for the food pantries to extend their shelves' capabilities by many weeks. And on Dec. 6 at the county commission, two trophies will be given out: one to Tax Collector Suzanne Johnston, who raised the most money ($3,400) and one to Chicks With Cans, who raised the most food.
There was word too that a local business gave several thousand dollars on top of all that to the two food pantries, but, in the most authentic spirit of giving and generosity, asked to remain anonymous.