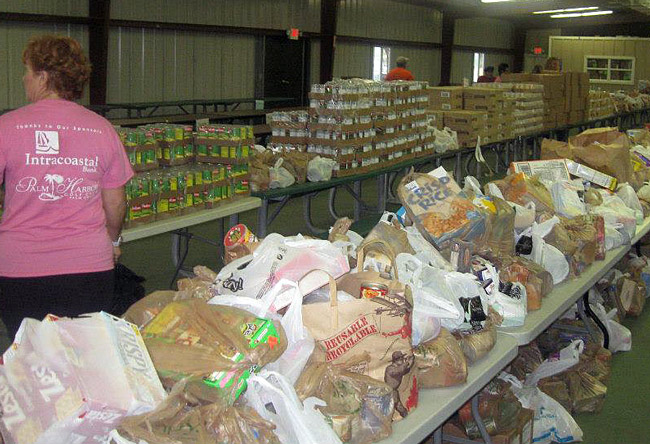 It's been a little more difficult this year to raise money and food for Feed Flagler in the sort of quantities raised last year: dollar donations are about half what they were last year. So are food donations. But demand may be increasing.
Still, the day before Thanksgiving, Feed Flagler intends to serve 2,560 free hot meals at 12 locations across the county, and prepare an additional 1,300 meals for take-out or delivery, for a total of close to 4,000 free meals. Feed Flagler also intends to distribute 523 boxes of non-perishable food to needy families, with each box containing a week's worth of food. Last year, 700 boxes were distributed. It's all a reflection of a year of burdens: in October, Grace Community Food Pantry  had 2,408 visits from needy people, a record, Pastor Charles Silano said.
"I'm confident that we'll be able to cover all of our costs," Deputy County Administrator Sally Sherman said Friday in the last coordinating meeting of the Team Feed Flagler organization before next week's celebration. "It's been an interesting year for us as a county, for us as a state and for us as a nation." She referred to the election cycle, which took dollars out of people's wallets, Hurricane Sandy, which took dollars and other forms of contributions out of all communities, including this one in a big way, while schools locally have had their own fund-raising drives. "It's been a little bit challenging this year," Sherman added.
Feed Flagler is in its fourth year. It was created through the leadership of then-County Commissioner  Milissa Holland, who's led the effort this year as well, even as she was running for a state House seat. She lost narrowly, and was not present today to chair the final meeting, though if Sherman's leadership is any indication, the initiative looks to be in just as capable and enthusiastic hands in future years of Holland  doesn't lead it. The intention is to create a sense of community the day before Thanksgiving, and provide free meals not just to the needy, but to anyone who wishes to be part of the celebration. The meals are served between 3 and 6 p.m. on Nov. 21, the day before Thanksgiving, at churches, community centers, schools and senior centers (see the list below). Each location has a form of live entertainment. Additional benefits include certain medical and social services.
The food operation costs $15,000, with the food prepared by the staff of Hammock Dunes Club (with assistance from the Matanzas High School Culinary Class) and other volunteers parceled out into tactical teams to carry out everything else, from food transportation to logistics to public information.
But so far this year, just $4,842 in cash has been collected, with an additional $9,100 pledged. That compares to $23,000 raised last year. Various teams are competing to raise money, including last year's top two leaders–the Flagler County Sheriff's Office, which raised $9,100 and Tax Collector Suzanne Johnston's office, which raised $8,100. This year, the sheriff's office has raised just $5,000, all of it from drug-seizure money, with another $500 potentially pledged. Johnston, as of today, had raised $4,090. The winner of the cash challenge gets to brandish a trophy and display it at his or her office. Johnston had it two years ago. Sheriff Don Fleming claimed it last year. Johnston is intent on reclaiming it this year. She buttonholed  Undersheriff David O'Brien this morning, as O'Brien was leaving the Team Feed Flagler, and relentlessly went at him, trying to convince him to turn over the sheriff's dollars to her account so she could win the trophy. O'Brien, of course, incredulous at the tax collector's persistence, resisted.
Then Johnston took a shine to an idea: she would hit up Jim Manfre, the incoming sheriff, for the balance of the money to get ahead of the sheriff's total, and give Manfre a chance to beat Fleming twice this month. (To be sure, the idea was not proposed by O'Brien, but by a guilty FlaglerLive reporter–guilty, because FlaglerLive had raised over $2,000 last year and placed third in the money-raising list, but shirked its responsibilities entirely this year, and did nothing for Feed Flagler. Aside from a yet-to-be-written check for Johnston's account.)
In the non-perishable drive, Chicks With Cans, of the United Way Women's Initiative, again won the challenge, tallying up some 2,800 food bags. There's some uncertainty about the actual, total amount of food raised for Feed Flagler. Joe Mayer, the county's human services director and head of logistics, said today that 30,000 pounds was raised, half last year's total. That may not be the final tally. Many local businesses, including, for example, Palm Coast Ford and Panera Bread, joined the fund- and food-raising, and their totals may not be in yet. Food was being dropped off at this year's staging location, the Cattleman's Hall at the Flagler County Recreation Area at 650 County Road 13, until noon today (Friday November 16).
Monetary donations are of course still needed. Individuals, businesses and other organizations can send a check made out to the Flagler County Board of County Commissioners and mail it to the attention of the County Commission at 1769 East Moody Boulevard, Building 2, Bunnell Fl. 32110.
The 12 locations offering free Thanksgiving meals on Nov. 21 from 3 to 6 p.m.:

Bunnell Elementary School, 305 N. Palmetto, Bunnell.
Hidden Trails Community Center, 6108 Mahogany Blvd. in Bunnell, hosted by Grace Tabernacle Ministries.
Pellicer Community Center, 1380 County Road 2007 in Bunnell, hosted by Westside Baptist Church.
Espanola Community Center, 3055 County Road 13 in Bunnell, hosted by St. Paul Missionary Baptist Church.
First United Methodist Church, 205 Pine Street in Bunnell, co-hosted by God's Family Church and the Church of Jesus Christ of Latter Day Saints.
Buddy Taylor Middle School, 4500 Belle Terre Parkway in Palm Coast, hosted by the school district.
St. James Missionary Baptist Church, 609 State Street (U.S.1), Bunnell.
Hammock First Baptist Church, 5382 Oceanshore Blvd. (State Road A1A), in the Hammock.
Mt. Calvary Baptist Church, 75 Pine Lakes Parkway South in Palm Coast.
Wickline Center, 800 S. Daytona Avenue in Flagler Beach.
First AME Church of Palm Coast, 91 Old Kings Road North, Palm Coast.
The old Bunnell City Hall.