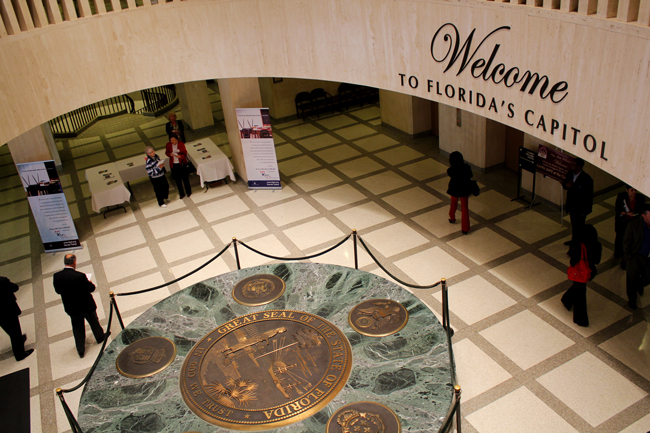 State police plan to limit after-hours access to the Capitol in an effort to avoid a repeat of the month-long occupation of Gov. Rick Scott's office over the summer by protesters pushing for changes to Florida's self-defense laws.
Under the proposal by the Florida Department of Law Enforcement, members of the public would be expected to leave the Capitol building by 5 p.m. each weekday or within 30 minutes of the end of public meetings. Capitol police could arrest for trespassing anyone who didn't leave when they were told.
No one could stay overnight or prepare food in publicly accessible parts of the Capitol. There would also be additional restrictions on those who have cards allowing them to access the building and how many people could accompany them.
"The suggested changes are directed at enabling Capitol Police to better secure the Capitol building complex property, safeguard those who work and visit within the Capitol and ensure security services are provided in the most efficient manner," according to a document outlining the changes.
FDLE released a summary of the proposal to the Tallahassee Democrat after the paper sent in an open-records request. The News Service of Florida requested the document after the Democrat reported on it.
The agency says the full plan is shielded under the state's open-records law, but it released the outline "in the spirit of honoring the request." The proposal would still have to be approved by Gov. Rick Scott, Senate President Don Gaetz, R-Niceville, and House Speaker Will Weatherford, R-Wesley Chapel. The state fire marshal is also supposed to be consulted.
"At this juncture we have just begun submitting areas of recommended changes to these parties which will be subject to discussions and modifications prior to final decisions being reached in the near future," the FDLE outline says.
Neither Weatherford nor Gaetz has seen the plan yet, according to their offices. A spokeswoman for Scott referred questions to FDLE.
The plan comes after a group known as the Dream Defenders staged a 31-day sit-in at the Capitol following the acquittal of George Zimmerman in the shooting death of 17-year-old Trayvon Martin. The Dream Defenders demanded changes to state laws on self defense, school discipline and racial profiling.
Rep. Alan Williams, a Tallahassee Democrat who worked with the group, said he understood the need to secure the Capitol but didn't think a "Dream Defender rule" was necessary. Williams said it was also important to make sure Floridians could be heard by state officials.
"I would hope that we ensure that our citizens of the state of Florida continue to have that opportunity before this rule is implemented," he said.
–Brandon Larrabee, News Service of Florida