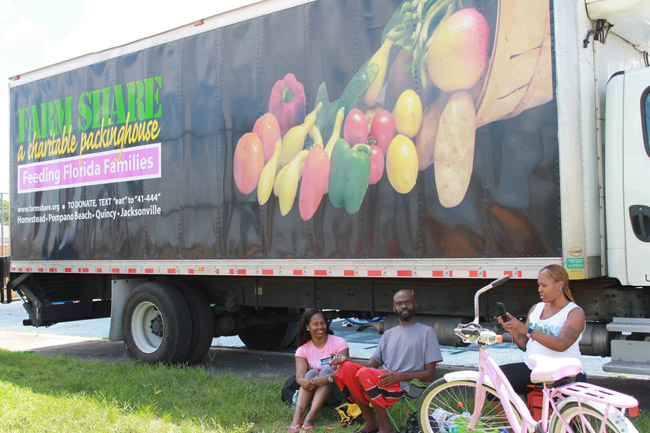 Farm Share, the non-profit Florida food bank that distributes fresh food, vegetables and fruit to the neediest, will be at the Flagler County airport to provide meals and other goods to residents trying to restore order to their lives in the wake of Hurricane Matthew Monday starting at 9 a.m.
Farm Share and its trademark big truck will be there until supplies are exhausted. It will provide a good opportunity for those who have been unable to get other food assistance.
Farm Share, the non-profit states on its website, distributes more than 4 million household food packages – totaling 32 million pounds of food – each year to Florida families in need. More than 15 million pounds of fresh and nutritious fruits and vegetables are trucked each year to participating community groups throughout Florida.
"We are getting wonderful support from our district representatives," Flagler County Chairman Barbara Revels said. "It means a lot to the residents of Flagler County to see so many people working so hard to make sure their needs are met."
Typical distributions by Farm Share in the aftermath of Hurricane Matthew include boxes that contain a day's worth of food for a single person – three meals and one snack – water, and other necessary family needs, like baby food.
"There are areas of Flagler County that look fine now, but there are a lot of people for whom this storm was devastating," Flagler County Administrator Craig Coffey said. "We are doing everything we can to take care of all of Flagler County's residents."
Farm Share has a public-private partnership with the Florida Department of Agriculture and Consumer Services and Florida Department of Corrections.
From Farm Share's website: "Did you know that half of every crop harvested is thrown away? If a farmer grows 100,000 pounds of tomatoes, usually about half of them must be thrown away. This is because if a tomato is slightly misshapen, discolored, too small, too big or blemished in any way, it will not meet the consumer demand for a "perfect" tomato and will therefore be rejected. This is true for many fruit and vegetable crops. To prevent trucks of produce from being rejected, crops are "culled" (hand sorted) after they are picked. About half goes into the truck on its way to the store.
"The other half goes into the truck going to the dump, or destined to be plowed under and sprayed with insecticide. The food being thrown is perfectly nutritious. This problem is no one's "fault," and is certainly not the farmer's doing. No farmer enjoys throwing away half the fruits of his or her labor. However, day in and day out we end up feeding our landfills instead of our hungry. Thankfully, there is a solution to this dilemma. Instead of dumping, farmers donate this food to Farm Share to help feed the hungry and receive a 200% tax credit for the foods market value. (It's a win, win situation)."
Sen. Travis Hutson and Rep. Paul Renner convinced Farm Share to clear a spot in its agenda to provide relief to Flagler residents. Hutson and Renner will also be at the airport Monday to assist with the distribution.