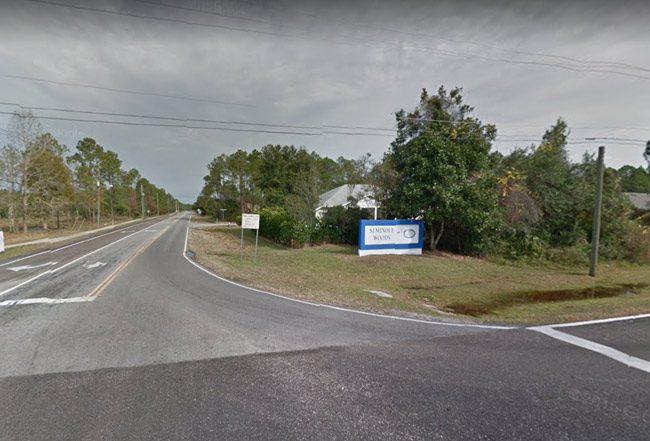 It was an entirely made up story by a girl who was upset that her mother had taken away her phone. But for a few hours in Palm Coast's Seminole Woods neighborhood Thursday evening, the girl's claim of having been kidnapped provoked a commotion, a lot of concern and a significant response from the Flagler County Sheriff's Office.
Around 8 p.m. Thursday a 13-year-old girl knocked on some residents' doors at the southwestern end of the Seminole Woods neighborhood, claiming she'd been kidnapped and had managed to escape.
She told one resident that she'd been walking her dog at the intersection of Slogan Place and Slogan Court when a man supposedly pulled up in a four-door black pickup truck, jumped out, grabbed her by her left arm, pulled her into his truck and drove south on Seminole Woods Boulevard, a short distance to the traffic light at U.S. 1.
When he got to the light, the girl claims she jumped out and ran to Squash Blossom Trail, the first street off Seminole Woods Boulevard before it reaches U.S. 1. According to a Flagler County Sheriff's incident report, the girl claims to have gone all the way to the end of Squash Blossom Trail and knocked on some residents' doors but no one answered. So she then went to Squire Court, again got no answer from knocking on doors there, and finally was answered by a 31-year-old resident on Squire Court.
She told him her story. The resident of course immediately called 911. Numerous sheriff's units responded. They started canvassing the neighborhood, knocking on residents' doors, interviewing them and asking for any available surveillance footage. Concern quickly spread in the neighborhood as residents took to their Facebook pages to share information and alert each other.
Then problems with the girl's story began to emerge.
She could not provide any description of the pickup truck, except that it had a blue touch screen radio, the incident report states. "She could not provide a race, build, age or any other description of the male, except that he was wearing a gray t-shirt with the word 'Nike' across the front. She also could not advise a direction of travel for
the pickup truck."
One of the deputies investigating the case made contact with the girl's 45-year-old mother. She told the deputy that her daughter may have been lying "because she had just taken [the girl's] phone away for not doing her chores."
A detective then spoke to the girl, who finally owned up to making up the story. She told him that when she got upset about her phone being confiscated, she decided to run away. She'd left the house ostensibly to walk the dog. But she left her dog on Slogan Court, walked down Seminole Woods Parkway to Squash Blossom Trail, and "got scared." Parts of the report are censored, leaving portions of the sequence of events unclear. A neighbor found the dog and returned it to its residence.
Making a false report of a crime is a first-degree misdemeanor under Florida law. "The investigation is ongoing to determine whether or not there will be charges," a sheriff's spokesperson said this morning.