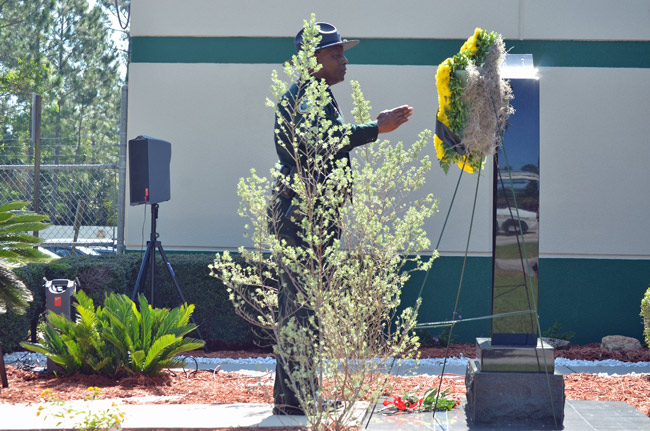 "What is the meaning of 'In the line of duty?'," Rick Staly,  Flagler County's undersheriff, said during his brief remarks at the annual commemoration of fallen law enforcement officers at the Flagler County Sheriff's Office this morning.
"What it means," Staly continued, "is that an officer made the ultimate sacrifice. It means that someone took an officer's life, a hero has fallen. Officers who gave their all to protect and serve have been killed by someone whom they swore to protect and serve. It means that their badge will no longer be on their chest, and they will join the best of the best. It means that their family and friends are left behind to deal with the loss of a loved one. Only having the memories of that loved one close to their hearts, something no one can take away. It means that their family members will stand at the officer's grave and wonder why. Why would someone take an officer's life and leave them there to die? If we only knew that answer."
An average of 155 law enforcement officers a year are killed nationwide. So far this year 41 have been killed in the line of duty, 16 of them by gunfire, 15 of them in auto-related incidents. Two have been killed in Florida:  Joseph "Shane" Robbins of the Polk County Sheriff's Office, who died on April 13 in an auto accident. Ad Sgt. Gary Morales of the St. Lucie Sheriff's Office, murdered on Feb. 28 when, while making a traffic stop, the man he was stopping got out of his car and shot him.
They are recognized during National Police Week in June, and locally, a few weeks ahead of that commemoration in Washington, they are recognizeed in a brief ceremony in front of the sheriff's office's operations center in May. Aside from numerous elected and appointed officials, the family of Chuck Sease was present today. Sease, then 35, is the last Flagler County law enforcement officer to die in the line of duty. It happened on July 5, 2003, when Sease attempting to deploy stop sticks during a chase and his killer's car struck him on an I-95 exit ramp in Flagler.
That death took place on Jim Manfre's watch, who was sheriff at the time, and made note of it today during his speech, his first on such an occasion since being elected sheriff again last November, when he defeated Don Fleming. Fleming was in the audience, his first appearance at a public event since November. "Just here to pay my respects," Fleming said, adding that in the last few months he;d done "a couple of consulting jobs up north," but otherwise has remained to himself.
In his remarks, Manfre read the account recalling his childhood's first memory of an encounter with a law enforcement officer, when a knock at the door was followed by the officer's announcement that Manfre's father had been in a serious car wreck because of a drunk driver, but would survive.
"The role of law enforcement has changed dramatically in the 48 years since that Saturday morning," Manfre said. "It has changed from being a keeper of the peace and traffic control to being a grief, marriage, mental health, alcohol and drug counselor, an accident reconstruction, ballistics, DNA, forensics, hazardous and bomb materials expert, a school, courthouse and inmate security officer, a mentor, educator and recreational adviser to our youth, a member of a SWAT, K-9, bike, boat, animal control, agricultural, narcotics, undercover and detective unit, a first responder and assistant, if required, to medical and fire calls and, in the last ten years, a part of homeland security and anti- terrorist efforts." He added: "If you have any problem recognizing a law enforcement officer, they are the ones running towards trouble when everyone else is running away." (The full speech is available here.)