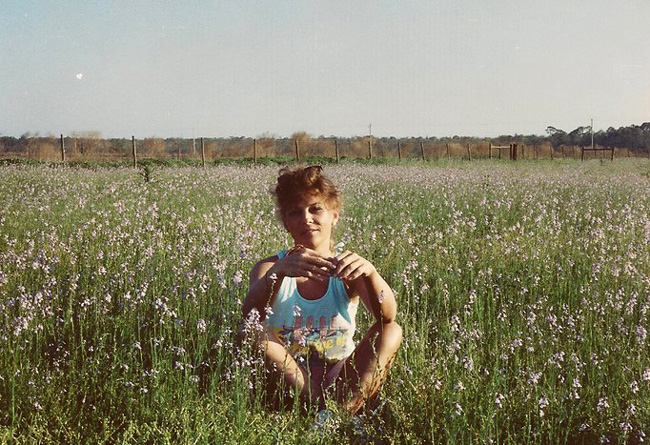 Note: A memorial service open to the public will be held at the First Methodist Church in Bunnell on Saturday, December 13th at 2 pm. In lieu of flowers, the family is asking that donations be made to her life's work and love, the Flagler County Free Clinic.

Faith Coleman could give the impression that she was indestructible. Whatever challenges she faced, she would do them one better. In 2003 she was diagnosed with kidney cancer. Paying for treatment nearly ruined her, and in those pre-reform days, her condition black-listed her from getting health insurance. Her answer, beside surviving for more than a decade, was to establish a free clinic for people who could not afford care on their own. She teamed up with Bunnell's Dr. John Canakaris and in early 2005, the Flagler County Free Clinic opened its doors to the first of thousands of patients who've been treated there since. Adversity was fuel to an optimism Coleman considered her surest medicine.
"Don't let my baby die," Coleman two weeks ago told Dr. Stephen Bickel, a member of the clinic's board of directors and a volunteer there. Not that Coleman should have worried: the clinic is growing, it just appointed its first executive director in Terry Belletto, and will soon have a dental clinic. By then Coleman's cancer, which she had forced into remission twice, was in its final stages. She had put in her last hours of work at the clinic six or eight weeks ago. In mid-October, the choir from Bunnell's First United Methodist Church visited Coleman at her home and sang to her in her living room.
On Sunday, Coleman died. She was 60.
"My mother Faith," Tommi Rivers, one of her six children, announced on Facebook late Sunday night, "went home today. With heavy hearts we let her go from this Earth, but we are comforted knowing that she is with her family and loved ones now. The way she went about the world, giving and giving as she did, she just gave everything she had to everyone who needed it. I loved her more than anything I ever knew was possible. My heart is so heavy, but I know she is happy and finally at peace. I love you, mom. Forever and always."
Several members of the Free Clinic board of directors on Monday spoke of the clinic as her legacy. "We only hope that those of us who remain committed to the free clinic in her honor can keep it going and expand it," Barbara Revels, the county commissioner and a member of the board, said. Coleman had been kept abreast of the clinic's business, the grants that had been secured, the new volunteers joining up. "She started something really fabulous and now it's our duty to her to continue it."
"I was skeptical that it would last, and boy was I surprised," Patrick Johnson, director of the Flagler Health Department, said. Johnson is a member of the Free Clinic board. The department helped the clinic get on its feet, and has since maintained a partnership with it so that when patients need to be seen during the week, and the clinic isn;t open, they're referred to the department.
Coleman, Bickel said, had worked with the board to create an organization that wasn't dependent on any single person. "She's definitely going to be our long term inspiration," he said, describing Coleman's work ethic. "She saw patients a remarkable percentage of the time even whens eh was sick from chemo. She was a real battler."
Coleman's heroism was not the stuff of invention. In mid-August 2009, Coleman became one of CNN's weekly heroes. That year she was also named the Business and Professional Women of Flagler County's Woman of the Year. People who knew her quickly became familiar with her characteristic grit, optimism and impatience with nonsense. Her experience navigating cancer and a thankless health care system had sharpened those qualities. "Faith, Revels said, "was a tell it like she saw it person and she was always very funny in that if she didn't agree with something or had an issue with something, she would really let you know it. She spoke her mind."
And she did not like being the center of attention.
A Facebook message left by Wendy Moncrief in mid-November speaks to the sort of influence Coleman had on innumerable people: "You saved my life a year ago. And so many more lives I'm sure!! You made sure I got a mammogram when I had no benefits. You called me personally with the news. You gave me your home number. You gave me words of encouragement and gave me strength. And I just wanted to thank you from the bottom of my heart. You have been an inspiration to so many people , one of the bravest women I know. I pray that every day gets easier for you!! Thank you for opening your free clinic to the community. Thank you for all you have done for everyone! you are a true blessing !! and you are loved by so many!! take care of yourself!! and may God bless you always!! Love you!!"
Other testimonials have been pouring in.
"Our family is sad today because we lost yet another inspiring woman," Voahangy Rasetarinera wrote from California. "We feel so privileged to have known Faith Coleman! We will cherish forever the memories of the times we had together, even if they were not many, each of them made a lasting impression in our hearts: listening to Faith's childhood memories over a wonderful Southern dinner (we laughed so hard!), having her over for dinner and hearing her talk about how the free clinic started after her first battle with cancer and the 'diet' book she was thinking of writing after suffering so much through chemo that second time around… like Joseph in the Bible, she was not one to be overcome by her circumstances but one that saw every circumstance as an opportunity to love and serve others."
And this from Wendy Ballew: "I had the amazing privilege to have Faith Coleman as a mother-in-law. It's with great sadness that we had to say goodbye today. She won her battle against cancer because she did not let it define her. Instead it motivated her to start a free clinic in her home town, and save the lives of others. I will strive to teach my son about your kindness, your humor, and your beautiful soul. With all my heart I love you and find comfort that you are no longer in pain."
Note: The Flagler County Free Clinic is marking its 10th anniversary with a fund-raiser at Chophouse 101, the restaurant at European Village, Wednesday, Dec. 3, from 6 to 8 p.m.