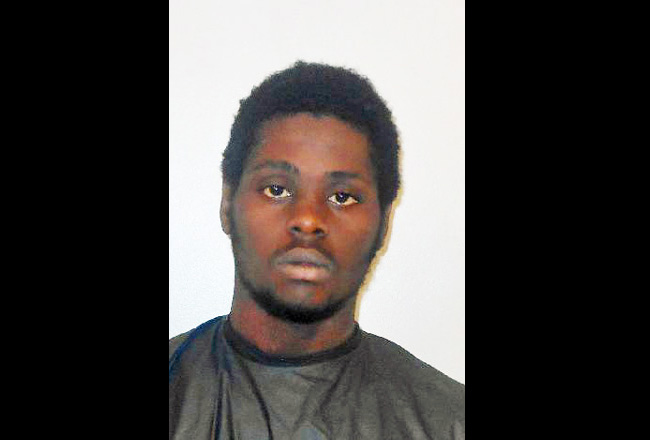 Tavarez Calloway was not hiding his status on Facebook: "In a Relationship," the 21-year-old announced on April 10. A few weeks earlier he'd started working for Belle City Amusements, the carnival company, which handled the Flagler County Fair. It's there that he met the 15-year-old girl with whom, Flagler County Sheriff's detectives report, he started a relationship. Sheriff's detectives discovered the relationship while investigating an unrelated burglary. They were examining Calloway's Facebook page, and there, connected a series of dots to deduce that he'd been allegedly sexually involved with the 15-year-old Palm Coast girl.
Early this morning (Sept. 23), Calloway, whose last reported address was in the Z Section, was booked at the Flagler County jail on two counts of lewd and lascivious battery on a child older than 12 but younger than 16–a charge more commonly known as statutory rape. It is a second-degree felony. Florida's 2007 Romeo and Juliet Law, which makes limited allowances for romantic relationships between young adults and minors, does not apply, because the age difference is greater than four years. (The law does not erase the charge or negate a potential conviction, but merely allows the defendant not to be branded a sexual offender or predator.)
Investigators, according to a sheriff's report, were looking into the background of another individual for the burglary. They then looked at Calloway's Facebook page because he was "a known associate" of the suspect. Once on Calloway's page, they connected his "relationship" with the 15-year-old girl, whose page was also allegedly indicative of that status. "Access to Tavares' and respective Facebook pages was obtained by searching their names in the Facebook search bar," the report states. "All information was obtained without having to send 'friend requests' to either party. All information obtained is open and available to anyone with a Facebook account who searches either of their names." Calloway's Facebook page also indicated that the couple were "engaged," though that's a commonly playful relationship status that friends apply to each other.
Calloway explained to investigators that after the fair left town, he stayed behind. He briefly lived with a 17-year-old friend, but as soon as the 17 year old's guardian found out, the guardian trespassed Calloway–a charge that landed Calloway at the Flagler County jail for several days last May and early June. "[H]ad to do 10 days on some bs but thank God um out feels good to be out again # ion never wanna go back to jail in this county," Calloway posted on June 9.
At that point, the 15-year-old girl's parents allowed Calloway to move in because he had nowhere else to go. "Since then, he and have become good friends, but nothing further," the report states. "He maintained that they do not have, nor have they ever had, a romantic or physical relationship."
Calloway declined to submit to a voice stress analysis, as is his right, saying he did not feel that he needed to prove anything to anyone. An investigator told the girl's mother that Calloway had declined to submit to the analysis and requested that the girl submit to an interview with the Child Protection Team. The girl's father told an investigator that "he had no knowledge of any physical relationship between his daughter and Tavares."
The girl acknowledged meeting Calloway at the fair and going on rides with him before exchanging phone numbers, as well as discussing their age. She'd convinced her parents to let him stay in the family home until he could find work and get back on his feet, the report states.
"She stated that they discontinued their relationship when he moved into the home out of respect for her father, who cautioned both of them strongly against 'dating' if Tavares were going to stay in the home," according to the report. The girl then went on to describe two incidents, or occurrences, admitting, according to Calloway's arrest report, to having a sexual relationship with him.   She first admitted it to her mother. That led investigators to build their case and charge Calloway with statutory rape.
The two instances took place several months ago, according to the report.
Calloway, a native of Plant City, last year announced the birth of his daughter on Facebook. He features her and himself in his profile image.
Calloway was arrested early this morning at the McDonald's on State Road 100. He continued to maintain that no physical relationship had occurred. He is being held on $20,000 bond.