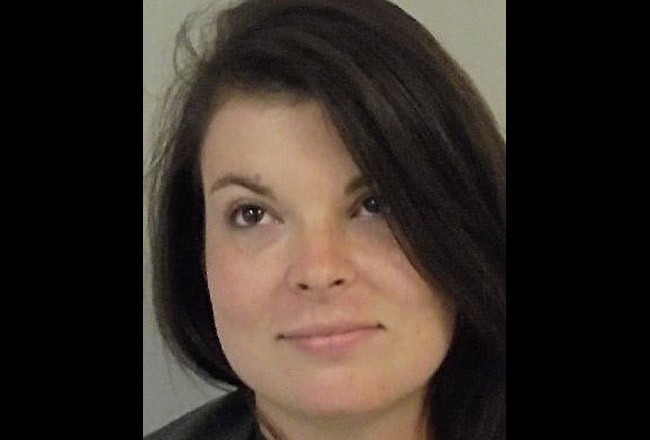 Flagler Sheriff's Deputy George Hristakopoulos was patrolling the area of Belle Terre Parkway in Palm Coast at 1:30 this morning (June 9) when he saw a white 2012 Volkswagen Passat speeding north on Belle Terre at what he estimated top be 90 mph. Hristakopoulos u-turned in the median and caught up with the Passat at the intersection with Pine Lakes Parkway south, pulling the car over by Wellington Drive.
Erin Johnson, the 26-year-old woman at the wheel of the Passat, was one mile from her house, at 1 Wellshire Lane. She appeared drunk to Hristakopoulos: she had glassy eyes, he noted in her arrest report, and a "moderate" smell of alcohol emitted from the car. Her words were slurred. She didn't seem to think she'd been speeding. When the deputy asked her for her papers, she stared ahead. Asked again, she said the papers were in her pocket, but offered no help to present them, then allegedly said she'd left them "at the bar."
When other deputies arrived, Johnson told them that she lived nearby and begged them to let her go home. Hristakopoulos, however, requested that she submit to field sobriety exercises. Johnson refused even after being warned that she could be arrested for refusing. So Hristakopoulos ordered her out of the Passat, telling her she was under arrest.
Johnson refused to step out. Hristakopoulos tried to open her door. It was locked. So he reached into the car and tried to open the door from inside. Johnson, Hristakopoulos wrote, "grabbed my right arm against my will, and began to roll up her driver's side window on my right arm. I grabbed Ms. Johnson's left arm, and she began to roll down the window." But too late not to be charged with battery on a law enforcement officer, a third-degree felony.
It took three deputies to open the front door of the Passat. Johnson still allegedly refused to get out. The 5'9", 180-pound woman was then forced out of the car by the group of deputies and placed in handcuffs, but did not comply wioth deputies' orders to "stop resisting. "Due to the fact that Ms. Johnson was outnumbered," Hristakopoulos reported, "deputies were able to place Ms. Johnson inside the prisoner compartment of my patrol vehicle without incident. At no time did any deputy strike Ms. Johnson, and at no time was Ms. Johnson injured in any way."
At the jail, Johnson took two breathalizer tests, one at 2:49 a.m. and one three minutes later. The first test indicated a blood-alcohol level of 0.170. The legal limit is 0.08. The second test registered a 0.172. Johnson then passed out, and was unable to sign a citation issued to her.
In addition to the battery charge, Johnson faces a count of drunk driving, a second-degree misdemeanor, and a count of resisting arrest with violence, a third-degree felony. She was booked at the jail at 4:05, but was released without bond, and issued a notice to appear at her arraignment on July 6.