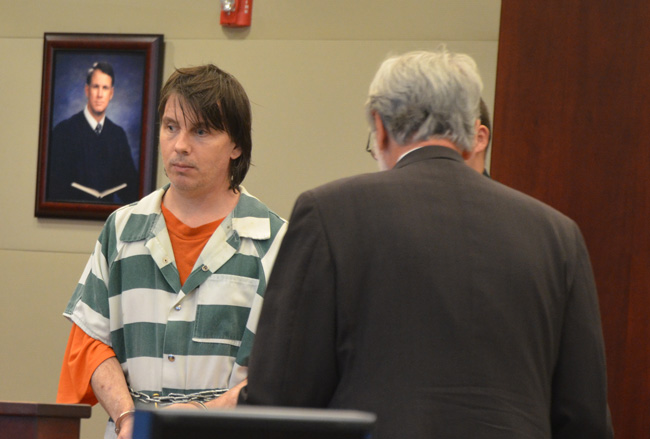 Last October a jury found 43-year-old Eric Niemi guilty of second-degree murder in the May 2013 slaying of Leonard Lynn, his landlord and roommate, during a violent confrontation at the pair's house on Ryken Lane in Palm Coast. Lynn was 72.
On Monday, Flagler County Circuit Judge J. David Walsh sentenced Niemi to life in prison without parole.
Walsh said he would recommend in strong language that Niemi be screened for a suitable program of mental health treatment to address the issues heard today.
The sentencing hearing reflected Niemi's own demeanor: stark, almost shorn of emotions, dispirited, more matter-of-fact than anguished.
The sentence came after the state presented just two witnesses: Chad Lynn and Jill Alcanter, two of Lynn's three children. Alcanter spoke of the sadness of her father's generosity toward the less fortunate resulting in his death–Lynn had taken in Niemi to help him out. Alcanter's brother spoke of forgiveness having to prevail "even after this senseless murder," though he said forgiveness is different from justice. Justice, Lynn said, would be served. "Forgiveness is something totally different than that and it's here today largely in part because of the heart of the person whose life was taken," Lynn said.
The two spoke of a man who had been married to his wife for 46 years, had been devoted to his wife and family and his church, and believed, in Alcanter's words, that "family was a special gift to be nurtured and not taken for granted."
"I talked to my daddy nearly every days and it's those chats that I'm having the hardest time adjusting to," Alcanter said in her brief statement to the court.
Niemi sat in his striped green and white prison jump suit, a few paces to the right of Lynn's children as they spoke. He stared ahead, vacant of expression, as he had for the majority of his four-day trial in October. As always when a felon convicted of murder is in court, four bailiffs stood by–two of them in Niemi's immediate vicinity (they stood less than four feet from him almost at all times) and two of them at a slightly further remove.
Niemi, the evening of the fatal encounter, had been arguing with Lynn over his living conditions, though Niemi was behind in his rent. When the confrontation turned violent, Niemi at one point tripped Lynn, knocked him to the ground, straddled him and beat him savagely until Lynn's body went limp. He then dragged the body to a bedroom, where the body remained for three days until members of Lynn's family–Lisa and Steven Lynn–worried that they'd not heard from him for days, turned up. When they saw blood in the living room, they called police, who then made the discovery in the bedroom.
Niemi had been in and out of the house since the killing. He'd stolen Lynn's van and driven it around, and ridden his bicycle. Police found him in the van not far away in the R Section, and arrested him.
John Valerino, Niemi's court-appointed attorney, focused his defense on Niemi's lacking intellectual abilities. The killing was out of anger, he argued, but not pre-meditation. In his closing arguments to the jury, Valenrino went as far as conceding that Niemi was guilty, but at most, that he was guilty of manslaughter. The state–Assistant State Attorney Jacquelyn Roys argued the case–went for a first-degree conviction, though Roys, too, appeared aware in her arguments to the jury that a first-degree conviction might be elusive: Valerino had made much of Niemi's impulsiveness, and had relied heavily on a psychologist's assessments of Niemi as an almost mentally disabled man.
The jury convicted Niemi for second-degree murder.
Monday's sentencing featured, as is often the case in sentencing for murder, witnesses for both sides. Often the families of a defendant show up to speak to the defendant's character, hoping to mitigate the severity of the sentence. In this case, Diane Bennett, Niemi's mother, was one of just two witnesses who spoke for the defense, aside from Niemi. She said her son was near death when he was born as an umbilical cord was wrapped around his neck, and she spoke of the "grief" of his difficulties growing up. "Eric would tell a joke, and of course kids are cruel," Bennett said, "and they would bully him for laughing at silly little jokes." She added: "Eric was always, I don't know, he was always different from the other kids."
It was the first time shreds from Niemi's more personal life history were revealed.
"I have really struggled to get better, I'm lucky to be here today" Bennett said, recalling her struggle with cancer in the last three years. "I can't connect the dots, I can't find closure for why this happened, I have never seen violence in my son, he's been bullied his whole life, I don't know what brought this on."
"There's nothing that can be said or fixed," she added.
"I would like to extend form my entire family, we are heartbroken over what's happened, we really are, there's a broken piece that'll never be fixed in our life also, there's such sorrow," Bennett said. She described her son as "broken," and "very sorry for what he's done."
"In this case," Roys said in her closing argument, again not giving sympathy much room to build, "it was Mr. Niemi who became the bully." He saw someone weaker and pounced. "The facts in this case are reprehensible," she said. Lynn was trying to help. "Eric Niemi was taking advantage of Mr. Lynn." She said "he took Mr. Lynn's life savagely," and she asked for a life sentence.
Valerino asked for a sentence of of more than 22 years, or the minimum under the sentencing guidelines, enabling Niemi to leave prison in his late 50s.
Niemi had been born in Dearborn, Mich., before moving to Texas when he was 9, attending school in special education "all the way," his mother said. The family moved to Florida in 1993, when he lived with his mother in a townhouse in Bradenton until Bennett relocated to Palm Coast. Niemi didn't move with her: he "upped and married a lady," a situation his mother did not approve of. Niemi eventually got a divorce and moved to Palm Coast to be with his mother again. He worked hard, had a car-repair business, and decided to stay in Palm Coast when Bennett moved again to the west coast of Florida.
Valerino had Bennett show the judge a series of photographs from Nemi's childhood, then from the time when the family had moved to Florida, "fun times for us," as she described one image, then a picture from his 30th birthday dinner, his high school graduation in Texas, and an image of Bennett and her children when she remarried in 1999. (Roys would use that evidence as indication that Niemi was loved, surrounded by family and well cared for, diminishing reasons to feel sorry for his other near-disabilities.)
The defense also chose to bring back Lewis Legum, the psychologist who'd seen Niemi three times for evaluations at the Flagler County jail.
Legum was hired by the office of the Public Defender to conduct an evaluation as to Niemi's mental abilities, including whether he could understanding what it meant to waive his rights. Legum tested Niemi's intelligence, and found it to be lacking. Monday, he described Niemi as autistic, with an IQ of 70, at the border of intellectual disability.
But as during trial, Roys would not let the defense create a sense of sympathy for Niemi because of his near-disabilities.
"Wouldn't you agree that hiding the body of the person you killed certainly shows appreciation" for the act just committed, she asked Legum.
Yes, Legum said, but at the same time Niemi drove the van he stole only a couple of blocks away, kept returning to the house, and acted as if he was not funtioning "on all cylinders."
"This is not the behavior and thinking of a cold blooded, calculating, sociopathic murderer," Legum said. But he conceded that Niemi knew he'd broken the law.
After all the witnesses, Niemi spoke for the first time. "I'm sorry. I didn't mean for it to happen," he said. Asked by his attorney if there was anything else he'd like to say, Niemi said No.
Valerino asked the judge if Niemi's mother could hug him before he was taken back to jail. The judge said no, it was not permissible. "I wish I could," Walsh said. But she would be allowed to see her son at the jail shortly.