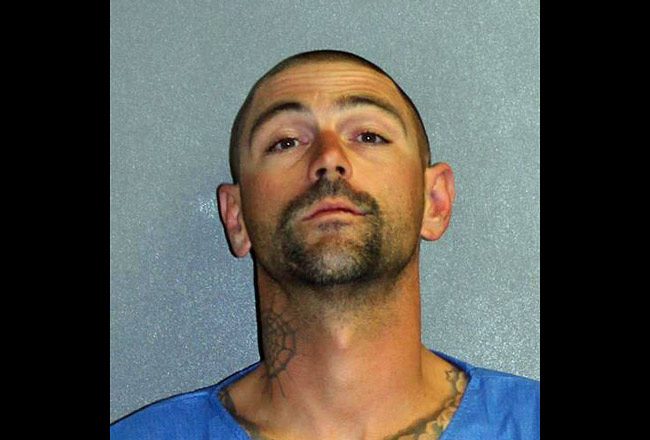 Nine years ago in Bay County, Brent Enfinger had his 6-year-old son in the car as he fled from cops, who were seeking him out after an argument with his wife had turned violent. As the chase continued, he drove back to his house, pushed his son out of the car, and fled again. (A family member said the child was not pushed out but handed to his grandmother.)
There was a federal warrant out for his arrest at the time: he and his father, Ronald Enfinger (not to be confused with his uncle of the same name, who was on probation for second-degree murder in Montana in 1983), had chased after a U.S. Marshall's car to free Ronald's brother. The Florida Regional Fugitive Task Force had just arrested Ronald's brother.
Brent Enfinger was sentenced to three and a half years in prison for child abuse, fleeing police with no regard for anyone's safety, and grand theft. He got out of prison in August 2012.
That's the Brent Enfinger who triggered a chase by the Volusia County Sheriff's Office in Ormond Beach Saturday, and whose truck overturned on Palm Coast Parkway before he again fled, on foot, disregarding the orders of two deputies along the way, who had drawn their weapons: he could have faced gunfire. Deputies showed restraint, figuring they'd apprehend him one way or another. They did.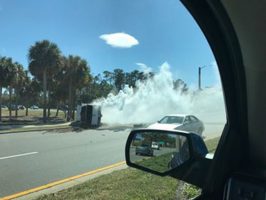 Enfinger, 34, of 1690 Agate Circle, had been driving his Dodge Ram on the interstate with a tire missing, its metal rim streaking (and damaging) the asphalt and producing a white cloud behind him. That was how a Flagler County Sheriff's deputy spotted him, after Volusia cops left off the chase. Enfinger was traveling at about 90 miles per hour on the shoulder, according to his arrest report, "and passing multiple vehicles in a dangerous manner." He was going too fast when he took the exit at Palm Coast Parkway, spun out of control, struck a "Walk Don't Walk" sign, and overturned.
Enfinger, bald-headed and with tattoos on his head and arms, as a deputy described him, emerged from the vehicle. Jacob West, the deputy drew his firearm, because he'd been told Enfinger could be armed with a knife. West ordered Enfinegr to get on the ground. Enfinger ignored him and ran, jumping into a ditch between the parkway and Cracker Barrel, running toward the Red Roof Inn. At that point another deputy radioed that he'd spotted Enfinger at 13 Kingswood Drive, where the deputy ordered Enfinger on the ground–only to be ignored in turn. Enfinger ran into Davita Palm Coast Dialysis, where the deputy followed, catching up with him and arresting him.
Enfinger was taken to Florida Hospital Flagler. He faces several local charges–all misdemeanors–but was later taken to Volusia County, where he was booked at the jail there and charged with fleeing and eluding and domestic violence battery: that was the same charge that had triggered his fleeing and eluding in Bay County many years ago.