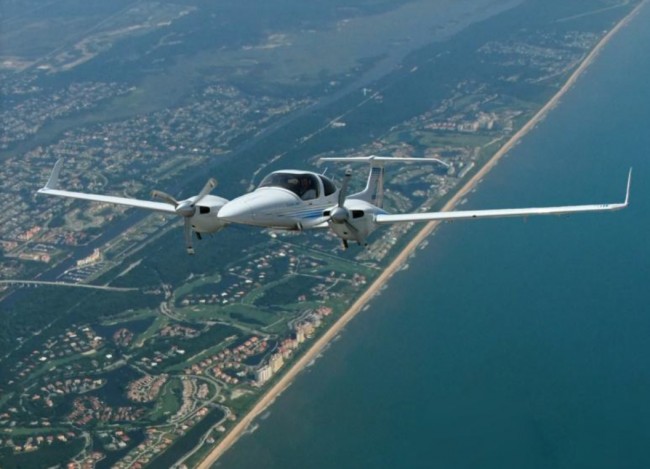 A canopy door from a two-engine plane belonging to Embry-Riddle Aeronautical University came undone during a training run over Palm Coast's C-Section around 4:30 p.m. Thursday and fell to earth, slamming the pavement within yards of several houses around a cul-de-sac. No one was injured on the ground, and the pilot and trainee aboard the plane made it safely back to the Flagler County Airport.
The cause of the mishap is unknown. It is the first time in recent memory that an Embry-Riddle training plane–the likes of which fly above Flagler routinely–has had any sort of accident.
"We are still investigating, and it's going to be several days until we're exactly sure what happened," Embry-Riddle Spokesman James Roddey said. Many questions remain unanswered, including whether the Federal Aviation Administration will be investigating the mishap, and where the plane was. Roddey said he "assumed" it was grounded.
The plane is a Diamond DA42, which seats four, has a top speed of around 220 mph and a range of about 1,000 miles.
A resident of the C Section called 911 to report hearing a loud crash outside, and seeing what looked like a plane door sitting in the road near 16 College Court. The plane was flying overhead. At 5:23 p.m., Embry-Riddle called local authorities to alert them that one of their planes had lost a door, and that the plane had landed safely. The Flagler County Sheriff's Office turned the door over to university officials at Airport Director Roy Sieger's request at 5:45 p.m.
"Witnesses," a sheriff's report found, "stated that they didn't see it fall but heard the crash and went outside to see it sitting in the middle of the street. The falling door did not strike anything or anybody, other than the street, and it didn't cause any damage to anything as a result."
Embry-Riddle, Roddey said, conducts some 250 training flights a day.
"This is an incredibly rare event for us," Roddey said. "In fact I had our director of aviation pull information, the last six and a half years we have flown 388,000 hours of flight, and we've had one accident in those six and a half years, and it was a bird strike. So these events for Embry-Riddle are incredibly rare. Safety is the absolute number one priority for us." The identities of the pilot and the trainee were not released.
For Palm Coast and Flagler County, it is only the latest in a series of plane emergencies, some minor, one disastrous, this year.
The evening of March 13, a single-engine Piper on a training from Phoenix East flight school in Daytona Beach executed an emergency landing on Palm Coast Parkway, just west of Belle Terre. No one was injured, and only a semi truck sustained minor damage when the edge of the plane's left wing clipped a part of the cab. In April, an experimental plane crashed into Lake Disston at the west end of the county. Its two occupants swam safely to shore.
On Jan. 5, three people aboard a BE35 aircraft died when the plane crashed into a house on Utica Path in Palm Coast, just short of the runway at the Flagler County Airport. The plane had developed engine troubles minutes earlier. The house was virtually demolished by fire, but its occupant survived unharmed.