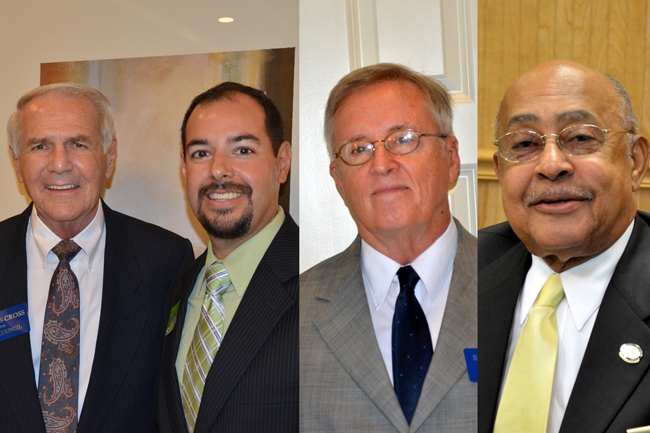 Last Updated: Oct. 10
Judging from the last election in Palm Coast, most of you may not know, or don;t care, that a municipal election is going on. Early voting began Oct. 24 for the two Palm Coast City Council races, ending with the final Election Day on Nov. 8. When this exercise was held last month for the mayoral election, just 10.7 percent of Palm Coast's registered voters cast a ballot, which means that barely 5 percent of the city's voters re-elected Jon Netts.
If you're registered to vote in Palm Coast, you may vote in both races, regardless of your party affiliation, regardless of the candidates' districts. See the sample ballot below the poll.
Four candidates are vying for two seats on the council: Dennis Cross and Jason DeLorenzo in one race (District 3), to replace Mary DiStefano, who was term-limited. And Bill McGuire and incumbent Holsey Moorman in District 1.
When we took a poll for the mayoral election, the results were flat wrong. He got 54 percent of the vote, defeating Charlie Ericksen, who got 41 percen. Joe Cunnane got 5 percent. A tea party poll had Ericksen winning with 59 percent. FlaglerLive's poll had Ericksen winning with 51 percent. So as always, take the poll results below with a truckload of salt. And be sure to cast a real ballot between now and Nov. 8.
Early voting is taking place at the public library in Palm Coast daily, except for Sunday, between 8:30 a.m. and 4:30 p.m.
Here's the survey. As always, it'll take only one vote per computer (even if it appears as if it's soliciting your vote again). Comments written by poll-takers appear below the poll.
The survey's final results (click on the chart for larger view):
Comments left by poll-takers:
To Question 1 (the McGuire Moorman Race):
Need new faces and ideas. Palm Coast needs Florida ideas and improvements not outlooks. Current city council members need stay home and work on their memiors.
I can't vote for either. Moorman has not shown me anything that says I deserve another term. Bill McGuire is a member of the Tea Party and I would rather jump out of a high rise and cut my throat on the way down than vote for someone from that xxxxxxx organization.
Voted for Holsey last time. Tired of hearing about his military accomplishments. We need help here, now.
Holsey still worth my vote.
To Question 2 (the Cross-DeLorenzo Race)
We need fresh young people serving not elderly "look at me" retirees. City Council must have shorter term limits to prevent homesteading.
Jason DeLorenzo is the Chief Lobbyist for the Builders. This is a HUGE CONFLICT OF INTEREST. I don't think a lobbyist belongs on ANY governing body.
We do not need even more developer control of the city council, we have enough as is now.
To Question 3
hope more votes turn out this time
already voted!
The city street corners are being saturated with campaign signs. Perhpas are dutiful Code Enforcement should pick them up, much like garage and yard sale signs. Oops! Did I say that.
So fedup with local, state, and national politics. I will not vote to reelect an incombent or anyone who is related to politics IE lobiests or previously held office.
From what I saw today at the polls, voter turnout will not be much better this time around than it was for the Mayor's election. People simply don't care enough to get out and vote.
does it really matter who gets in nothing will change almost 15% unemployment. the politicians just want to get in to say they were a politician.
Please Palm Coasters, get out and vote.

Sample Ballot, Palm Coast City Council Election, Nov. 8, 2011