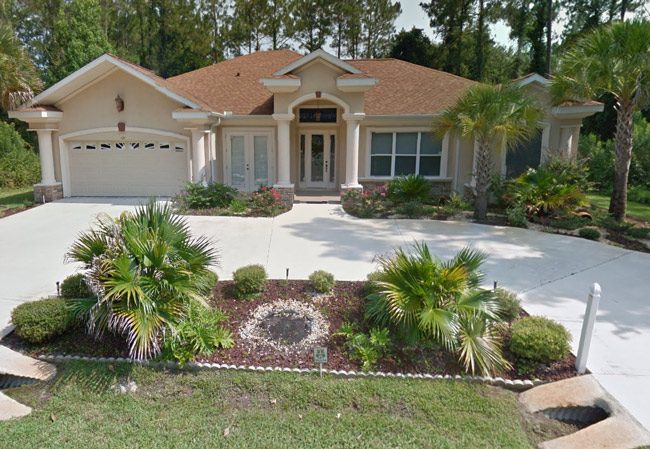 A Palm Coast girl who would have celebrated her first birthday on June 6 died Thursday afternoon after drowning in the pool at her home on Edward Drive.
Aishas Umar, daughter of Shuhrat Umar Yosin, 38, and Nigora Ayupova, was found in the pool as the family was cooking around 4:30 p.m. Flagler County Sheriff's deputies were in the E Section on an unrelated matter and quickly responded, as did Flagler County Fire Rescue's Engine 92 and Rescue 92, according to a sheriff's incident report.
A sheriff's spokesperson this morning said the child's parents were cooking when the child crawled out to the pool area and fell in the water.
The girl was not breathing but had a pulse when she was pulled from the pool and CPR was carried out before she was taken to the hospital. But she died there. Medical personnel reportedly became emotional after she died (Ayupova is a registered nurse at Florida Hospital Flagler.) The family is originally from Uzbekistan.
The scene at 121 Edward Drive thronged with sheriff's units, including the Crime Scene Investigation unit until the crime scene was disbanded shortly before 9 p.m.: it is termed a crime scene even when no crime has taken place, until law enforcement is through with its investigation. (The unrelated incident in the E Section had been a burglary, involving an alleged burglar entering a home at 111 Edward Drive, a few doors down from the location of the drowning.)
The 2,500 square foot house has been in the ownership of Shuhrat Yosinjonov Sr. since 2013. The pool was built in 2005, the year the house was built.
Aishas's death took place almost two years to the day when the last child died by drowning in Palm Coast: on April 23, 2016, a 2-year-old girl died in similar circumstances after she was pulled from the pool at a house in the F Section. She died the next day at a children's hospital in Orlando.
Last year, Florida led the nation with child drownings, with 51, a 20 percent year-over-year increase. That's just for children 15 or younger, 80 percent of whom are under age 5, according to the Miami Herald.
On Saturday, a collection of local emergency responders has a previously scheduled WaterSafe event at Palm Coast's Belle Terre Swim and Racquet Club. "This event is geared toward families with young children – infants up to 9 years old," said Emergency Management Chief Jonathan Lord, in a county release issued last week. "Water safety is critical for children in Florida because of our weather and the number of swimming pools and other natural water resources we have."
Flagler County Emergency Management, Flagler County Fire Rescue, Flagler Beach Ocean Rescue, Flagler Beach Fire Department, Flagler County Schools, Belle Terre Swim & Racquet Club, and EM Pros are all participating in the WaterSafe event, which is free at the club, from 9 a.m. to noon at 73 Patricia Lane, Palm Coast.