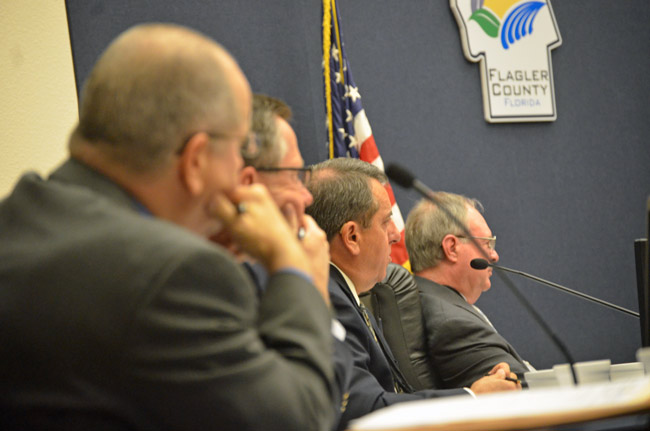 Unlike, say, Supreme Court confirmation hearings before the Senate Judiciary Committee, job interviews for a $100,000 economic development executive post aren't exactly absorbing. The necessary questions can be plodding ("what training has prepared you for the marketing portion of this position?") and the answers richer in jargon and clichés than anything quotable. But what members of Flagler County's new jobs council were looking for in live interviews with three finalists for the job Thursday had as much to do with substance as those intangibles that can define a right fit better than notches on a résumé: demeanor, personality, humor, sharpness, confidence.
What they got were three vastly different candidates, none lacking in confidence, experience or enthusiasm, and each projecting enough qualities but sharply different temperaments to make a choice between them quite difficult. That choice may well be made as early as Friday, when the jobs council convenes again at 9 a.m. to decide whether to hire one of the three or to reopen the process for more candidates. The latter possibility is unlikely: After almost two years of prevarication on government-led economic development in the county, the council can't afford very many more punts. Nor can its eventual new hire afford them, which is why one of the questions posed was in the shape of a third rail: "If you are selected, how would you define 'success' near term (1-2 years) and longer term (3-5 years)?"
The candidates found various ways not to assign precise numbers to the answer, such as actual job creations, and one of them shrugged off something he'd read "in the media" about creating 200 jobs within a certain period—a shrug-off council members joined, even though the figure actually appears in an analysis prepared by County Administrator Craig Coffey as the actual job creation expected annually with an economic development budget of about $400,000 (the actual budget in place for now).
The formalities of the day began at 9 a.m. in the main chambers of the Government Services Building in Bunnell. Chairman Barbara Revels convened the nine-member jobs council and summoned each of the three candidates in turn to make a brief introduction to the full council. The panel then broke up into three smaller groups in three separate conference rooms on the third floor. Individual candidates appeared before each group, round robin style, for about 50 minutes each, answering three different sets of questions, depending on the group.
Both the introductory portion of the interviews and the small-group format were open to press, public and county staff, but aside from three reporters, only one county commissioner—Alan Peterson—and two private citizens attended portions of the small-group interviews, as did County Administrator Craig Coffey and his deputy, Sally Sherman. Other commissioners and a broader segment of the public, including business and government types, were expected  at a social meet-and-greet with the three candidates this evening, hosted by the Flagler County Chamber of Commerce.
The three candidates are Chris Clifton, Helga van Eckert and Bruce Register.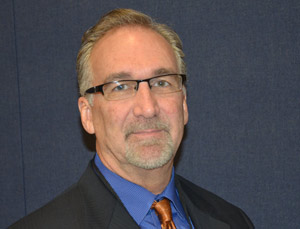 Clifton, of Collierville, Tenn., appeared before the full council first. He was the most self-assured and informal of the three (by the time he was making his rounds in the smaller groups he was reclining in his chair, clasping his hands behind his head, dropping witticisms). He was at ease speaking on a range of qualifications—site selection, communications, "synergies," building relationships—but he was also the least specific of the three, his direct experience having more to do with commercial real estate brokering than strict economic development, though in his line of work the two intersected richly.
Clifton spoke in broad generalities and dropped innumerable names and connections, especially connections with Florida businesses (and personal connections in the state, too) and state government, which he plans to cultivate, as opposed to outlining clear strategies. One exception: he recurringly spoke of a 100-day plan, entailing getting to know the area, its politicians and its businesses, including every company with 10 or more employees.
He found a nice way to apologize and backtrack from what may have been construed as an indelicate comment during his phone interview with the council last month (when he started an answer by saying, "between us girls"). He picked up the phrase, he said, from the first female mayor in Kentucky's history, for whom he worked on her economic development team as a graduate student. It was a clever way to attribute the phrase to someone feminists would have been proud of. Clifton, who also used the first person singular more than his two competitors, finished one of his round-robin interviews by telling the group: "My wife told me not to come back home without a job."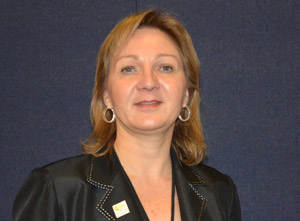 Helga van Eckert—who wore a Flagler County pin during her interviews–was not looking to leave her current job as the executive director of the Perth Amboy economic development department, which she's held for a year and a half after leading the city's redevelopment agency for a decade. But the Flagler job posting intrigued her—as it might anyone from Perth Amboy, an industrial port city for which the Garden State was not named, but whose profile and fortunes have been reinvented over the past several years.
She'd prepared a small brief for every council member, which she distributed and summarized to highlight accomplishments during her tenure: turning a 70-acre tank farm that once belonged to the Chevron Corporation into 1.2 million square feet of light industrial and office space that created more than 600 jobs and generates $3 million in annual taxes, and launching a $178 million project that would turn environmentally contaminated land into 2.2 million square feet of retail, office and light industrial space. Van Eckert did not include a New York Times article about Perth Amboy, from about a year ago, that sang the praises of a reborn Bay City (as Perth Amboy is nicknamed), now rejuvenated enough to be the playground of Staten Island residents across the waterway—and to attract new residents taking advantage of less expensive housing. Unlike most other cities in New Jersey, Perth Amboy has actually grown over the decade.
"We're preparing comprehensive packages and really working with the businesses to keep them here," van Eckert told the council, referring to the city's redevelopment plans. She spoke assertively but unassumingly throughout, without notes, her focus almost exclusively on accomplishments—and what she described as contacts in local and state government, including the governor's office, to ensure that the city's interests stayed a priority.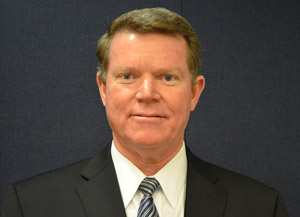 Bruce Register, who spent most of the last decade and a half as Hillsborough County's corporate business development manager, was two different persons during his interviews. In his presentation to the full council during the earlier portion of the interviews, he was wooden and spoke in monotones as he read a written statement, prompting Revels to nudge him verbally to "step off the resume presentation." He did, barely, and prompted the fewest questions from a clearly unimpressed bunch.
He was a different person entirely in the more intimate settings of smaller interviews, reclining a little in his chair and speaking at length and candidly (if with a particular penchant for acronyms and opaque industry lingo) about his exigencies: economic development visions must be data-driven, he said, then went on to illustrate his point by outlining his recent research showing that small companies in Flagler are "overrepresented," and that having just two companies with more than 500 jobs (that's Palm Coast Data and Florida Hospital Flagler, each of which has about twice that number) is not enough. For starters, his goal would be to triple the number of companies in the 100-employee range. ("A different person comes out when it's one on one," Revels would say at the end of the interview.)
Register was clear about what he wasn't (a web developer, a social media expert, skills someone else would have to fill), and what he couldn't accomplish absent "complete" buy in from "stakeholders"—meaning the business and political community. No one in the room followed up with the obvious question, given the absence, so far, of that buy-in: what's Plan B without it, since the county's council is itself the clearest evidence that the county and Palm Coast have parted ways on economic development. When asked the third-rail question about how he'd define success in coming years, Register said: "I'm not going to sit here and tell you I can guarantee anything."