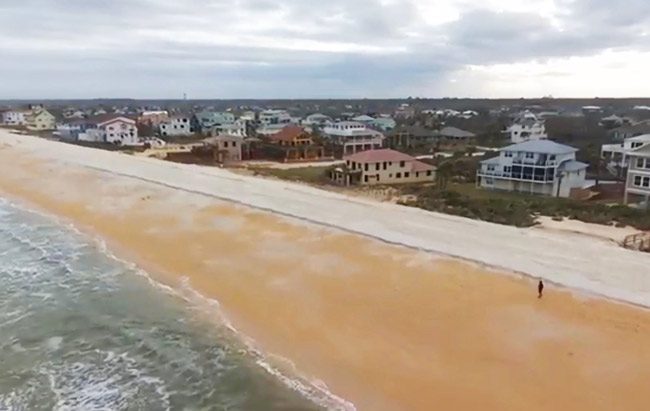 Flagler County government is completing its third week of work on the $25 million, year-long dunes restoration project, repleninshing the dunes eroded by Hurricanes Matthew and Irma.
"We knew we would make a measured start on the project," said County Engineer Faith Alkhatib, who is overseeing the work. "These are very big projects, and we have started cautiously."
Sand placement operations began on January 22 near Rollins Dunes Drive, which is just north of the Sea Colony subdivision.
"We have completed about 2,800 linear feet of dunes as of February 7," said Flagler County Project Administrator Alex Spiller. "The Marineland Acres segment was completed on February 6. Dunes are currently being constructed at Washington Oaks Gardens State Park." There, dune breaches during Matthew were especially severe, resulting in flooding in the upper part of the barrier island.
The general goal for progress throughout the dunes restoration project is at least a mile a month, when taking into account that both the timing of the high tides, limited daylight, and the weather will affect the length of the workday.
"Staff is working very hard to meet this goal," said County Administrator Craig Coffey. "There are a lot of variables we don't have control over, like the weather. We have to follow both state and federal rules and regulations that are in place for the protection of our dunes and sea turtles, as well as safeguarding the public."
To keep the public informed, Flagler County is posting pictures and weekly updates here. Residents will be able to tell where work is ongoing, and where the next segment of work will take place. Residents with questions can either send them to [email protected], or call dunes project phone number at 386-313-4038 to leave a voicemail message that will be returned within 24 hours on weekdays.
Through it all, Hammock resident Chris Goodfellow has been launching his drone and filming the scene below at regular intervals, posting the results on his freely accessible YouTube channel. Here are the last two videos:
End of Week 2:
A Before Look at the Next Segments, Bay Park to Malacompra