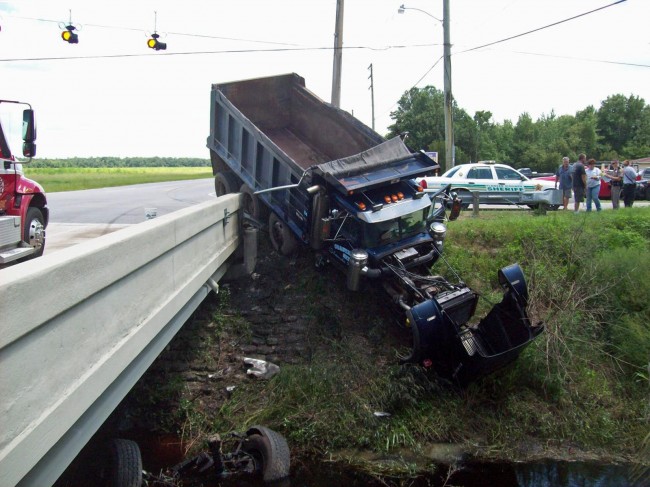 Allen Spradlin, a 40-year-old driver from Bunnell, was a little sore but escaped more serious injuries when he was forced to drive his multi-ton dump truck down an embankment at the intersection of County Road 302 and County Road 305 Monday afternoon. The truck was totaled.
Spradlin was driving north on 305 around 1:25 p.m. Conner Betts, a 17-year-old driver from Illinois—his family has property in the western part of Flagler—was driving a van, going west on 302. According to a Florida Highway Patrol trooper who investigated the wreck, Betts made a left to get on 305. Doing so, he broke Spradlin's right-of-way.
To avoid colliding with Betts's van, Spradlin swerved, and ended up striking the guardrail where it meets the concrete wall of the bridge at the intersection. The truck would have plummeted to the bottom of the deep ditch and into the water there had the rear wheels of the truck not caught the concrete of the wall. The front axle of the truck was entirely severed and ended up in the water below.
Three posts and some 10 to 15 feet of guard rail will have to be replaced, the FHP investigator said.
Flagler County Fire Rescue paramedics responded to the scene but proved unnecessary, though Spradlin later went to the hospital on his own to get checked out. Betts was citing for violation of right of way. Traffic, never heavy there, was not impeded during the investigation. John's Towing in Bunnell towed the dump truck.
Note: an earlier version of this story, based on the FHP investigator's report, had incorrectly identified the driver of the dump truck as Eric McLaughlin, who is actually the registered owner of the dump truck, which belongs to Coastal Site Contractors.