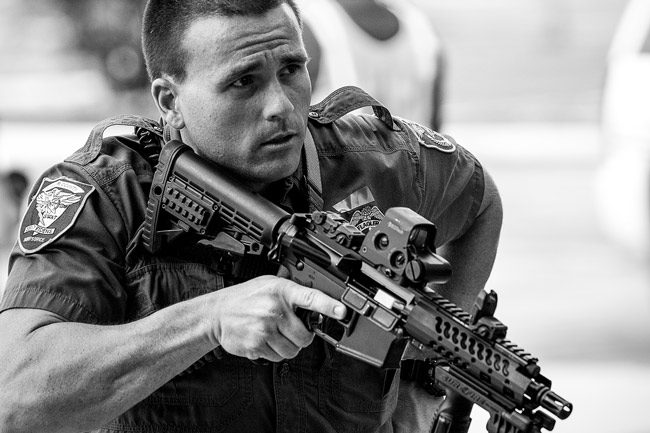 Less than a month ago Flagler County Sheriff's deputy Jonathon Duenas was on the witness stand in a criminal case, recounting the day last November when he was tracking a suspect in thick Z-Section brush with his K-9, and the suspect suddenly sprang up in front of him shirtless, wielding a knife, screaming his head off and punching at palmetto with his arms.
Duenas (and other deputies) could have shot him, and if the suspect had taken a step toward him Duenas said he would have fired, even if there were other deputies and houses a distance behind the suspect. But he didn't. The jury had seen Duenas's and one other deputy's body cam footage. It was one of those instances–one of at least a half dozen in recent years for Flagler deputies–where deputies could have fired and been considered to have had a legitimate reason to do so, but didn't.
The control they showed competed with a torrential adrenaline rush–and fear.
"I would venture to say that was the scariest I've been in my law enforcement career," Duenas told the prosecutor during cross-examination about the encounter, "stating that that was the most aggressive encounter that I've had with a subject during my law enforcement career." He explained how a distant patrol car behind the suspect and two other deputies gave him pause to use deadly force. But, he added, "if the defendant had attempt to close that gap in between where I remained and where he was, then I would have likely been forced to use deadly force."
Duenas's restraint was the more remarkable for the fact that he had not yet been deployed with his new K-9, who had just completed 400 hours of training. Duenas was heading for yet another class when his supervisor diverted him, telling him he could deploy with the dog, Valor, to get on-the-ground training. Duenas controlled the situation during the encounter even as his dog jumped up and down, barking and pulling at the end of the leash.
---
Deputy Duenas Confronts Matthew Nebit, Nov. 2017

The suspect, Matthew Nesbit, was found guilty on seven counts, including three counts of aggravated assaults on police officers.
Duenas, a six-year-veteran of the sheriff's office, had another close encounter with an armed suspect Wednesday evening, this one even closer and involving a gun. And again, Duenas controlled the situation with such immediate grit and lack of hesitancy that he had unknowingly disarmed the suspect within instants of another police officer shouting "GUN!" It is the sort of unflinching boldness that seldom draws the sort of attention more commonly ascribed situations that go awry, when guns are fired and blood is spilled.
According to the Sheriff's Office, a deputy had carried out a traffic stop on a black Ford sedan on North Church Street and East Howe in Bunnell. Alphonso Brooks, 39, of 908 Husson Avenue in Palatka, was at the wheel. The deputy called in Duenas and Valor, his K-9, to sniff around the vehicle for drugs. The dog picked up a scent of drugs.
Brooks remained at the wheel of the car. Duenas then spoke to him, addressing him informally by his first name, without a hint of aggression or even confrontation. "Just so you know I want to explain some things," Duenas told Brooks, explaining to him how the dog alerted to narcotics. Brooks was incredulous, saying the car was his work vehicle and could not possibly contain drugs. He showed him his lunch pail and said he didn;t even smoke weed.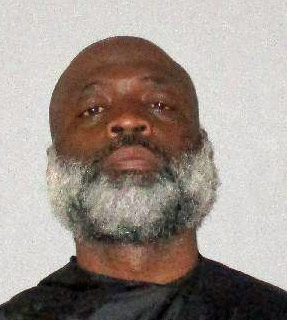 "Listen, I understand that, but I'm trying to ask you if there's any other reason why you think my dog would have alerted to the inside of this vehicle," Duenas tells him.
"I don't know, I mean it ain't no drugs in here, man," Brooks says, looking at Duenas and shaking his head.
"OK, well, just so you know, it gives us probable cause to search the interior, so we're going to do that," Duenas tells him, still in an even, non-confrontational tone, explaining to him step by step what to do so there's no surprises: "So I'm going to ask that you step out and I'm going to make sure that you don;t have any weapons on you, I'm going to pat you down, OK?"
At that point Brooks, oddly, puts a cigarette in his mouth and lights it. He does not acknowledge what Duenas has just told him. Duenas steps back a couple of feet. Brooks looks around.
"You're good, you can go ahead and step out," Duenas tells him. The car door opens. Duenas goes another step to put the man at ease: "And you're good, you can keep your smoke."
Brooks edges his legs out but remains seated, looking behind the car at the array of cop cars. He says something about the number of cars. takes the cigarette out.
---
Deputy Duenas Confronts Alphonso Brooks, Aug. 15, 2018

"OK I'm just I'm scared, man," Brooks says.
"Sir, go ahead and step out of the car," Duenas tells him.
"Huh?"
"Step out of the car."
Brooks slowly rises, perpendicular to the car, but as he does, he bends to his right and appears to grab something.
"Hey, gun, GUN GUN!" voices yell out–the voices of a Bunnell police officer and perhaps other deputies standing by, who somehow managed to detect Brooks's movement despite the darkness.
Duenas immediately rushes Brooks and pins him against the car, his body cam footage shows, yelling out "Where is it?" as others yell, "put the gun down."
Brooks is heard saying it's on the ground.
"Listen to me, I will fucking kill you," Duenas tells Brooks (though the word is bleeped out in the video the Sheriff's Office released). "Are you insane?" Then to others, "Somebody come over here right now." The situation is under control. Brooks is handcuffed. In Duenas's video, he is heard walking away from the scene down the block, inhaling and exhaling a few times as if to recompose himself, then walking back to the scene to ask about the gun. He appears to be looking at the suspect through a patrol car's window, which reflects the deputy's face. It's several minutes before anyone asks him if he's all right. "Yeah, I'm fine," Duenas says. "Camera going off." The footage ends.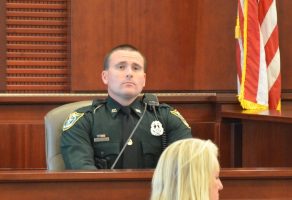 Brooks was arrested for aggravated assault on a law enforcement officer, possession of a firearm by a convicted felon, possession of ammunition by a convicted felon and carrying a concealed firearm and booked at the Flagler County jail on $50,000 bond.
"This encounter could have quickly become a deputy involved shooting caused by the suspect's actions," said Sheriff Staly. "Deputies Duenas and Smith along with Bunnell Officer Hirshi showed great restraint and are safe because of their training and teamwork. This could have had a very different outcome with the death of Brooks or a deputy or officer."
"I'm just so proud of our people because they're well trained, they know that the use of deadly force is the last resort," Sheriff Rick Staly said. "But quite often these cases occur are the result of the suspect's actions, which could have been the case last night."
A sheriff's release noted that Brooks may have been seeking a "suicide by cop." The release stated Brooks had a prior record, including an aggravated battery conviction and an attempted child molestation conviction in 1997, in a case involving a child younger than 16. He's served three prison stints, the last ending in 2010.
The weapon was a North American Arms .32 caliber gun, recovered with four hollow-point rounds and one full-metal jacket round in one of two magazines found in a drawstring bag. The gun itself appeared not to have been loaded. The arrest report (see below) makes no mention of drugs in the car, however.

Alphonso Brooks arrest report.