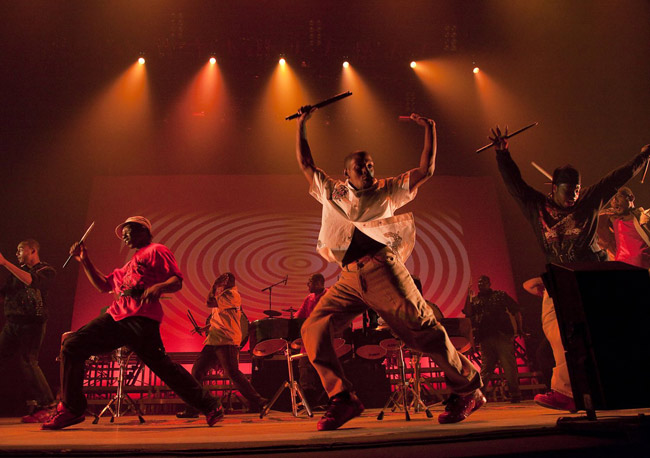 DrumLine Live rolls into the Flagler Auditorium tonight, a show that, like music itself, is difficult to put into words. The best way to sum it up: "We take marching bands as an art form and expand upon it," says Reginald Brayon, company manager and producer.
"If you come, you will find some type of music that touches you," "It's a great time for everyone. If you want to clap, stomp your feet in the house, we invite you to do that."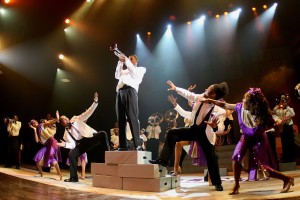 The show is loosely based on the 2002 movie Drumline starring Nick Cannon, a movie that pushed marching bands beyond playing fields and onto performance stages. But behind the movie's and the show's glitzy facade, they're both ultimately a tribute to the founders of historically black colleges and universities. The spectacle on stage is a reflection of what's witnessed during those schools' dramatic and vibrant half-time shows, which can often feel like the main event. There's a common joke at black college football games–that the first two quarters are merely time for fans to eat, drink and flirt until it's time for the real show at half-time, when fans take their seats for good. "DrumLine" is four quarters' worth of half time shows.
The choice of music is extensive, covering popular genres from rhythm and blues, hip hop, soul, to gospel. "The concept is marching bands, so inevitably it boils down to music," Brayon says. "So what you're seeing on stage is always changing. There's always room to evolve, kind of like Cirque du Soleil."
That Canadian-based phenomenon that pulls from various global performance arts bills itself as a "dramatic mix of circus arts and street entertainment" (Cirque du Soleil was born on the streets of Quebec City). "DrumLine" is the Cirque of a thumpier sun, exposing audiences to a tradition they are likely unfamiliar with.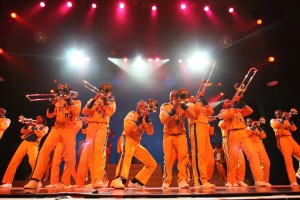 It also reflects the cultural energy and influence of black marching bands, which have vastly influenced their genre, breaking out of playing alma mater songs to play radio and Motown hits in the 1960s, the soul of the 70s and then hip hop and dance routines influenced by music videos. The trend has gone full circle: now it's rappers and performers like Kayne West and Ying Yang Twins who are adapting their music to black marching bands.
"DrumLine" doesn't follow the movie's storyline but strives to recreate the "atmosphere" through the use of light and costumes. In the movie, band members undergo a comparable regimen to what sports teams endure during their preseason before the actual shows begin. The training is rigorous,  mentally and physically. The casting process for the show has proved similarly difficult.
"It is very competitive, it's a little tough. We're definitely looking for a unique talent—not only someone who can play an instrument at the highest level—-they have to be able to dance and march at the same time," Brayon says. "We also want them to be able to play more than one instrument."
The age of participants ranges from 19 to 32, and many are either band directors or music majors.
Brayon's own son was in a high school marching band of the DrumLine tradition and even went on to play a role in the movie as a percussionist. This put Brayon, who was coming out of the technology sector in marketing and sales, in a position to meet two consultants who had worked on the film, Don Roberts and Demetrius Hubert. The three believed they saw an opportunity to start a live production. They're now on their fourth-year tour.
It wasn't easy though, as the three men had entered a completely new environment. No one knew theater. The challenges primarily involved getting a full marching band on stage at once, in addition to artistic adjustments involving set designs, costuming.
At this point, the production had done a couple of shows in the Atlanta area—where the company is still based—before they encountered Columbia Artist Management, "a creative source for the performing arts," according to their website. CMA was instrumental in the technical areas in which the three were previously lacking. From there, they helped to literally get the show on the road, bringing the generally regional southeastern tradition to both  national and international stages.
"At the time, we asked, how can we bring DrumLine to Chicago, New York, or San Francisco?" Not only does DrumLine appear now in all of those cities, they're also in Japan and Korea as well.
Brayon was surprised by the response the show received in the foreign venues, he says. "Marching bands are something new to those places but they're becoming more popular now. Everyone loves music and music surpasses all language barriers. So we've been embraced."
The whole process seems to have engendered a transformation for Brayon himself, beyond necessitating that he learn an all new jargon and industry. "It's been a real growth experience and I'm still learning," he says. "It's been exciting. I've really expanded my own musical knowledge and language. There's not a lot of live music being played today. When you go to concerts and such, typically, what you're hearing is generated by synthesizers, without actual music playing. That's one way in which we're unique."
"That seems to be the general reaction," Brayon says. "People come away saying the show wasn't what they actually expected. It was much more. They come away saying, 'wow!' This is about more than just a band playing; it's about getting the crowd involved."

"DrumLine" is in performance for one night only, Nov. 8 at 7:30 p.m. at the Flagler Auditorium. Tickets are $39 for adults, $28 for youths. Call the Auditorium box office at 437-7547.