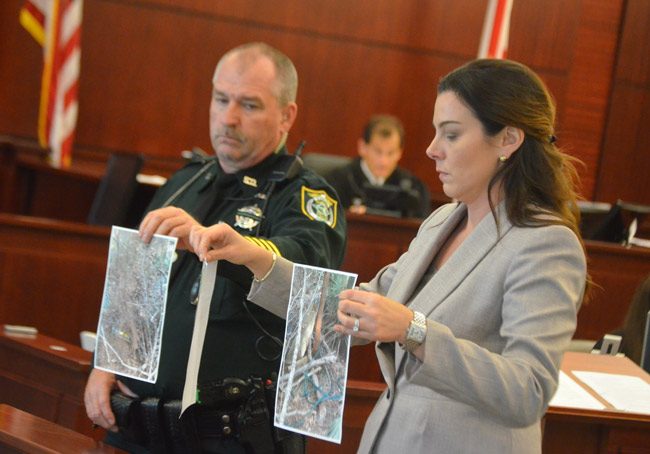 As even her defense lawyers concede, Dorothy Singer in February 2017 shot and killed her husband Charles at their west Flagler home. She then buried him in a makeshift grave in the backyard and covered him in mothballs, a tarp and a jon boat. Today in the first full day of trial after Monday's jury selection, Dorothy Singer dug a deep grave for her case in her own words–lies and fabrications she spoke to detectives, family, friends and a deputy, time after time, lie after lie that the prosecution played in recording after recording.
Her defense attorneys–Junior Barrett and Kevin Carlisle–had nothing to counter the degree to which their client was her own worst enemy. And the prosecution isn't finished. After a day of revealing details about the lengths Singer went to invent alternative facts about her husband's murder, the trial will resume Thursday with the prosecution yet to get into the forensics of Charles's death.
Much of the pre-trial drama had focused on DNA evidence and the location of the actual killing, issues the defense argued were central to its case–the inadmissibility of the DNA evidence, in its view, and the claim that Charles wasn't killed in the master bedroom, as the prosecution claims, but outside, after dragging Dorothy there and getting in a struggle with her over a gun.
After today's testimonies and recorded evidence of Dorothy's fabrications, combined with the defense conceding that Dorothy killed her husband, allegedly in self-defense, DNA evidence and the whereabouts of the killing seem superfluous to the prosecution's case.
In late March 2017 Charles Singer, 48, was reported missing for weeks from his home at 80 Pine Tree Lane in western Flagler. As Flagler County Sheriff's detective Annie Conrad walked the property weeks later she noticed something odd in the backyard–debris and a boat that seemed out of character with the surroundings. She documented the scene. Days later detectives served a search warrant on Dorothy Singer and unearthed the badly decomposed body of Charles, who had five gunshot wounds, four of them in the head. Last May 9 Dorothy Singer, 52, was arrested and charged with first-degree murder after she had attempted to leave the county and supposedly fake her own death.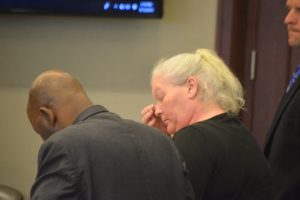 A suicide note was found in her car. "I remember unloading the gun until it was only clicking," she wrote in the note, referring to shooting Charles. But the suicide note "was never a suicide note," Assistant State Prosecutor Jennifer Dunton told a jury in her opening arguments in Singer's trial this morning, "Because she had never planned on killing herself." Rather, Dunton said, Dorothy Singer had planned the execution of her husband, buried him in their backyard, and concocted to his family and friends elaborate tales of his disappearance, his running away from the FBI, his decision to work in Georgia, or Connecticut–all lies as the former employee at Flagler Roofing decomposed in the yard.
"We will prove beyond a reasonable doubt that what Dorothy Singer said happened is impossible when compared to the evidence," Dunton said in her 20-minute opening. Singer, she said, pre-meditated her husband's killing then went so far as to pretend to be him through texts from his phone to friends and family in the weeks after the killing. "At the end of this case you will not be able to trust or believe anything that the defendant says," Dunton said.
Singer sat at the defense's table, doing what she did for most of the day Monday, during jury selection: she did not look up from whatever she was doing at the table–flipping through papers, seemingly taking notes. Seemingly, because as it turned out she was merely doodling.
Barrett spent just eight minutes in his opening argument to tell the jury that it was all a case of self-defense, of a battered woman who was fighting for her life. He conceded that the things Singer did after the killing were difficult to explain. He did not explain them, or say he would in what amounts to a preface of the case. He focused on Singer having suffered through a history of abuse dating back to before her marriage to Charles four years before.
That February he'd allegedly hit her. She threatened to call the cops on him as she had once before. He left. He came back, dragged her out of the house with a gun in his hand, beat her up in the yard. "They got in a struggle with the gun and the gun went off, shot to the chest," Barrett said. What happened after that? She doesn't remember (though the suicide note says otherwise).
Even a friend of Charles's will say that she was a battered woman, Barrett told the jury. But she had not planned to kill her husband. It was not premeditated.
"When she got shot that night, Mrs. Singer was fighting for her life," Barrett said. "To choose life meant that her abuser had to die. That is what happened that night."
Barrett appeared to be angling for a manslaughter conviction instead of first-degree murder. "Even though what occurred that night may have been tragic, tragic in many ways," Barrett told the jury, "and even though you may have acted differently, what Dorothy Singer did that night, what happened that night was not premeditated. It was a woman trying to survive." Barrett clasped his hands as he ended his opening on those words, as if in prayer.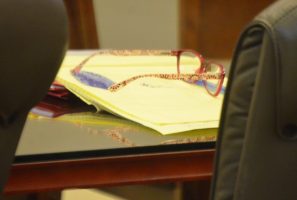 That's what it may take to convince the jury of his theory, based on testimony that followed Tuesday before the jury of nine women and five men (including two alternates).
The prosecution spent much of the day with two witnesses and the recorded conversations they made of Dorothy Singer without her knowledge, the times they spoke with her: Sheriff's detectives Jodie Glasgow and Annie Conrad. They'd taken over the missing-person case and had a sense that something had gone awry. They methodically went about trying to prove it.
The testimonies and the long recorded conversations, the stream of statements Singer made about her husband's whereabouts and behavior, his supposed drug habit, his drug-related disappearance after she gave him an ultimatum ("it was me or the drugs," she said she'd told him), the supposed calls or texts she'd get from him, all fabricated of course, in the courtroom sounded like hearing a story while knowing the ending all along. Singer would fabricate an entire life about her disappeared husband knowing he was a few feet away, decomposing in the ground.
"His friends were nasty." "They were into drugs." There were crack pipes in the shed at the house. "I was disgusted." "I don't do drugs and I can't tolerate that, and he had a choice and he left." He didn't take his dog though. He was "mean, hateful." "My opinion is he's fine he's just doing this to aggravate me." Those were some of the things Singer said to detectives about her husband.
She also got bold, if too creative, in her fabrications: When a cop first came to see her about concerns about Charles being reported missing, she claims to have been incredulous. "God's honest truth," she told the detectives, "I thought it was a joke. I did, I really did, because he's conniving," implying that he was the one pushing his family to report him missing. (In fact, he was, in the sense that he was missing, and his family had no choice but to report him so.) Singer claims she told him to "stop playing games" because his family members were worried about him.
"I do pray that you find him," she then told detectives. "I don't wish the worst on him, you know what I'm saying?"
But when Conrad took that walk in the backyard, Singer "appeared nervous, watched Detective Conrad the whole time, asked for a cigarette and became pretty withdrawn," Glasgow said on the stand. Conrad was on to something, and Singer knew it. She'd noticed the upside down, out of place boat in the backyard, limbs and debris and a tarp piled on top of it. "The way it was tucked away in the woods, it was just odd to me," Conrad said from the witness stand, moments before Dunton and a bailiff slowly showed the jury three of the pictures Conrad took of the scene in the woods–what was CHarles Singer's grave.
The jury knew that, too.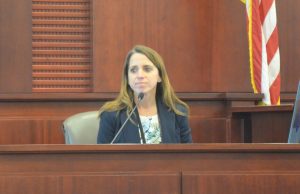 Conrad, a seasoned detective, either knew or would soon know–according to the prosecution–that Singer had been lying about Charles's bank cards, which Dorothy was using while telling detectives she had no access to them, and she knew from conversations with family and friends of Charles that he was nowhere like Kentucky or Georgia. It's not clear if by early April detectives also knew that every time Dorothy used Charles's phone, it pinged on the same tower as Dorothy's, because she was using both. But by mid-April that was a certainty.
The prosecution's approach was not nearly as imaginative as Singer's. It didn't have to be. With a surfeit of evidence, all Dunton had to do was play Dorothy's recorded conversations, let her elaborate fictions pile up like a vise of ironies for the jury to hear, knowing that the jury was aware every word was a lie. The prosecution did not have to demolish Singer's credibility. Singer demolished it whenever she spoke.
Dunton has been there before. She was the prosecutor in Flagler County's last spouse-on-spouse murder, the case of Anna Pehota, the then-75-year-old woman who shot and killed her husband John in their Hammock home in 2015 (a case a few potential jurors in Singer's case confused with Charles's murder). Pehota never made up stories. She'd come off extremely sympathetic in the run-up to the trial and during jury selection, apparently a victim of relentless psychological abuse by her husband over many years. But she also could not escape the fact that the day of the killing, her husband John had not been abusive. He'd ridiculed her a little after she told him she was leaving him, and she snapped, opening fire with one of the many guns in the house. And her defense could not overcome the effects of a three-hour videotaped interview she gave a detective (Conrad was also involved in the case), which served to demolish sympathies and show Pehota more intent on killing her husband than remorseful.
Dunton is applying the same strategy in the Singer trial. Let Singer's words do the talking.
Barrett and Carlisle, the defense attorneys, had little to go on in their cross-examinations of the detectives. Yes, a paid informant had helped detectives to nab Singer as she attempted her getaway to St. Johns County the day of her arrest, but detectives work with informants all the time. Barrett tried to make Glasgow's work seem sloppy because she couldn;t answer every question–whether she knew the informant was paid, why she'd not requested to see the missing-person report, and so on. (Glasgow was on her first murder case, and last September took a job as a deputy in South Carolina.) But making a dent in procedures–always an easy target–isn't the same as making a dent in the evidence. And this, neither defense attorney could do.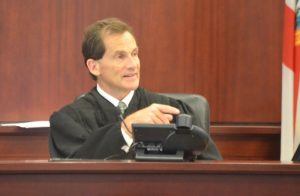 The prosecution's witnesses included Charles's sister Lori Ellis of Brooksville and Charles's mother Rose Carver of West Palm Beach, who both spoke of fleeting, contradictory contact from Dorothy in the weeks after Charles's disappearance. Dorothy told Carver that "Butchy" (as his mother called him on the witness stand, trying to keep herself collected) had run away to Kentucky to be with friends after the FBI got on him over a meth lab he was running out of his home. (Carver broke down. Paused. Continued.) Dorothy also told her he was in Georgia.
"I keep calling and leaving message on his phone," Carver said. To Dorothy, she had said: "Please check his messages and get a hold of him for me. She said she talked to him for a couple of seconds and for some reason she couldn't get into his messages because he changed his code." She then got a text from "Charles," written by Dorothy, that he was fine, not to worry, and that he'd get in touch later. But in the past mother and son would call and speak "all the time." Charles liked to talk on the phone.
Kevin Carlisle, Barrett's assistant counsel, cross-examined Carver, but the most he got from her was to concede to some confusion as to where exactly the Singers got married. Carver said they got married in West Palm Beach. Carlisle said in fact they got married in Flagler. It may have been an attempt to undermine the credibility of Charles Singer's mother. But she was still drying her tears. Barrett tried to undercut the testimony of John Bair, a long-time friend of Charles's, who had procured bullets for Dorothy's gun, by having Bair admit that Charles had actually asked for the bullets. But Bair was able to clarify: Charles had done so on behalf of Dorothy.
It was expected to be a difficult day for the defense, an easy day for the prosecution. But the defense, as if not only disarmed but paralyzed, could not find vulnerabilities it could exploit in the prosecution's case. The defense's strategy rests on portraying Dorothy Singer as a victim of abuse. But that came up in none of the many recorded conversations Singer had with detectives. Singer may have been adept at passing herself off as an affable victim of a drug-addicted, dissolute husband. But she never told detectives that he beat her around the time he "disappeared."
The issue of domestic violence was never brought up until the third or fourth conversation with Conrad, and even then, only incidentally, in the context of Charles's drug use. When she claimed she had pictures of her bruising and had sent them to her mom, she could never produce them. The pictures had disappeared.
Speaking to Conrad, Dorothy in one of their recorded conversations said maybe Charles was "fucked up somewhere." He was. The terminology she chose was brutally accurate, and of course Dorothy knew where he was all along.
So did the jury today, starting with opening arguments. Nothing the defense did today could help Singer climb out of the hole she'd dug–in her recorded words, and in her backyard.