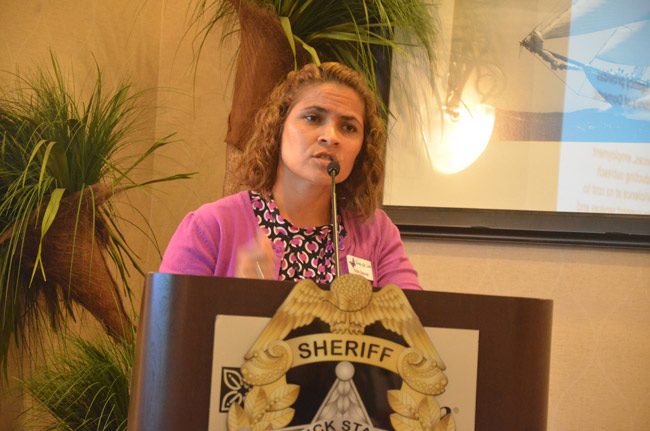 Fifteen weeks ago Sheriff Rick Staly convened a domestic violence summit in Palm Coast and assigned a task force to explore ways to address what he and many other leaders see as a crisis in the county. The task force met repeatedly over the weeks, forming a half dozen subcommittees and each producing a report that will be presented publicly as the various segments of an overall report at the next summit on Friday afternoon at the Hilton Garden Inn.
But some proposals are already a reality or close to it: Last week Flagler County got its first in-county "batterer-intervention program," which was a recommendation by at least two of the subcommittees. The county is contracting with Family Services Coalition in Palatka to hold weekly sessions at the Emergency Operations Center in Bunnell, for batterers assigned to the program by a judge. Previously, people had to travel out of county to attend such programs, making it more difficult for judges to steer them toward one.
The cost is borne by the participants, "so there's no cost to taxpayers," Staly said today, calling landing the program a small but important step to tackling the larger crisis. "It's a great example of what we as a community can do when we focus on something."
The second development hasn't happened yet but will: the sheriff will assign a detective full time to domestic violence cases. "It is expensive but the county commission did authorize me 10 new deputies starting in April of 2018," Staly said, "so I am looking at our budget to see if I can start that position before April of 2018."
The component reports that FlaglerLive obtained range from concrete, realistic but possibly expensive proposals to more general hopes for more education, more dissemination of information through schools, social service agencies and places of worship, and a different way of understanding domestic violence that broadens its definition substantially. Some of the subcommittees grew to include a dozen or more members each, bringing together leaders from social service agencies, education, law enforcement and the courts and the clergy.
"It was a great collaboration, insightful," Undersheriff Jack Bisland, who led the effort on the sheriff's behalf, said today. "I think because everybody sees this problem from the seat they occupy, it gave everybody involved a chance to see it from a different angle." The broad base of the groups helped get "buy-in" from different constituencies, Bisland said, a strategy the sheriff intended in order that the effort not stop at the production of Friday's final report, but that it serve as a linchpin.
There may be an occasional disconnect between what the subcommittees wish for and what's doable—or a few missing components altogether. But their reports offer a blueprint that then becomes a more definable community responsibility to implement. To keep the effort from becoming just another report-producing initiative, Bisland says a follow-up summit will be held in January to examine what initiatives will have been implemented and consider how best to implement those that have not. And the sheriff said he wants the task forced to continue beyond that.
The initiative, at this point, is not lacking in ideas.
The mental health and medical committee had not minced words when it called for a Domestic Violence Intervention Program, determining that such an intervention program in Flagler "is imperative to the success of combating domestic violence." The subcommittee explored two such models, one in California and one in Massachusetts, called "Emerge," which focuses on abusers.
Batterers or abusers, like alcoholics or drug addicts, often don't know they have a problem. They may not even be aware that domestic violence is a criminal offense. The public at large "can have little to no tolerance for batterers, making it difficult to implement programs aimed at rehabilitation or re-offense prevention," the subcommittee found. (One proposal calls for the inclusion of more "batterers" in the sheriff's domestic violence initiative "to lend more credibility toward the need for offender programs."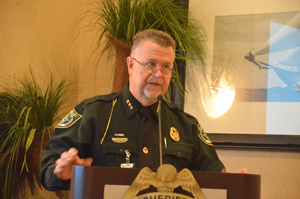 The criminal justice subcommittee had a pair of equally concrete proposal, one of which was to assign a detective full time to domestic violence cases. The detective would follow up on arrest and complaint cases sent to the State Attorney's Office, changing the current protocol, which has most such cases going from patrol deputies to the State Attorney without a detective's involvement. That detective would conduct "a comprehensive case review each morning along with the Victim Advocates and a Family Life Center Counselor," the subcommittee's report proposes, referring to the county's shelter for victims of abuse. The detective would prepare cases for prosecution and identify repeat offenders and could conduct spot checks on the victim, often locating the offender at the residence in violation of the no-contact orders judges typically hand down in cases of domestic violence.
"St. Johns County has a 15 percent greater prosecution rate which they attribute to the full time DV Detective program," the subcommittee report notes. (Notably, there does not appear to be a follow-up component from the State Attorney's Office in the recommendations, even though it's at that level that charges are either filed or dropped, and a significant proportion of such charges end up being dropped.)
Domestic Violence Resources
---
Anyone can be a victim of domestic violence regardless of age, gender or race. These questions can help determine if you or someone you know may be a victim. Does he or she:

Isolate you from family and friends?

Say things to insult you?

Criticize your parenting skills?

Take your money?
Act as the primary decision-maker?

Prevent you from developing your career?

Physically harm you or threaten you with weapons?

Threaten to commit suicide?
Act like the way he/she treats you is your fault or you are over-exaggerating?

Threaten to hurt your pets?

If you or someone you know is experiencing any of these signs, call the Domestic Violence Hotline immediately at 1-800-500-1119. In Flagler County, call the Family Life Center 24 hour Hotline at (386) 437-3505. Or call 911.
Another proposal by the subcommittee echoes "Emerge," but from a different angle. In that case, the focus on offenders, mirrored on a program at the Hollywood Police Department, is to keep offenders accountable "while continuing to pursue justice through all of the investigative stages, including bond court, trial, sentencing, and probation," the subcommittee's report concludes. The effort would still be police-based, rather than State Attorney-based. "By monitoring repeat offenders based on the individual rather than the traditional approach of location, one of the Hollywood Police Department's goals is to stop the repeat cycle of violence before it is repeated." One such approach would put a premium on stopping offenders determined to be at risk of becoming lethal.
The subcommittee also wants to see more thorough documentation of domestic violence police calls even when there's no arrest and the development of a searchable system that flags addresses where injunctions are in effect.
Several subcommittees agreed on the need for more education, more awareness, and the debunking of myths surrounding domestic violence, which are themselves an obstacle to tackling the crisis. The education subcommittee sees existing organizations, whether it's the Family Life Center or the school district, already providing educational services but with missing parts: domestic violence education is part of middle and high schools' health curriculum but not in elementary schools. The district's Problem Solvers program could develop projects geared toward domestic violence awareness. And city governments, the subcommittee found, should be more involved in lending their marketing resources to the effort.
The subcommittee wants to see more domestic violence training for school employees and parents, even if it means just having law enforcement or judicial voices speaking to school employees.
But there's also a more difficult matter ahead: encouraging a different way of understanding domestic violence.
Dayanna Lopez, who chairs the overall committee, reflects an approach that seeks to broaden the definition of domestic violence from the one that triggers law enforcement or medical intervention to its more protracted, calculated, almost predatory nature: It's not "just hitting," Lopez writes in her summary, "or fighting, or an occasional mean argument. It's a chronic abuse of power. This difference needs to be understood. In all relationships, people can be mean. However, in a domestic violence situation, the abuser tortures and controls the victim by calculated threats, intimidation, and physical violence. Actual physical violence is often the end result of months or years of intimidation and control."
What was once defined and understood–perhaps conveniently so to keep it as closeted as possible—as a physically violent act is now more broadly understood as physical as well as emotional and sexual abuse, its subtleties as potentially harmful, especially to children or to children who witness the abuse between adults, as the more overt kind of physical abuse. "To understand how the meaning of 'domestic violence' has and is changing," Lopez writes in one of the more astute conclusions of these reports, "think about how the term 'family' has changed in the past 50 years. They are both ever-changing, and a bit controversial." As with domestic violence, the "controversial" aspects of the changes are only so to those who don't want to accept the change—or those who would prefer to keep domestic violence closeted.
Abuse, in other words, can be as violent as a rape and as subtle as the withholding of affection and sex, or the leveling of criticism about one's sexuality, according to Lopez's summary view. It could be jealous anger or one partner's insistence that the other dress in a more provocative way than desired.
"For children," Lopez notes, "the fear is more than fear of injury or death. Children fear the destruction of their family—their world. Middle-school aged children have an awareness of things such as poverty, foster homes, and homelessness, and may be unable to cope with the uncertainty that reporting abuse may cause. Even when adults in the community such as school personnel or neighbors report the abuse, children may outright deny it. Children may experience feelings of shame, guilt, and divided loyalties to parents making it unlikely that they will disclose the violence to others."
There was also a faith-based subcommittee, chaired by Ed Reistetter, a chaplain with the Sheriff's Office. That report stresses the universality of domestic abuse, which can "happen in all faith communities regardless of tradition," and whose perpetrators and victims may be members of the very same congregation, giving members of the clergy a "unique opportunity to engage" both sides.
While the report does not address certain denominations explicitly placing women in a subservient role and men in a controlling role in the family, it frankly acknowledges "a disconnect between formal ministerial training and proper training in handling cases of" domestic violence, going so far as to list "consequences of inadequate clergy response," such as further empowering perpetrators to hurt victims, causing victims to lose trust in the clergy, and causing victims to "experience feelings of isolation, hopelessness, abandonment."
Beyond proposing better domestic violence awareness training for clergy, particularly through a 14-hour interfaith curriculum by the Interfaith Institute, the subcommittee's proposals are limited to disseminating information at places of worship and suggesting prayer services, which are not anymore likely to reduce domestic violence than, say, missing statements announcing the need to eliminate domestic violence. The difference, as other committees found, is in the willingness and ability to find money that pays for initiatives that make a concrete difference.
Beyond Friday's summit, the challenge will be to keep the initiative relevant. "We have to stay on top of it," Staly said. "So it will be my responsibility and our committee's responsibility to continue holding meetings, progress reports to make sure we are moving forward with the recommendations of the committee. I'm not going to let it get dust, put on a shelf. Government too often does that and that's not my style. I wouldn't have felt the first summit meeting if I didn't feel this was an imp issue to address in our community."

The Domestic violence task force presents its final report in a public meeting led by Sheriff Staly at the Hilton Garden Inn on Friday, Oct. 20, at 1 p.m.