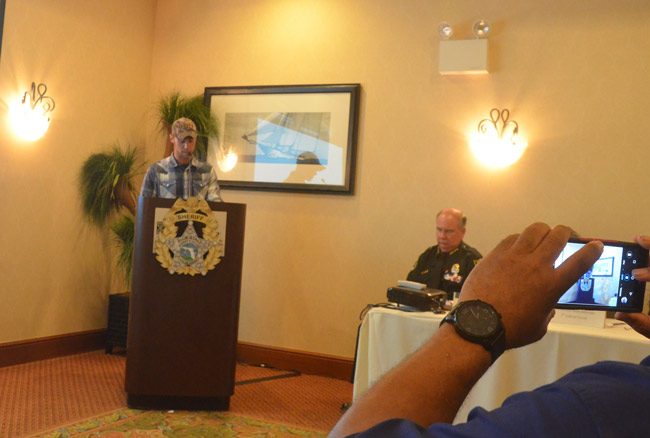 By the time a summit on domestic violence initiated by Sheriff Rick Staly ended this afternoon, an audience of about 75 people had been run through an unrelenting kaleidoscope of perspectives on one of the most persistent criminal and behavioral problems in the county.
Staly framed the two-hour summit at Palm Coast's Hilton Garden Inn as the start of an effort to create a task force that would over the next three to four months meet regularly and produce a set of recommendations that could be enacted realistically and swiftly to reduce the incidence of domestic abuse, which leads to an arrest a day in the county, with many more cases that go unreported or that don't rise to the gravity of an arrest. Other goals include heightening awareness of the issue, improving cooperation between agencies that deal with domestic violence, and find ways to toughen accountability for perpetrators while also giving them means to break the cycle: several speakers tried to find the balance between punishing a crime and acknowledging that its perpetrators are still family members, neighbors and friends.
"It is my hope today to start a dialogue to understand the domestic violence problem we face in our county and the development of a community-driven solution," Staly said.
The task force is still in the embryonic stage. Wednesday's gathering crystallized its challenge, which seems to amplify the more one hears about the bewildering complexity of the issue.
The audience heard from the sheriff, the state attorney, the public defender, the clerk of court, the head of the county's only domestic violence shelter, the co-founder of a haven for children of abusive parents, an emergency room physician, two cops often on the front lines of the crisis and a therapist in the trench line right behind the front.
But probably none of the testimonies had the arresting effect of that of Corey Miller, a 29-year-old native of Mississippi whose Flagler County rap sheet stretches over a decade and includes charges of domestic battery, among others.
He was born to a mother routinely abused by his father in an environment where he thought that was the norm, a norm "transitioned down from generation to generation." What wasn't normal in his eyes were those other people's houses where there was an absence of violence. He ended up in the foster care system at a young age, itself an unregulated odyssey of pain and punishment and hunger to which he became numb, and that culminated with a foster father's birds-and-bees talk that at first deceived him into thinking that his foster father cared enough for him to tell him about these things—only for that man to then proceed to try to teach him about masturbation. He went to military school. He got out, partied, drank, drugged, joined a gang, thinking all along that was the way to be an adult. He suppressed his experiences, then moved to Florida when his father, who'd spent most of Miller's life in prison, suggested he move to Florida and work with him. The arrests began here and Judge Kim Hammond finally gave him a choice between jail and the military. He became a combat medic, stayed high, got in more trouble, married, had children, and continued that generational cycle of violence up to his last major arrest in 2013, when he impersonated a cop and faced the domestic battery charge.
"We both were the perpetrator and the victim the entire time," Miller said, speaking at a clip still halting with anxiety, "it just depended on what day it was, how we felt at that time, what drug I was on, what drug she was on, what we were drinking. I felt shameful that at that time I'm putting my kids through the exact same things that I went through. But I didn't care. All I cared about was the end result of me hurting her or her hurting me. This lasted about eight years. Not proud of the news stories that are about me in Flagler County. Had some wild times out here. But also, I feel like I wanted to come back and do something positive for the community."
He told his story—he's since finished probation early, gone to college, collected a 3.9 GPA, and learned to address audiences about his past, as that had been part of his conditions of release previously. And he reminded the audience: By the time cops intervene in domestic violence, "it's gone out of control."
It's out of control a lot, as a sum-up of the numbers by the sheriff's Bob Weber illustrated for the audience.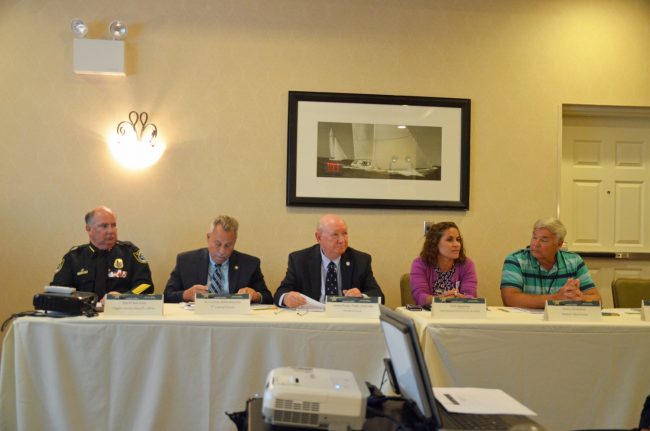 There were 667 reported cases of domestic violence in the county last year, up from 617 the year before, and 362 arrests, up from 340 the year before. Most were simple assaults, but there were 109 cases of aggravated assault, which usually involve some kind of weapon. Overwhelmingly the incidents took place between spouses or co-habitants, or between parent and child. Race is not a factor, the incidence of domestic violence incidents largely mirroring the county's demographics. But men are violent at twice the rate of women, or more, at least until around age 50. For some reason it evens out somewhat (though men are still the majority of perpetrators) for people between 50 and 60, then men are again perpetrators by big margins.
And then the victims. The Family Life Center is essentially a 2,800 square foot house, yet through May, Director Trish Giaccone said, it has had 9,000 bed nights—each of those nights representing a person for a night. Last year by the end of June, the end of the fiscal year, the number was nearly 10,000. The center has served 114 adult women and 95 children. "But if you look at the number of our arrests, it doesn't match up," Giaccone said: the arrests undercount the breadth of the problem.
The who, the when, the why and the how of the crime is not so much intractable as almost universal: it cuts across all demographics, all means, all motives, even as certain factors heighten the prevalence of the violence: booze, drugs, money, jealousy and infidelity, defiance, patriarchal presumptions. The means used can end up challenging anyone's faith in civility, whether it's the spouse strangling his partner, putting a gun in a partner's mouth, turning a vehicle into a weapon or doing likewise with a frying pan.
"Just last night we arrested a 35-year-old female for domestic violence and aggravated battery after she hit her nephew in the head with a pizza pan so hard, it bent the pan," Staly told the audience. "They were arguing over her drinking."
Alcohol and drugs are often involved in domestic violence cases to which law enforcement respond, heightening the danger for cops, Staly noted: cops often end up being the target of perpetrators or even victims, once the victim realizes that, say, a spouse who may be the sole breadwinner is being hauled off to jail. But one of the afternoon's key insights was that alcohol and drugs are not the instigators or the cause of the violence. Power and control are. Alcohol and drugs may well be the shields that justify or excuse a violent person's predisposition to violence. So substance abuse treatment, Sonny Donaldson of Stewart Marchman Act, the local behavioral health network, will not necessarily resolve the issue any more than anger management will.
Every speaker opened listeners' eyes and ears to realities scarcely familiar to most, domestic violence being by definition still a largely unspoken crime: anyone will talk about having a car burglarized, being robbed at gunpoint or having a purse snatched. Few will speak of being brutalized by a spouse, or abused, or raped. That's what's enabled the crime to perpetuate itself as few other crimes do, victimless crimes aside (a pound of pot will never do the harm of a domestic assault, let alone an assault witnessed by children, or perpetrated against children).
---
"The night before trial the victim and the defendant generally are sleeping in the same bed together."
---
Even R.J. Larizza, the State Attorney for Flagler, Volusia, St. Johns and Putnam, whose public pronouncements are usually boilerplate back-patting and flattery, delivered an impassioned analysis of the extent of his office's involvement—and its limits, when prosecutions are so often made harder by absent evidence, an uncooperative victim, or simply the intimidating fact of running victims through the cogs of the judicial system. "We've got to find a way to provide for these folks to keep them safe," Larizza said, and to make them comfortable enough to participate in prosecutions. He didn't stop at the fate of victims. He spoke of perpetrators, stressing that "not everyone is beyond redemption," that not every case of domestic violence is a crime, and some of the crimes may not be prosecutable because it could hinge on forcing a young child to testify against a parent: it's up to the prosecutor to make those calls, and it's not necessarily in the child's interest to be placed in that position.
James Purdy, the public defender, put the unique intricacy of prosecuting and defending against domestic violence in the starkest terms: "The night before trial the victim and the defendant generally are sleeping in the same bed together."
It was an understatement in the end when Staly said: "You can see how domestic violence touches the entire spectrum of service providers in the community." He pledged the support of the Sheriff's Office administration and staff—and their resources—to the task force, which Jack Bisland, Staly's undersheriff, invited people in the audience to join.
But the previous two hours had if anything underscored the iceberg-tip-like extent of a problem that may overwhelm any task force, if a "solution" (a word heard again and again today) is the goal. Judging from what today's experts, practitioners, caretakers, cops and others said, containment may prove to be the more realistic word, at least at first.

If you are interested in participating in a domestic violence committee to help be a part of the solution, please contact Peggy O'Brien at the Flagler County Sheriff's Office, [email protected].