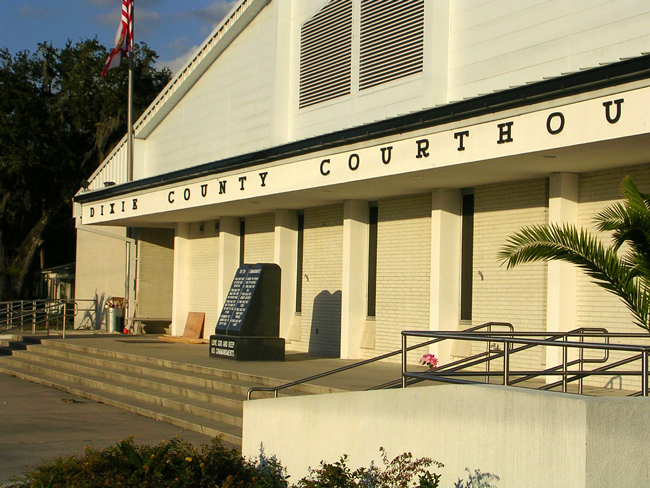 Dixie County is a small bump on Florida's armpit around the Gulf, its geography slightly larger than Flagler's, its population about seven times smaller, and its diversity many times smaller than that: it's the sort of place where an established businessman can call a county commissioner to ask to have a monument of the Ten Commandments installed on the courthouse steps one week and have his wish granted the next.
That's what Joe Anderson did when he got the Dixie County Commission unanimously to agree in January 2006, after just one phone call, to let him place a $20,000, five-foot-tall, six-ton granite monument of the commandments atop the courthouse steps, directly under the Dixie County Courthouse sign. The following line appeared at the foot of the monument, in capital letters: "LOVE GOD AND KEEP HIS COMMANDMENTS." There were no other markings. The county attorney offered to defend against any lawsuit "for free." The county claimed the monument was owned and maintained privately, by Anderson, and that it was part of a public "forum."
"The items placed in this forum do not necessarily reflect the views or opinions of the Dixie County Board of County Commissioners and are not sponsored or endorsed by the Board," a sign placed next to the monument reads. The Ten Commandments monument is the only "item" in the "forum," though inside the courthouse there are a few monuments dedicated to war veterans. The county commission enacted a rule forbidding anyone but residents or organizations of Dixie County to use the forum.
Three years earlier, the Polk County Commission had approved a $150,000 monument bearing the Ten Commandments and placed in front of the county administration building. But in that case the commandments are part of 15 different displays, including the Florida Constitution, the Bill of Rights, the Magna Carta, and excerpts from speeches and letters, diminishing the explicit endorsement of religion.
The American Civil Liberties Union did not challenge the Polk County monument. It did challenge the Dixie County monument, and on Friday, Federal Senior District Judge Maurice Paul ruled that monument's placement unconstitutional and ordered it removed within 30 days.
"Despite the actual ownership of the monument, the location and permanent nature of the display make it clear to all reasonable observers that Dixie County chooses to be associated with the message being conveyed," Judge Paul ruled. "As such, the Court finds that the monument displaying the Ten Commandments is government speech and must comport with the Establishment Clause."
Both sides sought First Amendment protection. Dixie County argued that the display is private speech, protected by the Free Speech Clause of the First Amendment. The ACLU contended the display violated the establishment clause of the amendment, which forbids government endorsement of religion—singularly or plurally.
"If Dixie County is engaging in its own expressive conduct, then the Free Speech Clause
has no application. The Free Speech Clause restricts government regulation of private speech, it does not regulate government speech," the judge ruled. "This does not mean that there are no restraints on government speech. Government speech must still comport with the Establishment Clause."
Merrill Shapiro, president of Flagler County Americans United for Separation of Church and State and president of the national board of the same organization, has long opposed such displays on public grounds. "It is inappropriate, it is an endorsement of Judea-Christianity, it's an endorsement of religion," Shapiro said. In the case of the Dixie County monument, he said, "It is a very selective religious statement in an area the government doesn't belong."
"We hope that Dixie County officials will find a permanent place for it at a church or other house of worship, which is the appropriate place for religious monuments," said Howard Simon, Executive Director of the ACLUFL. "Removing the monument is the right thing to do. It is not the business of government to promote religious messages about monotheism, idolatry, taking the Lord's name in vain or honoring the Sabbath."
Simon added: "Local governments can't wink and nod their way around the highest law of the land just because they agree with the religious message they are supporting. In fact, that's exactly what the Constitution prohibits – government sanctioned, promoted or enforced religion. It is sad that a federal judge had to order the County to honor the limited role of government required by our Constitution."