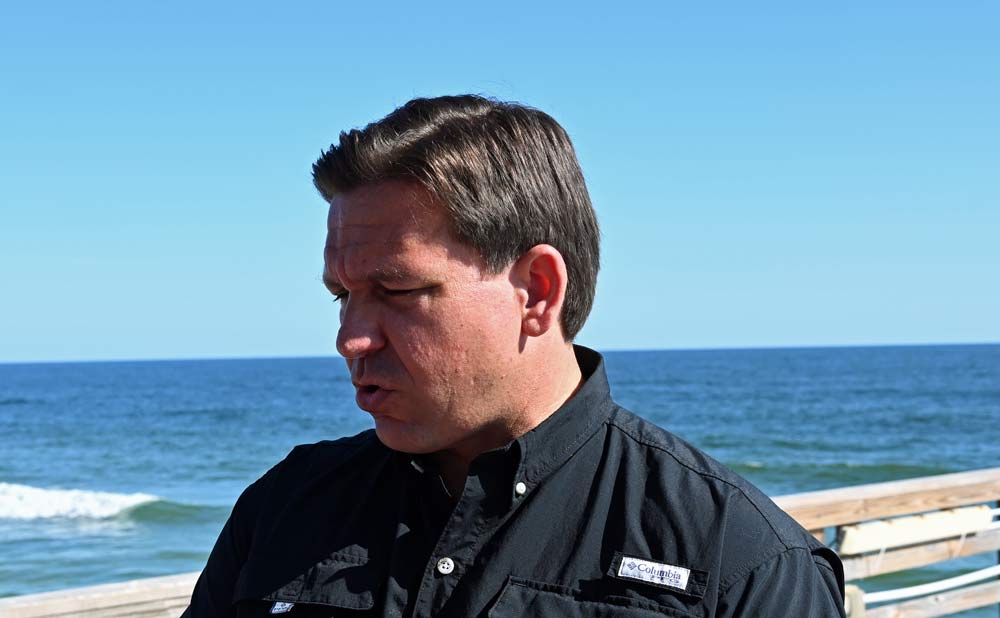 By Diane Roberts
Ron DeSantis has no friends.
The guys he played baseball with at Yale didn't like him. One told New Yorker writer Dexter Filkins, "Ron is the most selfish person I have ever interacted with."




While DeSantis appeared highly intelligent, he enjoyed "embarrassing and humiliating people."
DeSantis served in Congress before his run for Florida governor in 2018. Nobody liked him there, either. As one of his former colleagues said, "He had no friends."
Well, did Mussolini have friends? Does Recep Tayyip Erdoğan have friends? Do we picture Viktor Orbán hanging out in the bar with his pals? If you're convinced the Almighty has chosen you — remember that ad Casey DeSantis tweeted out during the 2022 campaign? "And on the eighth day, God made a fighter" — you don't care what anyone thinks of you.
Punish his enemies
Look at the original $117 billion budget DeSantis signed at a private Fort Pierce yacht club on June 15. He boasted about big money for Everglades restoration, teacher pay raises, and sales tax exemptions for everything from sunglasses to diapers to generators. This is normal behavior for governors, especially ones looking to the next election.
But DeSantis is using taxpayer money to punish his enemies, a warning to those who cross him. Through the budget, he's pushing his hate-fueled vision onto us, trying to transform Florida into a subtropical version of Massachusetts under the Puritans: intolerant, ignorant, repressive, and cruel.
There's $25 million to destroy the welcoming and creative culture of New College, driving out qualified professors and hiring right-wing hacks to bring in sports, fraternities, and plenty of flag-waving.




There's $30 million for a conservative think tank to be imposed on the University of Florida, $100 million to expand the State Guard, $12 million to fund the human trafficking of asylum seekers and other migrants to Democratically controlled states, and $6 million to pay the legal fees DeSantis will need as he defends his unconstitutional acts in court.
That's bad enough, but it's the vetoes, issued with no explanation, that really highlights DeSantis' unrelenting pettiness and score-settling. This guy likes to punch down, attacking the poor and the powerless. He cut $14.5 million in health care initiatives, nursing, and gun violence prevention.

He brags about funding Everglades restoration (enough to buy the support of the compromised Everglades Foundation, anyway) and Indian River clean-up, but does nothing to address the causes of the pollution befouling most of Florida's rivers, lakes, and wetlands.
Adding insult to injury, he cut a measure allowing cities to regulate fertilizer use, making it damned near impossible to slow down the toxic algal bloom choking Lake Okeechobee and other Florida waterways.
DeSantis was campaigning in April so he must have failed to notice that Fort Lauderdale was under water. Maybe that's why he vetoed flood mitigation programs.




Naturally, he handed developers determined to drain, scrape, and monetize every single inch of Florida pretty much whatever they wanted.
Instrument of the divine
The Bible reminds us that vengeance belongs to the Lord, but DeSantis figures that, since he's an instrument of the divine, he might as well use his veto to knee-cap those who cross him. Sen. Joe Gruters had the gall to endorse Donald Trump for president, so DeSantis slashed projects worth $27 million in his district.
Don't feel bad for Gruters — he's a culture wars dolt. But this kind of sucks for Sarasota.
Brevard County fell victim to DeSantis' wrath, too. Melbourne's zoo rented space to the emotionally fragile Rep. Randy "Imma be a yooniversity president!" Fine for a campaign event. Fine implied the zoo sponsored it. The zoo pushed back. Fine was offended. The result: The zoo's $2 million budget request was denied.
Maybe DeSantis thinks giraffes, otters, and turtles are part of the woke conspiracy.
The free flow of information scares the governor: News is dangerous. So DeSantis cut funding for 21 public broadcasting stations. They'd asked for $6.5 million to replace clapped-out generators and moldy tiles, repair damaged wiring, and bring broadcast towers up to FAA standards.
Real history is also a threat. The governor tried to stamp out the past that so frightens him by vetoing money for a Black history event in Orlando and the Black Music Legacy project: They'd requested a grand total of $360,000 — a little more than half what it cost to fly those asylum seekers from Texas to Martha's Vineyard.
Getting scriptural
The governor has a chip the size of Gibraltar on his shoulder and suffers from a sense of grandiosity that would make Captain Ahab blush. DeSantis recently told a "700 Club" interviewer he'd have liked to hang out with the Apostles: "These are people who, you know, Peter is just fishing one day and all of a sudden this guy comes up to him, catches all the fish and says, 'You know, you're going to be a fisher. I want you to be a fisher of men.'"
Such an eloquent and erudite grasp of scripture. DeSantis probably thinks Jesus would approve of his quest to own the libs.




Yet this mix of Trumpy syntax, absurd pronouncements, and gratuitous nastiness isn't translating into love from potential primary voters. No doubt DeSantis will tout his vetoes in speeches and campaign ads as victories in his war on woke, but that won't solve his fundamental problem: People can't stand him. DeSantis' numbers were pretty good when he kicked off his campaign; now he's polling 40 points behind Donald Trump.
Think about that: Trump with his 37 indictments, his sexual assault rap, and his increasingly-surreal lies, is way more popular than the straight-backed family man with the attractive kids and the immaculately dressed missus.
While sane people find Trump loathsome, Republicans think he's charismatic. Manly. Funny, too. DeSantis has no detectable sense of humor. He exists in a perpetual state of tantrum-throwing. Aides reportedly write "Likeable" on his notepads, encouraging him to stop behaving like a belligerent jerk in public.
The problem is, if you are, in fact, a belligerent jerk, it's hard to hide it.
Of course, the primaries are many months away. Anything could happen. Trump could spontaneously combust, leaving a strange, toxic orange goo all over the walls of Mar-a-Lago. DeSantis might learn to act like a human being.
Or not. He's currently in second place, bolstered by a loyal mob of "Moms for Liberty," swastika-sporting fan boys, homophobes, and "Christian" nationalists.
The question is, are there enough of them to put him over the top in the Republican primary?
It's probably too late for charm school.
Editor's note: a previous version of this column incorrectly referred to the governor buying the "endorsement" of the Everglades Foundation. The Foundation is a non-profit and does not–may not–endorse. But it has been very supportive of the governor.


Diane Roberts is an 8th-generation Floridian, born and bred in Tallahassee. Educated at Florida State University and Oxford University in England, she has been writing for newspapers since 1983, when she began producing columns on the legislature for the Florida Flambeau. Her work has appeared in the New York Times, the Times of London, the Guardian, the Washington Post, the Oxford American, and Flamingo. She has been a member of the Editorial Board of the St. Petersburg Times–back when that was the Tampa Bay Times's name–and a long-time columnist for the paper in both its iterations. She was a commentator on NPR for 22 years and continues to contribute radio essays and opinion pieces to the BBC. Roberts is also the author of four books.