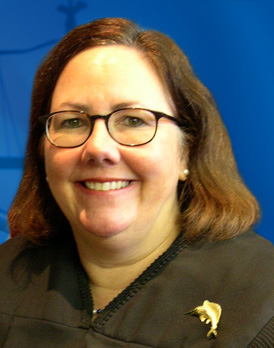 A Palm Beach County circuit judge ruled Tuesday that Florida's same-sex marriage ban was unconstitutional in a probate case involving a gay couple who married in Delaware.
The decision by Palm Beach County Circuit Judge Diana Lewis was the fourth recent ruling finding that the ban on same-sex marriages is unconstitutional, though the circumstances differed from the earlier cases. Lewis' decision stemmed from the March death in Pennsylvania of Frank C. Bangor, who owned property in Palm Beach County.
Bangor was married to W. Jason Simpson last year, and Simpson sought to qualify in Florida as personal representative of the estate. He sought to qualify as a surviving spouse. But a constitutional amendment passed by Florida voters in 2008 defined marriage as being between "only one man and one woman" and said Florida would not recognize other marriages.
Lewis sided with Simpson and found the ban unconstitutional as it applied to the case. "There is no justification in denying Mr. Simpson the privilege of acting as the fiduciary, based solely on the gender and sexual orientation of his now-deceased spouse," Lewis wrote. "'The Marriage Laws' unnecessarily discriminate against this 'spouse,' who is recognized by other states as a 'spouse,' to act as a fiduciary. Clearly, it was Mr. Bangor's intent that Mr. Simpson serve as his personal representative and inherit all of his property."
Lewis' decision followed other recent rulings in Monroe, Miami-Dade and Broward counties that found the same-sex marriage ban unconstitutional. The earlier cases have been stayed pending appeals.

Judge Diana Lewis Decision on Same-Sex Marriage, Palm Beach County (2014)