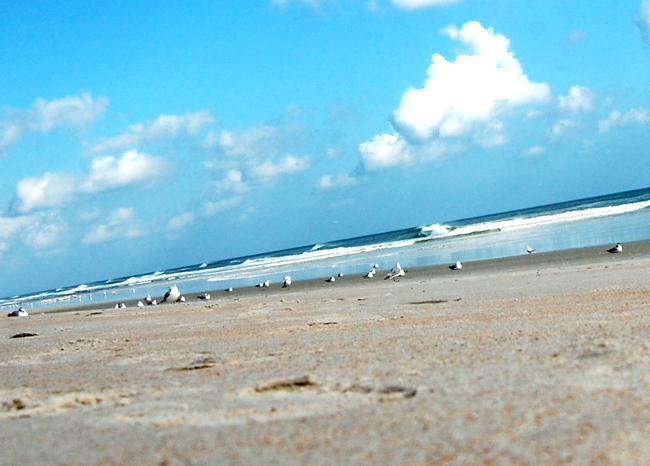 Palm Coast's proposed desalination plant is looking for real estate–and community input on that search.
The Coquina Coast Seawater Desalination Project, as it is called, is holding an open house followed by a presentation and public comment period on the project's siting criteria beginning at 6 p.m. at the Whitney Laboratory in Marineland this Wednesday (March 9, at 9505 Ocean Shore Blvd.). Interested individuals can provide their input either in person by attending the public meeting or by completing an online survey.
The project has undergone significant revisions since first proposed several years ago, at the height of the housing boom, when population projections had Flagler County reaching 200,000 inhabitants early this century. (ITT, Palm Coast's founder, had also projected that number for the year 2000 when it launched the development in the late 1960s.) Those projections have changed, and with them, the scale of the desalination project. Initially conceived as one of the largest plants in the world and costing $1.2 billion, it would have had a production capacity of 25 million gallons of freshwater by 2020 and 80 million gallons by 2050.
The project has been scaled back to a capacity of 10 million gallons by 2020 and 25 million by 2050. Those numbers may yet change. "Preliminary engineer's [sic.] estimates put the capital cost of a 10-15 mgd plant between $180 million and $234 million," according to the latest project fact sheet. Those costs do not include energy consumption, which is colossal (Tampa Bay's desalination plan, which produces a mere 93,000 has a power plant co-located with the 2,000 megawatt Big Bend power station). Nor do they include pipeline-distribution costs, which are also considerable. Nor do they take into account environmental costs.
For now, only capital costs are being projected to some extent. No single local government can shoulder even those costs alone, though Palm Coast is close to doing so. Originally, the project was made up of more than a dozen "partner" governments–counties and cities across Northeast Florida, including Flagler County, Bunnell, Flagler Beach, Volusia and St. Johns counties. All of those have since dropped out, citing costs: to remain partners, they would have had to contribute money annually. Their strained budgets argued against it. Only three entities remain beside Palm Coast: Leesburg, DeLand, and St. Johns County, and in limited capacities. The St. Johns Water Management District is providing some funding.
Wednesday's meeting at Whitney Labs will start with an open house at 6 p.m. Residents can view display boards and speak with project team members. A presentation will begin at 6:30 p.m. in the auditorium, followed by an opportunity for questions and comments.
Those who cannot attend the meeting can still learn about the siting criteria and provide their feedback by clicking on the survey link at www.coquinacoastdesal.org. The online survey will be available from March 10-17, 2011.
All feedback from the public meeting and survey will be compiled and provided to the Coquina Coast Seawater Desalination project partners. Community input may help shape project decision-making. This phase of the desalination investigation includes identifying potential sites for the proposed facility, then assessing the suitability of those sites using evaluation criteria.
The project's PR message, channeled through Michelle Robinson, states explicitly that "Alternative water supplies, such as seawater desalination, must be developed to reduce reliance on groundwater supplies and to meet the public's future drinking water needs." The statement makes assumptions that are not yet proven, namely, that alternative supplies are the only way–as opposed to slower growth, which is already in place, or stricter conservation, which is not, or costlier water rates on ground and surface water consumption, which is not being considered (though rates from desalination would be far higher than current rates).