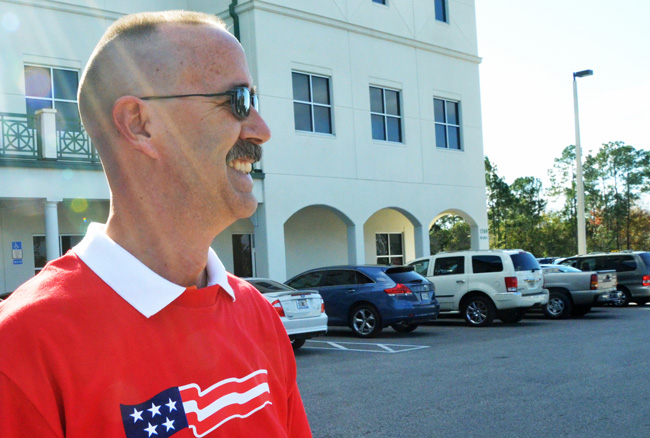 Last Updated: 6:26 p.m.
Joseph Delarosby, a Flagler County Sheriff's deputy with almost 20 years' service, took his life overnight or early this morning at Palm Coast's Heroes Park. The Sheriff's Office was at the scene investigating until about 11 a.m.
"We're working an apparent suicide," the Sheriff's Office's Paula Priester said at 10 this morning, before next-of-kin had been notified. "It's a former deputy."
The Sheriff's Office says Delarosby had recently retired. He retired on Aug. 10 this year. He always spoke of his love for the job and in various conversations with a reporter over the years never intimated that he wanted to retire. It is also unusual for law enforcement officers or other public servants to retire just shy of the 20-year mark, when they become entitled to generous pensions, although in deputies' case, it takes 25 years to get full retirement benefits. Delarosby, in any case, was already vested.
But he had recently had very serious personal difficulties and health struggles. In late May had been briefly committed to a psychiatric facility in Daytona Beach after threatening to kill himself at his home.
Delarosby served in the patrol division, in civil process and as a bailiff at the courthouse. He received 27 agency commendations, 13 certificates of appreciation and 13 personal letters of appreciation in his nearly 20 years of service.
Delarosby, who turned 50 in September, was married and had a daughter, was a familiar presence in the community, instantly recognizable from his broad smile and mustache, his lanky frame and the spike of his hair, which all led to him being affectionately known in the department as Beaker, the character from the Muppets. And he was known and loved for his dexterity with a camera, a hobby he enjoyed and put to use in his line of work.
"His photographs, some of them were just amazing at how he got them," Patrick Juliano, the Palm Coast firefighter and a friend of Delarosby, said. "I got so jealous, I had to go out and buy my own camera to compete with him, and I couldn't keep up with him. He could do Photoshop like it was out of this world."
But it was Delarosby's generosity with his time and knowledge that left a mark on Juliano, who remembers the first time he was in charge of an event's honor guard, at the funeral of a volunteer firefighter in 2010. Juliano was lost. "I thought I had it handled, and Joe showed up and he stood by my side the entire weekend that we had it going on," Juliano said.
Delarosby's body was discovered by a Palm Coast water department employee early this morning, according to an official at the scene. The call came in to the Sheriff's Office at 7:23 a.m. A Sheriff's news release said a passerby noticed the body and called at 7:30 a.m.
Bob Weber, the Sheriff's Office's chief spokesman, said Delarosby had not resigned or been laid off, but had retired recently. Human resources at the office was gathering the deputy's information.
On July 10, Delarosby sent an email addressed to Sheriff Jim Manfre, by way of Kenneth McClinton in the Sheriff's administration, that stated simply: "Please accept this letter as my notice of retirement from the Flagler County Sheriff's Office, effective August 30, 2014." The email was later amended, with the 30 scratched out and "10" written in. "This notice of retirement is irrevocable. I would like to thank you for the opportunity to have served the people of Flagler County. It has truly been an honor."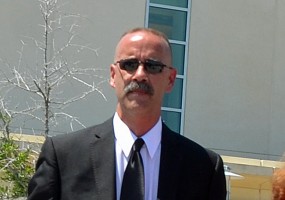 At Heroes Park, the heart of the memorial area was taped off, as was a section to the right of the entrance, where the suicide took place. Delarosby took his life by a tree with a handgun, Weber said.
Commander Paul Bovino, the Sheriff's Crime Scene Investigation unit and a Palm Coast Fire Department battalion unit are at the scene, as was at least one investigator with the sheriff's office. Delarosby's car was parked nearby.
The Medical Examiner arrived at the scene a little after 10:30 a.m. Delarosby's body was soon to be removed–that operation was taking place at 10:48–and transported to St. Augustine for an autopsy, with a sheriff's escort.
The Palm Coast Fire Department Engine 21 arrived at the scene at 10:47 and was to be sanitizing the area where the suicide took place.
The Medical Examiner, carrying the body in a van, along with a Sheriff's motorcycle and Fire Department escort, drove away from the scene at 10:55 a.m., when the yellow crime tape was also removed. The CSI unit left at 11 a.m.
On May 27, according to a Sheriff's incident report, a deputy responded to Delarosby's home in Palm Coast's B Section, at his family's behest, as his wife and daughter worried about his safety after he'd locked himself up and he'd been drinking heavily. Delarosby was struggling with prescription drugs and alcohol, the incident report states, and was urging his family members to leave him. "Leave me alone, I'll die alone," he had told his wife, according to the report. Because the situation entailed the possibility that he would seriously harm himself, deputies invoked the Baker Act, according to the report, which means he was involuntarily committed to Halifax hospital's psychiatric wing for evaluation and treatment, what the report describes as "protective custody."
His service weapons, a Remington 12 gauge shotgun and a Glock 22C, were taken into evidence for safekeeping, and his patrol vehicle was brought back to the sheriff's operations center.
Sheriff's officials were asked today to what extent the Sheriff's Office intervened to provide Delarosby treatment opportunities. But because of federal privacy rules under the a 1996 law known as HIPAA (the Health Insurance Portability and Accountability Act), a sheriff's spokesman said he was not at liberty to disclose information related to the office's health interventions on behalf of Delarosby. The office has a policy in place that lays out the steps to take, for employee and agency, when an employee is dealing with substance abuse issues.
"Joe Delarosby's passing is a tragedy for the community as a whole as well as for the men and women of the Flagler County Sheriff's Office that knew Joe and worked with him," Weber said in a statement in late afternoon. "As law enforcement officers, we respond daily to calls for assistance for people in crisis. We evaluate the particular situation and provide whatever level of assistance may be necessary. To suggest that we would turn our back on one of our own as some of your commenters have implied is absurd. I can assure you that Sheriff Office did everything it could to assist Mr. Delarosby. Unfortunately, the Health Insurance Portability and Accountability Act of 1996 (HIPPA) prevents us from discussing anything further. It is important to keep in mind that people often refuse to accept the fact that they may have a problem or that it is one that they have under control. As an agency we are always there to help those in need, all we ask that they meet us half way in the middle."
Manfre echoed the statement in an interview also in late afternoon. "I was personally involved with Joe because he was someone I cared about but I can't tell you what we did for him," Manfre said, noting that he implemented the Employee Assistance Program the first time he was sheriff in 2001. "We preach that all the time, if you have problems, use that, it's completely confidential."
"We could not have done for him more than we did, everything possible that we could do for him, we did," Manfre added. "The inference that we threw Joe to the side and that we didn't care about him is just shameful. He's one of the main people who helped me get elected in 2000, and I maintained that relationship throughout." He described hearing the report this morning: "It was painful to hear, and it was stunning. I got the report that there was a male committed suicide. To find out later that it was Joe was quite stunning. It will take some time to get over his loss."
Delarosby death was leaving those who knew him shaken, among them John Pollinger, the retired police chief who ran for sheriff in 2012, and on whose campaign Delarosby had played a very active role.
"I met Joe at another tragedy, which was the death of Frank Celico," Pollinger said this morning. He described Delarosby as having a "larger than life personality, great sense of humor and was fun to be around. Nobody should judge what happened today or overnight because somebody can fall into the depth of despair that no one else could possibly understand." Pollinger said he's dealt with similar situations throughout his career in law enforcement, including the suicide of a member of his own department. "You just want to say couldn't you have hung out one more day, one more day, it could have gotten better," Pollinger said, but it's not always possible. "Unless you've been in that position, that desperation, you wouldn't understand."
Pollinger added: "Joe was there for a lot of people in a lot of different times. That's just the way Joe Delarosby's personality was. If anybody was in need, Joe Delarosby was there."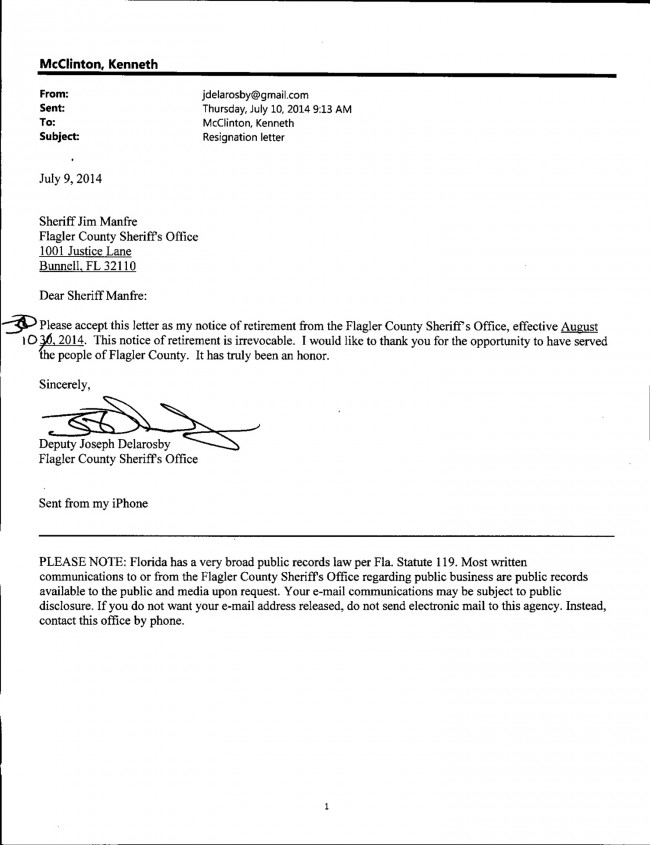 Juliano says Delarosby had been in charge of the funeral arrangements and ceremonies surrounding the death of another Flagler County Sheriff's Deputy, Chuck Sease, who was killed by a man driving a car in a chase on an I-95 exit ramp in July 2003. "Somehow became the person who took care of everything," Juliano said. "In fact, when Congresswoman Shirley Chisholm died he actually handled all of her funeral arrangements here in Florida, and worked to get the [federal government] to send a military detail to give her a state funeral." Chisholm had been the first black woman elected to Congress, representing New York, and the first black candidate to run for the presidency. She had retired in Palm Coast.
"Joe is the type of guy that would do anything for anybody. He always put others before himself," Juliano said.
"Today we lost one of our own," former Sheriff Don Fleming wrote on his Facebook page. "As we reflect on Joseph let us remember him as a dedicated member of the FCSO family. He was a caring deputy who was always willing to step in and help his brothers and sisters in uniform in their time of need. With a heavy heart we extend our sincere hearfelt condolences to the Delarosby family and all of Joe' s brothers and sisters at the Flagler County Sheriff's Office. It is our hope and prayer that Joe and his family are afforded a proper law enforcement farewell that he so much deserves."
Heroes Park, dedicated only a few years ago in the heart of Palm Coast–it is a few yards west of the library on Palm Coast Parkway–includes a law enforcement memorial of black granite, where the names of three law enforcement officers (two of them former Flagler deputies) are engraved. The third name, that of Sgt. Frank Celico, was added a few weeks ago as part of the city's Sept. 11 ceremony. The monuments also include a memorial to Purple Heart recipients.
No single agency maintains comprehensive numbers on suicides involving law enforcement officers. Existing literature and studies result in wide disparities of findings, exaggerated rates and extrapolated rather than empirical conclusions, making it difficult to conclusively report such numbers. In 2012, The Police Chief, a trade publication, published an overview on the subject and found that based on a recent analysis of 30 studies on police suicide, authors of the analysis had found a suicide rate of 18.1 per 100,000 officers, compared wo a rate of 12 per 100,000 in the general population. "However," the authors noted, "the population of LEOs does not mirror the 'general population' in gender, age, employment, or ethnic aspects." If the police suicide rate is compared to the white male rate of suicide of 21.6, "the LEO rate is actually lower," the analysis found.
"Also, there is research suggesting law enforcement suicides are more likely to be underreported or misclassified as accidental deaths than suicides in other similar occupations," the Police Chief study went on. "This misclassification may occur to protect the family, other survivors, or the agency from the stigma of suicide. Finally, the majority of studies involve large departments and cities with an occasional statewide study.10 National LEO suicide rates are then extrapolated from these populations, which may not be representative of the occupation."
Another organization publishes National Study of Police Suicides, based on emails, news reports and others secondary sources. The organization found that in 2012, when 126 suicides were reported, 91 percent were men, the average age of those committing suicide was 42, the average years on the job was 16, and those most at risk had spent 15 to 19 years on the job.