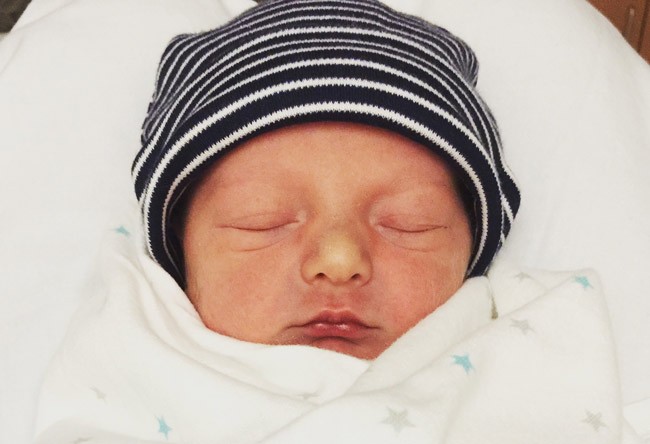 Jaxson wasn't due just yet. But he wanted out. Babies looking to have their own birthday, independent of Christmas, tend to race the clock. He did. He wasn't going to let his mother get to the hospital. Ironic, considering that she's an Emergency Room nurse at Florida Hospital Flagler.
She made it as far as the bathroom.
Either Brittany Bowser, the 25-year-old mother, or her husband Jason, called 911 from their the Zinzendorf Place house in Palm Coast, placing the call at 3:35 a.m. Sunday morning.
Eight minutes later, apparently before paramedics had a chance to get there, the baby was out, according to 911 notes, with three Flagler County Sheriff's deputies as stand-ins for midwives, and deputy Jennifer Prevatt, an 11-year veteran at the department, actually assisting in delivering the baby. With her were deputies Trevor Jacob and Andrew Cangialosi. (It's unclear from the sheriff's office's news release who among them tore sheets in strips and who heated water.) Meanwhile the 911 dispatch center's Amy Sisti "helped guide the family over the phone with her clear, professional and calm demeanor," a sheriff's release states.
Jaxson measured 17.5 inches and weighed 6 pounds. He is the Bowsers' second child (they have a daughter), and he was racing the clock for another reason: his mother also has a December birthday (in a few days).
"The child was alert and crying," Prevatt said, according to 911 notes, when she turned the child over to Flagler County Fire Rescue paramedics' Rescue 92, who took mother and child to Florida Hospital Flagler.
"Our jobs involve serving the community," Sheriff Jim Manfre is quoted as saying in the release. "This family was able to experience public service at its best with this birth. I'm extremely proud of all the employees involved."