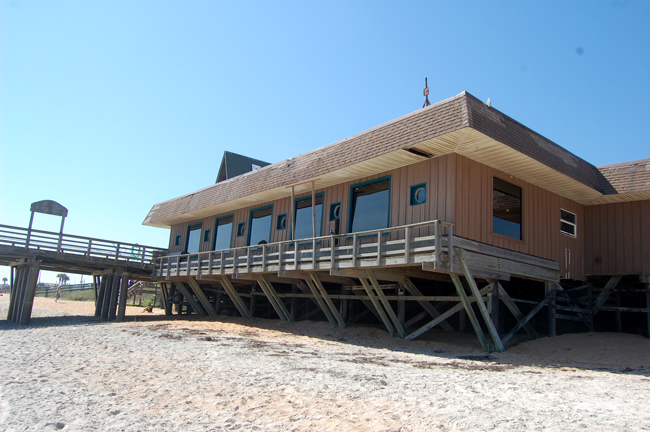 In yet another setback for Flagler Beach's attempt to lease its iconic Pier Restaurant to a new owner, the Florida Division of Environmental Protection this week told the city that it would not issue a permit enabling construction of a new deck on the ocean side of the restaurant.
DEP's rejection again puts in question a long-term lease Flagler Beach and Ray Barshay, an Ormond Beach restaurateur, have been negotiating arduously for months. The city, which owns the building, had agreed to build a deck for $50,000 as one of its concessions to Barshay. A deck would enable outdoors dining and would presumably yield higher profits. A deck was among the recommendations issued by a consultant the city hired to prepare a report on how to proceed with a new lease.
"We're going to challenge it," Acting City Manager Bruce Campbell said of DEP's verbal rejection of the city's permit request. "We're not going to just roll over and play dead."
Last Monday the city transmitted its latest lease proposal to Barshay. Campbell said Barshay was pleased, and that the city was going to be close to formalizing the deal by ordinance. That was before DEP's decision. Campbell said he didn't think the deck issue would be a deal-breaker with Barshay. On the other hand, numerous items in the lease, from the future management of the Bait and Tackle Shop to the city's construction of a lifeguard tower adjacent to the restaurant, on the south side of the pier, brought negotiations to the brink several times.
Absent a deck, Barshay, whose negotiating style combines velvety patience with shark instincts, may well seek further concessions from the city in other parts of the lease. Ron Vath was among the commissioners who'd resisted granting Barshay further concessions. Vath is no longer on the commission, and the two new commissioners–Marshall Shupe and Kim Carney–are untested in the ring with Barshay, though the other three commissioners have not rolled over, either.
The physical limit of the Pier Restaurant on the beach extends right up to what DEP calls the seasonal high water line. A deck would extend further than that line. DEP also expects that over the next 30 years, that line may move further inland, accounting for about a third of the width of the existing building, unless erosion-fighting measures such as beach re-nourishment takes place.
The existing lease-holder of the Pier Restaurant is looking to get out out of the lease. The city has been negotiating with Barshay since last year. It has no other equally solid prospects, at least none that have pledged to invest upwards of $300,000 in the property.
The lease and an update on the Bait and Tackle Shop's future are both on the commission's agenda next week. The commission meets Thursday, March 24, at 5:30 p.m.