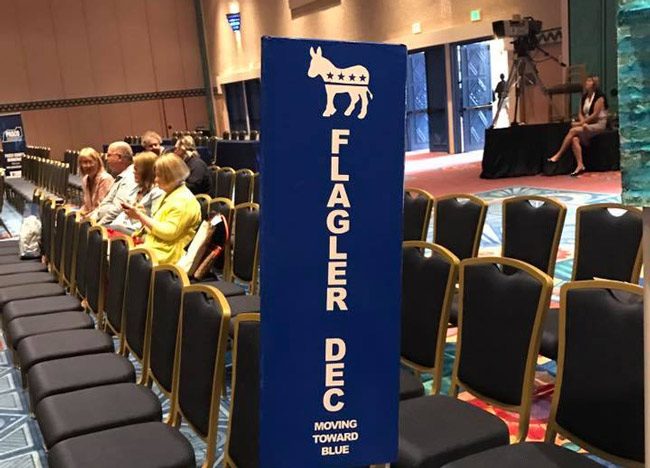 LAKE BUENA VISTA–The three top Democratic candidates for governor sat on a stage Saturday night in the Fiesta Ballroom at Disney's Coronado Springs Resort and answered more than an hour's worth of questions on issues facing Florida.
There were few differences in the responses from former U.S. Rep. Gwen Graham of Tallahassee, Tallahassee Mayor Andrew Gillum and Winter Park businessman Chris King as they addressed party activists and supporters gathered at the Florida Democratic Party's 2017 state conference.
All three candidates supported the expansion of Medicaid and called for stronger environmental protections, including a response to climate change. They voiced support for public schools, a higher minimum wage and gay rights. And they repeatedly took shots at Gov. Rick Scott and President Donald Trump.
But a major question went unasked and unanswered: Who will join the three contenders on the political stage before the Aug. 28 Democratic primary next year?
One potential answer sat at a $10,000 dinner table in the audience.
"I'm here. I'm thinking about it," Orlando trial lawyer John Morgan said. "(Florida Democratic Party Chairman) Steve Bittel begged me to buy a table, and I finally gave in."
Morgan said he will decide about the governor's race in the spring.
On Wednesday, Miami Beach Mayor Philip Levine is expected to announce his entry into the race.
"The mayor has great respect for everybody in the race right now," said Christian Ulvert, an adviser to Levine's political committee who attended the Democratic gathering.
The possibility of the five Democrats vying for the nomination would make it the most crowded Democratic gubernatorial field since 1978, when Graham's father, former Gov. Bob Graham, emerged from a primary and a then-required runoff election to win the nomination over a half-dozen rivals.
The large field brings more uncertainty and possibilities to the race, although key factors remain demographics, geography and, perhaps most important, money.
The three announced candidates have a head start and have been working to establish their identities among Democratic voters.
At the party forum, Graham talked about her election to Congress in 2014 over a Republican incumbent in a conservative-leaning North Florida district.
"I sent the tea party Republican packing. I won in a red year, in a red district," Graham said. "We're going to have a blue wave."
Graham, a former school board attorney, is also making public education a key part of her message, accusing Republicans of turning schools over to the "education industry."
Her name may resonate with Democratic voters who remember her father, although he was last on the ballot as a U.S. Senate incumbent in 1998. At the forum, Graham invoked his name, saying the ethics of her administration would be patterned after her father who "served 40-plus years with integrity."
Graham is the only woman in the race, which could be a factor with women voters representing 58 percent of the Democratic electorate in the 2016 presidential primary.
In responding to forum questions, Gillum used his experience as a Tallahassee city commissioner and mayor to talk about specific programs aimed at helping juveniles stay out of the criminal justice system, establishing solar-energy programs and attracting higher-paying jobs.
Gillum, the youngest candidate in the field at 36, is the most charismatic speaker, talking about his rise over "intergenerational poverty" to earn a college degree and embark on career in public service.
He picked up an endorsement at the party conference from Julian Castro, a former secretary of the U.S. Department of Housing and Urban Development and a leading national Democratic Hispanic leader.
But Gillum has been dogged by an ongoing FBI investigation into the city of Tallahassee government. Although he has said he is not a target of the probe, it remains a negative factor until it is resolved. It has hurt Gillum's fundraising, where he trails the field.
Gillum is the only African-American candidate in the race, with black voters representing 27 percent of the Democratic presidential primary electorate last year.
Gillum and Graham both call Tallahassee their hometown, forcing them to share a limited geographic base.
King, a political novice, comes from the politically pivotal I-4 corridor, but his challenge will be raising his profile among Democratic voters. He has not been active in state or local politics, with former Orlando-area Congressman Alan Grayson saying the first time he met King was at Saturday's forum.
King talked about his outsider status as an asset.
"We have had two decades of losing gubernatorial elections. I argue that we have got to do something different," King said. "We need a fresh voice, a fresh face, a communicator. We need somebody who can win."
King said he will bring his experience as an entrepreneur and developer of affordable-housing projects to his administration. He said Florida, which he characterized as being "at the back of pack" in major economic indicators, needs to do more to improve the economy.
He promised to make state and community colleges free for Florida students, saying increasing education levels of Floridians is a key to a better economy.
An area of concern for Democratic leaders is the relatively lackluster fundraising thus far by the announced candidates.
Graham led the field with about $2.7 million in available cash through Sept. 30 in her campaign account and a closely tied political committee, according to the state Division of Elections, with King holding about $1.8 million.
But that is dwarfed by Agriculture Commissioner Adam Putnam, the leading Republican candidate for governor, who had raised nearly $20 million in the same period for his campaign and a political committee, with about $14 million in cash on hand.
Putnam's financial advantage may be reduced by the expectation he could face three major opponents in the GOP's Aug. 28 primary.
If Levine enters the race, he will become the Democrats' leading fundraiser. His political committee had raised $4.77 million through Sept. 30, with most of it unspent.
Levine, a successful businessman before he ran for Miami Beach mayor, has a net worth in excess of $100 million, said Ulvert, raising the possibility he could self-fund a portion of the race.
Levine could also have a geographic advantage as the only candidate from densely populated Southeast Florida, where a third of the 4.8 million Florida Democrats live.
Money is not an issue for Morgan, who used part of his wealth to launch and pass a ballot initiative last year to broadly legalize medical marijuana. And unlike the other candidates, Morgan has already established a statewide presence through his medical- marijuana advocacy and ubiquitous television advertising for his Morgan & Morgan law firm.
Morgan is not rushing his political decision. He said his immediate priority will be attending the Breeders' Cup races next weekend at the Del Mar Racetrack near San Diego, where he has a thoroughbred in contention.
–Lloyd Dunkleberger, News Service of Florida