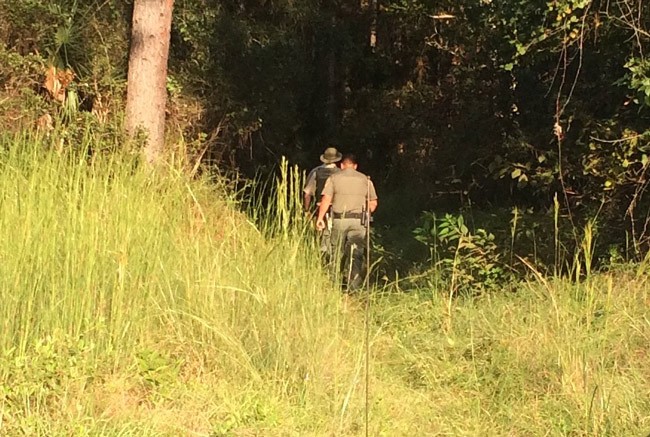 Officers searched the woods with weapons drawn for hunters yesterday evening between Seward Trail East and Sea Breeze Trail in Palm Coast. Twenty minutes later two teen hunters were found and issued a warning for hunting on private property. They had a hunting permit, otherwise they'd have faced stiffer punishment.
The Flagler County Sheriff's Office received a call around 3:30 p.m. Saturday reporting two men in camouflage parking their Jeep Cherokee and entering the woods in that area. A vacant lot where Seward Trail curves east into Seward Trail west is owned by Jacksonville-based D.R. Horton Inc., the home-building company. Right-of-way land beyond it belongs to Palm Coast.
Officers from the Fish and Wildlife Conservation Commission and a deputy from the Sheriff's Office went into the woods around 5 p.m. in search of the hunters.
Police found two teenagers, 16 and 15, with a compound bow. They were hunting deer. Fish and Wildlife let the teens off with a warning about not to hunt on potentially private land without permission. Trespassing while in possession of a gun or bow is a third-degree felony that carries a maximum penalty of a $5,000 fine or five years in prison, though it's seldom enforced to that extent.
Josh Reinert, who lives with his family across from the wooded area where the hunting was taking place, called the Sheriff's Office after recognizing one of the hunters: the previous day the teen had exited the woods with a deer slung over his back. Reinert said he'd called authorities out of concern over stray bullets possibly harming his family.
"I really don't want anyone shooting guns around the house," Reinert said.
Game Warden and Fish and Wildlife Officer Eric Meade said he found the hunters by whistling, a method that safely alerts hunters to officers' presence. One of the teenagers showed pictures of the deer kill from Friday to the officers, Meade said. The officers escorted the teenagers back to their Jeep.
The primary functions of the Fish and Wildlife Conservation Commission when responding to a call are to look at the game being hunted and what type of weapon is used, Meade said. He chose not to issue a fine because there'd been no formal complaint from the property owner, he said.
"We're glad to see kids outdoors," he said, reiterating reiterated the need for permission when hunting on private property. Palm Coast's code forbids hunting in city parks, but it is silent about hunting elsewhere.
In cases where there is a complaint from the property owner or when out-of-season game is being hunted or an illegal weapon used, hunters are interviewed and either fined or face charges that are forwarded to the State Attorney's Office, Meade said.
Antlered and antlerless deer hunting season (with a bow) in the zone that includes Flagler County ends today, to be followed by crossbow or bow season and only for antlered deer between Oct. 19 and 23, according to Florida hunting regulations, leading to other regulations after Oct. 24 (as outlined here). All hunters must have a $5 deer permit as well as a hunting license.